Trump Admin VERY BUSY With IMPORTANT WORK Of DISESTABLISHING RESERVATION Of Native Americans Who Met The Pilgrims!
lawsplainer
March 30, 2020 03:38 PM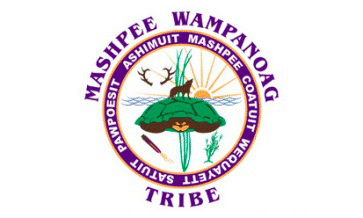 On Friday, in the midst of a deadly pandemic, Interior Secretary David Bernhardt decided it was time to take action and ... take land away from the descendants of the Native Americans who participated in the first Thanksgiving. You know. For reasons.

The Mashpee Wampanoag Tribe is located in Cape Cod, with its headquarters in Mashpee. Back in the 17th century, the Wampanoag people were a loose confederation of several Massachusetts tribes. Now, the Wampanoag people consist of two tribes recognized by the federal government and three more recognized by the state of Massachusetts.
For the last few years, the Mashpee Wampanoag Tribe has been battling with rich white locals, Republican casino owners in Rhode Island, Trump BFFs, and Trump himself over its plan to put a casino on its land.
Now, Trump's Interior Department has decided to disestablish the Mashpee Wampanoag reservation and take its land out of trust.
---
WTF?
So here's the deal.
When reservation land is "held in trust" by the federal government, it gives the tribe protected legal status and the ability to make its own decisions about how to develop, manage, and tax its land. This decision is usually made by the Interior Department. In the case of the Mashpee Wampanoag Tribe, Obama's Interior Department had taken the land in question into trust in 2015. But that decision was reversed by the Trump regime in 2018 and has been further derailed by recent court cases. The disestablishment stops the Mashpee Wampanoag land from being held in trust by the federal government, but does not stop the Mashpee Wampanoag Tribe from being federally recognized.
Unsurprisingly, the people fighting against the Mashpee Wampanoag people's right to use their own land as they see fit are a bunch of rich people and Trump cronies. Matt Schlapp, chairman of the American Conservative Union and husband of Trump's strategic communications director, Mercedes Schlapp, has been fighting against the tribe's casino plans for years. Another Mashpee foe is Twin River Worldwide Holding Companies, with two casinos in nearby Rhode Island. Twin River's president, George Papanier, and its chief marketing officer, Phil Juliano, both worked at Trump's now-bankrupt casinos earlier in their careers.
How's that "draining the swamp" going?
The grifter-in-chief, naturally, has spent decades attacking American Indian casinos, calling one of the most successful ways for tribes to raise capital for their people "the biggest scandal ever."
I guess someone is still bitter that he bankrupted his own casinos in Atlantic City.
Because he's Donald Trump, the President's attacks on casinos on Indian reservations are often as racist as they are asinine.
"They don't look like Indians to me," Trump said. In an earlier interview, he opined that "I might have more Indian blood than a lot of the so-called Indians that are trying to open up the reservations" to gambling.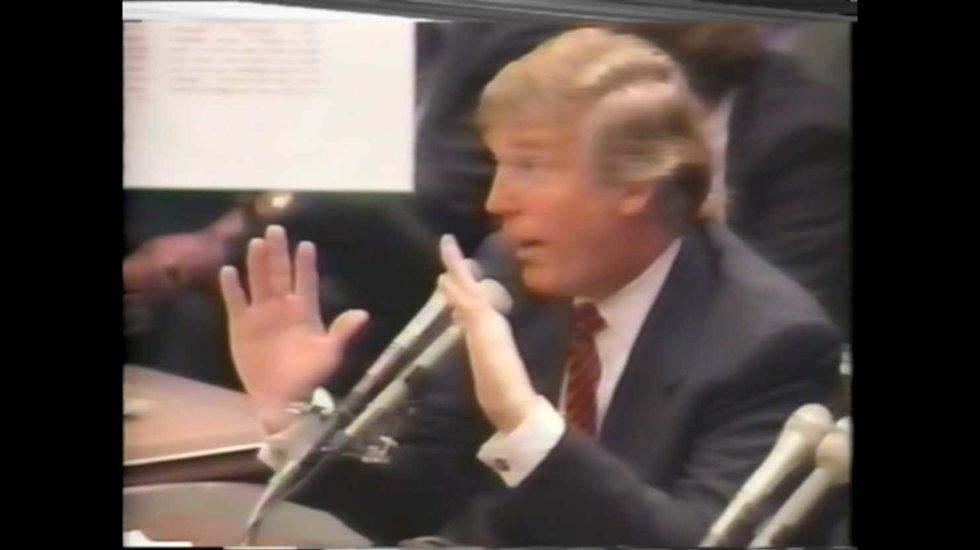 Donald Trump on Native American casinos in 1993www.washingtonpost.com
This isn't the first time Trump has gotten involved in the battle over the Mashpee casino. Last year, he took to Twitter to oppose HR 312, a bill that would have protected the Mashpee Wampanoag Tribe's land.
Republicans shouldn't vote for H.R. 312, a special interest casino Bill, backed by Elizabeth (Pocahontas) Warren. I… https://t.co/S6XnfF42S1

— Donald J. Trump (@Donald J. Trump) 1557330486.0
Along with basically every other good bill the Democratic House has passed under Queen Speaker Nancy Pelosi, HR 312 was sent to the Senate, never to be heard from again.
And now, the Interior Department is trying to strip the Mashpee Wampanoag land of its legal status.
It's all fucked
When he was contacted by the Interior Department's Bureau of Indian Affairs late Friday afternoon, Tribal Council Chairman Cederic Cromwell thought the call would be about help combatting the coronavirus. Cromwell told the Cape Code Times that:
He thought the bureau was calling to see if there was anything the tribe needed during the coronavirus pandemic. Instead, he was told that Interior Secretary David Bernhardt has ordered that the tribe's land be taken out of trust and the reservation be disestablished.

"It was absurd," Cromwell said in a phone interview Saturday. "It's like a punch in the nose from a bully."
Talk about kicking someone while they're down.
Massachusetts Congressman Bill Keating, who introduced last year's bill to protect the tribe's land, was rightfully pissed.
In a time of national health and economic emergency, the Secretary of the Interior should be reaching out to help a… https://t.co/fMpzTaLaFx

— Congressman Bill Keating (@Congressman Bill Keating) 1585428252.0
There has already been a long legal battle over the legal status of the Mashpee Wampanoag land. As succinctly summed up at The American Prospect,


The short version is that the Mashpee were not part of federal recognition initiatives in the 1930s, then they won it, then lost it in a 2009 Supreme Court case, and [HR 312] would override that court ruling.
(For the longer version, this Splinter piece by Nick Martin is a great read.)
Litigation about the tribe's status is ongoing on multiple fronts. Last month, the US Court of Appeals for the First Circuit upheld a lower court ruling that the Interior Department didn't have the authority to take the Mashpee land into trust in the first place. The tribe has also filed suit against the Interior Department in Washington DC over the issue of holding its land in trust.
The Interior Department claims that its action was to implement the First Circuit's opinion, which said that the Interior Department improperly took the land in question into trust because the Mashpee Wampanoag Tribe wasn't officially recognized when the Indian Reorganization Act became law in 1934.
According to Tribal Council Chair Cromwell and Congressman Keating, most of the uncertainty the tribe is now facing would be resolved by HR 312, but despite the bill's bipartisan support, Mitch McConnell appears to have no plans to take it up. And Trump would almost certainly veto any attempts to protect the Mashpee Wampanoag's land, meaning two-thirds of the Senate would have to be onboard to get past that hurdle.
Keating said Interior Secretary Bernhardt "should be ashamed," adding
This is just a cruel act and it's hard to understand how someone could act like that at this time[.] Is he foolish enough to think that putting it out on a late Friday in the midst of the coronavirus, it will get buried? [...] That's the opposite. It's cruel.
Ugh
All of this is bullshit. After hundreds of years of genocide and persecution, white people still just can't seem to stop themselves from stealing from America's indigenous people.
Let's all listen to Cederic Cromwell:
I just want to call out to all of America to rise up[.] We're not giving up and this is not the end.
[Cape Cod Times / WaPo / Am Prospect / Splinter]
Jamie Lynn Crofts
Jamie Lynn Crofts is sick of your bullshit. When she's not wrangling cats, she's probably writing about nerdy legal stuff, rocking out at karaoke, or tweeting about god knows what. Jamie would kindly like to remind everyone that it's perfectly legal to tell Bob Murray to eat shit.