Matt Gaetz Allegedly Snorted Coke With Escort On County Payroll, Very Classy If True!
Legal
May 17, 2021 11:17 AM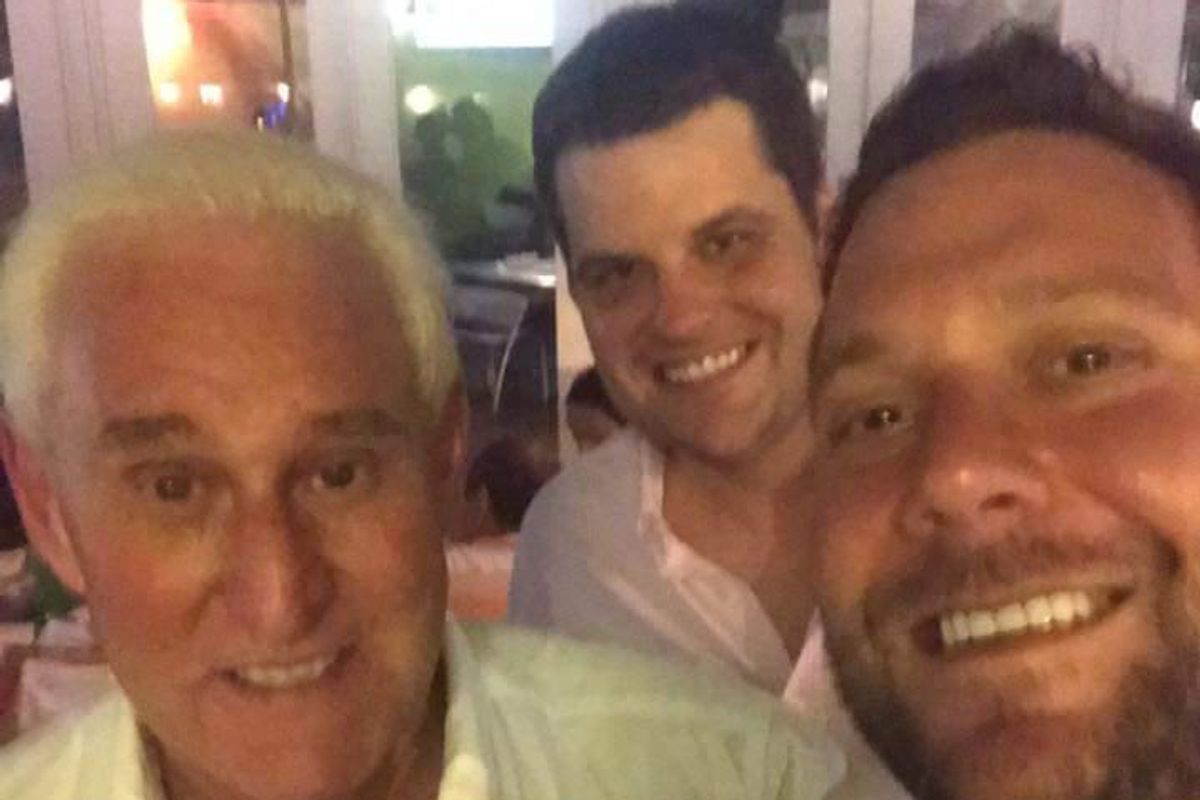 Did Matt Gaetz snort coke with a prostitute in a hotel room paid for with campaign dollars? Dunno! But it's a safe bet federal investigators have a pretty good idea. And maybe the rest of us will get the deets soon, since Matt Gaetz's former wingman Joel Greenberg is pleading guilty in a Florida courtroom this morning.
The latest PeenerGaetz update from the Daily Beast's Jose Pagliery and Roger Sollenberger has got us no closer to understanding what exactly an "amateur Instagram model" does at work — sounds kind of porny, maybe! But they did supply us with a shitload of salacious details about "paid escort and amateur Instagram model" Megan Zalonka and her relationship with Greenberg and Gaetz, so we'll forgive the omission.

---
On Oct. 26, 2019, Gaetz attended the "Trump Defender Gala" fundraiser as the featured speaker at the Westgate Lake Resort in Orlando. Two witnesses present recalled friends reconvening at Gaetz's hotel room for an after-party, where Zalonka prepared lines of cocaine on the bathroom counter. One of those witnesses distinctly remembers Zalonka pulling the drugs out of her makeup bag, rolling a bill of cash, and joining Gaetz in snorting the cocaine.
And of course he wrote off the hotel room as a campaign expense! Because what is donor money for if not to keep our elected representatives horny and high? Allegedly!

Naturally Gaetz's crack PR team of three toddlers in a trench coat tried to paint their client's refusal to answer specific questions as the conduct of a chivalrous gentlemen who holds women in the highest regard.
"Congressman Gaetz won't be commenting on whether he dated or didn't date specific women. The privacy of women living private lives should be protected," huffed Harlan Hill of Logan Circle Group.
Witnesses tell a slightly different story, confirming to the Beast that "She was just one of the many pieces of arm candy he had," and describing an ongoing exchange of money for sex.
For her part, Zalonka's attorney says the story is not "accurate," although he didn't specify how. Was the cocaine on the toilet tank instead of the counter? Inquiring minds want to know! They'd also like to know what Zalonka, who works as "communications director for the American Medical Marijuana Physicians Association" with Gaetz's pal Dr. Jason "Ganja Handjob" Pirozzolo, did for $3,500 a month courtesy of the Seminole County taxpayers. After regular $500 Venmo payments from Joel Greenberg for "Pool" and "Food" and "Stuff," Zalonka wound up on the county payroll in 2018 in a contract signed by Greenberg on January 10 of that year. The county only cut Zalonka checks in January and April, but Greenberg advanced himself cash in that amount in February, March, and May.
Four people familiar with Zalonka's arrangement said it was a "no-show" contract. Zalonka never worked at the office, and it was unclear what service she provided, they said. Accountant Daniel J. O'Keefe, who led the forensic audit of Greenberg's alleged self-dealing, said tax collector employees told him the woman behind the company was a mystery. O'Keefe added that he found no proof Zalonka ever provided the services itemized in her contract with Greenberg.

"I have no idea what they were doing. And employees wouldn't know what they were doing. Totally a no-show job," O'Keefe said. "There's no work product, no evidence work was done. It's just unbelievable."
Who can say what this woman was doing in exchange for cash from Joel Greenberg, who routinely Venmo-ed young women cash for "salad," "ice cream," and "ass?" Yes, it is entirely mysterious!
Here's a description of some services provided by Zalonka to Greenberg shortly after she signed the contract.
One of the women—all of them 19-year-old students attending nearby Florida State University at the time—said Greenberg and a number of "well-connected Republican men" bought them drinks at the hotel bar, knowing how old the students were, then led them to a room furnished with "a huge pile of coke." The men wanted to have sex with the teens and implied that Zalonka, who was in the room, would join in, one of the women recalled. When the teens refused, Greenberg, Zalonka, and another man went into a connected room to have sex, according to one of the former students and screenshots of a conversation between the three women reviewed by The Daily Beast.
How you livin', Matty G? Still confident that all these people will keep their mouths shut about what you stuck up your nose and where you stuck your junk, allegedly and allegedly?
Yeah, good luck with that.
Follow Liz Dye on Twitter!
Click the widget to keep your Wonkette ad-free and feisty. And if you're ordering from Amazon, use this link, because reasons.
Liz Dye
Liz Dye lives in Baltimore with her wonderful husband and a houseful of teenagers. When she isn't being mad about a thing on the internet, she's hiding in plain sight in the carpool line. She's the one wearing yoga pants glaring at her phone.