Mazie Hirono All Up Chuck Grassley's Butt Like ALOHA, MOTHERFUCKER!
News
September 20, 2018 04:38 PM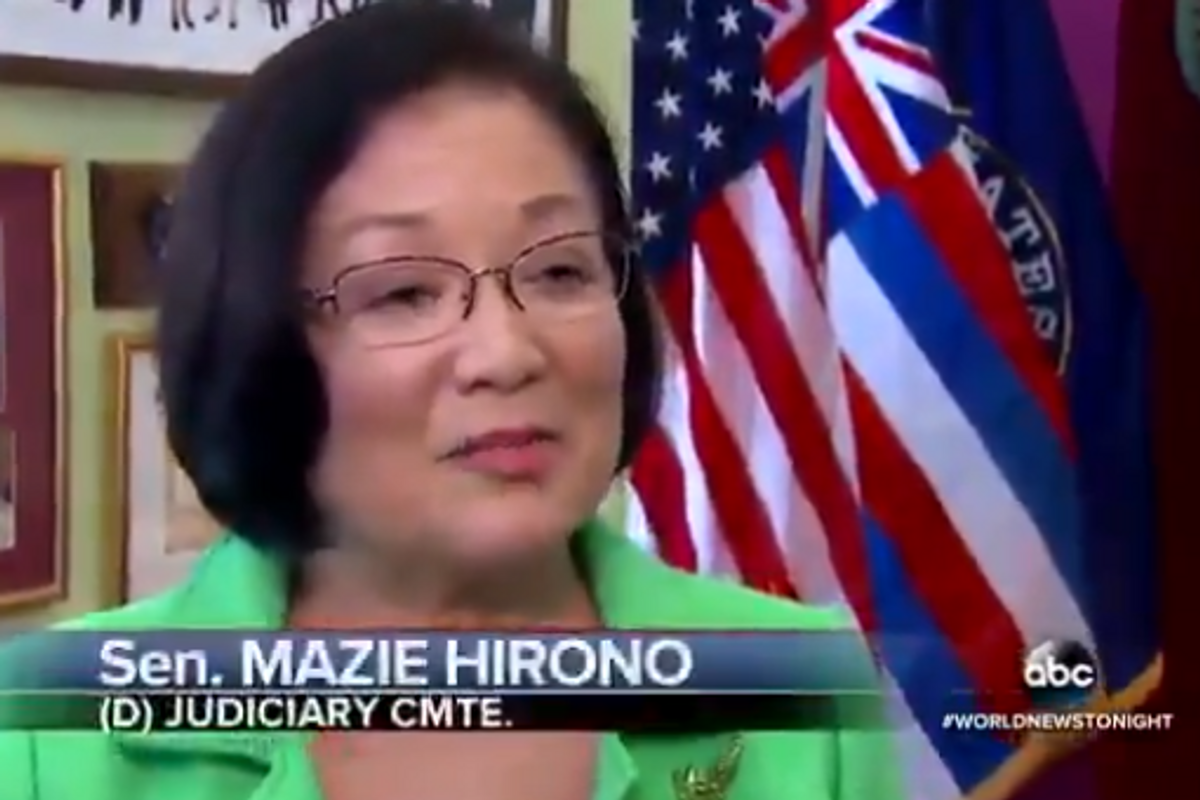 MAZIE! MAZIE MAZIE MAZIE!
Have you all been noticing that Senator Mazie Hirono of Hawaii has been breaking her foot off in some asses lately? We have been noticing it!
This woman, who is battling cancer, is OVER IT. She is OVER THESE DUMB ASSHOLE GOP MEN in the Senate and wherever else these men are currently bothering her, and she is probably done with YOUR FACE, if your face is one of the things that pisses Mazie Hirono off. Here she is addressing ridiculous allegations that Senate Judiciary Committee chair Chuck Grassley is somehow doing his job and working real hard to get in touch with Dr. Christine Blasey Ford, the woman Brett Kavanaugh allegedly tried to rape 36 years ago, so they can work out a time for Dr. Blasey to testify for the committee in a way that makes her comfortable:
---
Mazie Hirono tells ABC that Chuck Grassley's claim that Republicans have done everything they can to contact Dr. Fo… https://t.co/NShpLRvtg0

— Kyle Griffin (@Kyle Griffin) 1537453813.0
"That is such bullshit I can hardly stand it."
HEAR HER ROAR. Mazie Hirono will take the Senate's tradition of decorum and congeniality and shove it up Chuck Grassley's ass, which is fine by us, because we're pretty sure the Senate's tradition of decorum and congeniality is the dumbest thing ever.
This comes on the heels of a presser earlier this week where Hirono told the men on her committee and the men in the whole entire country to STEP THE FUCK UP for Dr. Blasey's rights, because did we mention she is OVER IT?
Thing is, she's been doing this for a while. We're not going to search the internet for YouTube clips of Mazie Hirono being a badass because ... um, don't wanna ... but trust us that they are out there, and that when you are watching your MSNBC and they say "Mazie Hirono is speaking" or "our special guest tonight is Mazie Hirono," YOU'D BEST BE WATCHIN'.
As we have noted several times lately, the GOP's insistence that it just cannot possibly let the FBI investigate Dr. Blasey's claims (because the committee's staffer's are investigatin' 'em, you bet!), but that they are SO EXCITED to have her come testify at her earliest convenience, which Chuck Grassley has defined as this coming Monday and absolutely no later, is bullshit. They don't want her coming in at all. They want her to decide she can't make it, so Orrin Hatch and John Cornyn can rest easy in their belief that Dr. Blasey is a silly little lady who musta come to her senses and realized that if anybody tried to rape her, it was probably just Brett Kavanaugh's evil twin. That way, they can put Bart O'Boofer on the Supreme Court and he can begin shitting on women from on high!
They are bluffing, pure and simple.
Well, as we have been writing this post, and as we expected she might, Christine Blasey Ford has begun to call their bluff. Her lawyer emailed the committee to say, yes, maybe she can come in next week, on the following conditions, which are that the committee provide for HER SAFETY, since she has been receiving a lot of death threats from lovely Republicans, for the crime of telling her truth. But, yeah, still, Monday won't work. Also hey, why don't you have the FBI do an investigation so the Republican senators will have questions to ask besides "What were you wearing that night and doesn't that mean you were asking for it, not that Brett Kavanaugh was even at that party?"
Here's the letter:

And wouldn't you know it, but that came on the heels of the Republicans starting to blink and say MAYBE their self-imposed deadline of tomorrow morning for Dr. Blasey to submit her testimony might not be a hard deadline and maybe they might be willing to work with her. So in response, they got this nice letter from her lawyer.
And why? Because the GOP white men on the Senate Judiciary Committee are full of shit (plus Susan Collins, who manages to be full of shit from afar), and everybody knows it. Christine Blasey Ford knows it, her lawyer knows it, Wonkette knows it (DEAR GOD, we know it) and the Democrats on the Senate Judiciary Committee -- especially women like Kamala Harris, Amy Klobuchar and MAZIE FUCKING HIRONO, LADIES AND GENTLEMEN -- know it.
And they are the BOSS OF YOU.
Now go forth and have an open thread and try not to piss Mazie Hirono off, OK?
Follow Evan Hurst on Twitter RIGHT NOW, DO IT RIGHT NOW!
Wonkette is the ONLY NEWS ON THE INTERNET. Click if you want us to live FOREVER.
Evan Hurst
Evan Hurst is the managing editor of Wonkette, which means he is the boss of you, unless you are Rebecca, who is boss of him. His dog Lula is judging you right now.
Follow him on Twitter RIGHT HERE.