McCain Tied With Obama ... In Arizona!
News
October 29, 2008 12:55 PM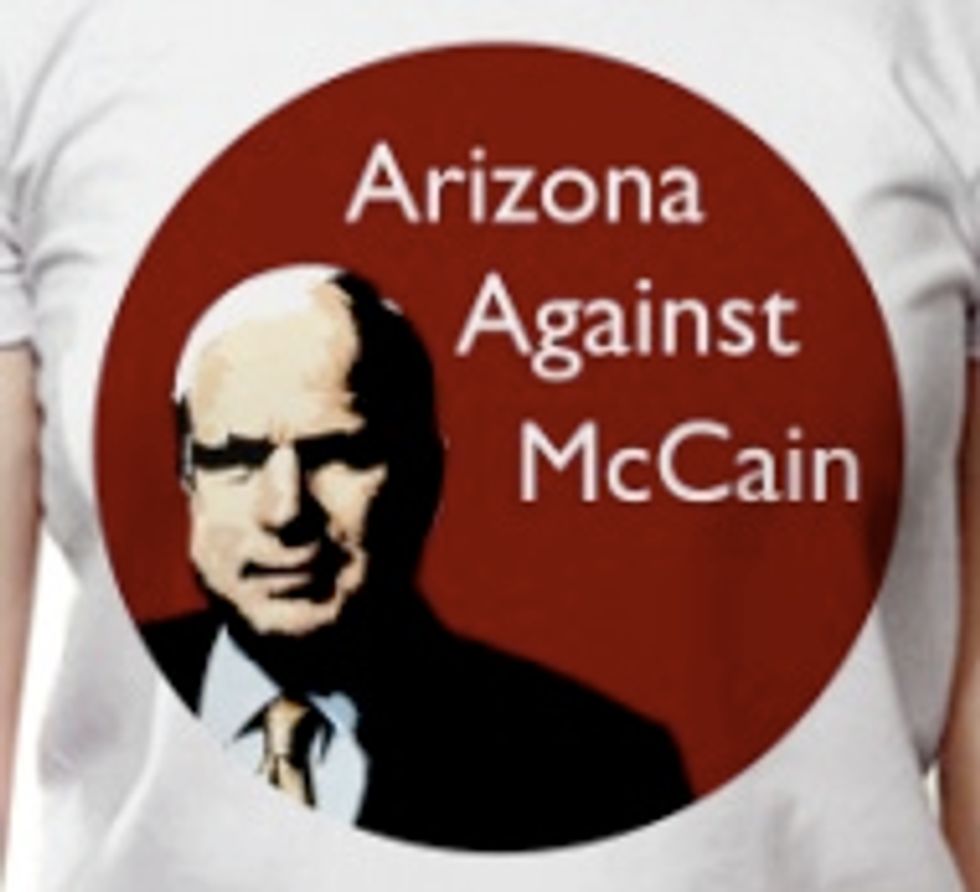 We checked in on Arizona last week and found "favorite (carpetbagger) son" John McCain wasnot exactly killing in his alleged home state. In fact, his double-digit lead was down to about a half-dozen points, and we gleefully imagined a scenario in which Walnuts lost Arizona. It would be fantastically humiliating for McCain and Republicans everywhere. And now, it is very close to being reality!
---
As we never tire of mentioning, McCain is not a popular figure in Arizona -- especially with real conservatives, who have always seen him as an East Coast silver-spoon phony who came out West chasing the wealthy tail of beer heiress Cindy Hensley and hunting for an easy Congressional seat. Barry Goldwater hated John McCain, who eventually hustled his way into the Libertarian Hero's Senate seat, and the "Joe Sixpack" types hate McCain for being a liberal elitist who wants all the Mexicans to come to Arizona, illegally, so that Cindy can have more servants in their seven mansions.
Anyway, the new polls are here! And Arizona is tied.
The Arizona Republic reports today:
Sen. John McCain's once-comfortable lead in Arizona has all but evaporated, according to a new poll that has the underdog Republican presidential candidate struggling in his own backyard.

With less than a week until Election Day, McCain is leading his Democratic rival, Illinois Sen. Barack Obama, by 2 points, 46 to 44, down from a 7-point lead a month ago and a double-digit lead this summer, according to a poll from Arizona State University.

Factor in the 3-percentage point margin of error, and a race that was once a nearly sure thing for McCain is now a toss-up, pollsters say.
Ha ha ha ha ha ha ha ha ha ha ha ha hah.
Obama hasn't been advertising in Arizona, because McCain was supposed to win easily, but there is a little bit of advertising on the teevee tonight, in Arizona and everywhere else -- the half-hour Obama show that will appear on three teevee networks and four cable channels, along with Obama's various appearances on news programs and the Daily Show this evening.
And even without a visit from the candidate, Obama supporters are particularly enthusiastic in McCain's saguaro-filled backyard. Some bloggers from the Huffington Post visited McCain and Obama headquarters in Phoenix and Tuscon last week to get the volunteer vibe. Here's what they found:
"The McCain campaign office is devoid of people, but its walls are lined with stacks of unsold yard signs. Meanwhile, the Obama office is filled with volunteers, but signs fly out of the door almost as fast as they arrive."
"On the first visit to the McCain campaign's Arizona headquarters, the office was nearly empty. Three people worked quietly at desks. On the next visit, the office again had only a few people but was filled with a surplus of unused yard signs."
"The Tucson Democratic office, on the other hand, is filled with bustling volunteers chatting on the phone with voters, inputting data, making coffee and snacks in the kitchen area, and organizing campaign literature in the back of the office. The phone rings non-stop. Because the office is located on a busy corner, there is also a constant stream of walk-in visitors purchasing campaign materials or volunteering for the campaign."
"One wall flutters with volunteer sign-up sheets; a quick glance reveals that most office shifts are full to capacity, along with lengthy lists of volunteers ready to canvas local neighborhoods. The office is virtually wallpapered with Obama posters, information on other downticket candidates, sign-up sheets, upbeat slogans, campaign literature, political cartoons and newspaper articles. It's colorful and high energy."
"Thirteen miles away, the Tucson Republican office is tucked in a strip mall off of a residential street near the Sun City retirement community. The inside reflects its languid surroundings. The office is pristine: Everything is orderly, neat, tidy and controlled. The office is rarely open. Walls are virtually devoid of decoration, except for the usual district map, posters of John McCain and the you-couldn't-possibly-miss-them color photos of George W. Bush and Dick Cheney."
And the Politico's Mike Allen adds this warning of a press conference this afternoon sure to further shame Old Man Walnuts:
EXCLUSIVE: Arizona Democratic Party Chairman Don Bivens plans to hold a press conference call at 2:30 p.m. Eastern today to argue that polling suggests "Sen. McCain is in danger of losing his home state."
Of course McCain knows this -- they've got internal polling! No wonder he won't even face his own supporters at his "victory party" in Phoenix on Election Night.