McDonald's Finds New, Easier Way To Shove McDonald's Down Your Wide-Open Gullet
Class War
November 19, 2016 12:28 PM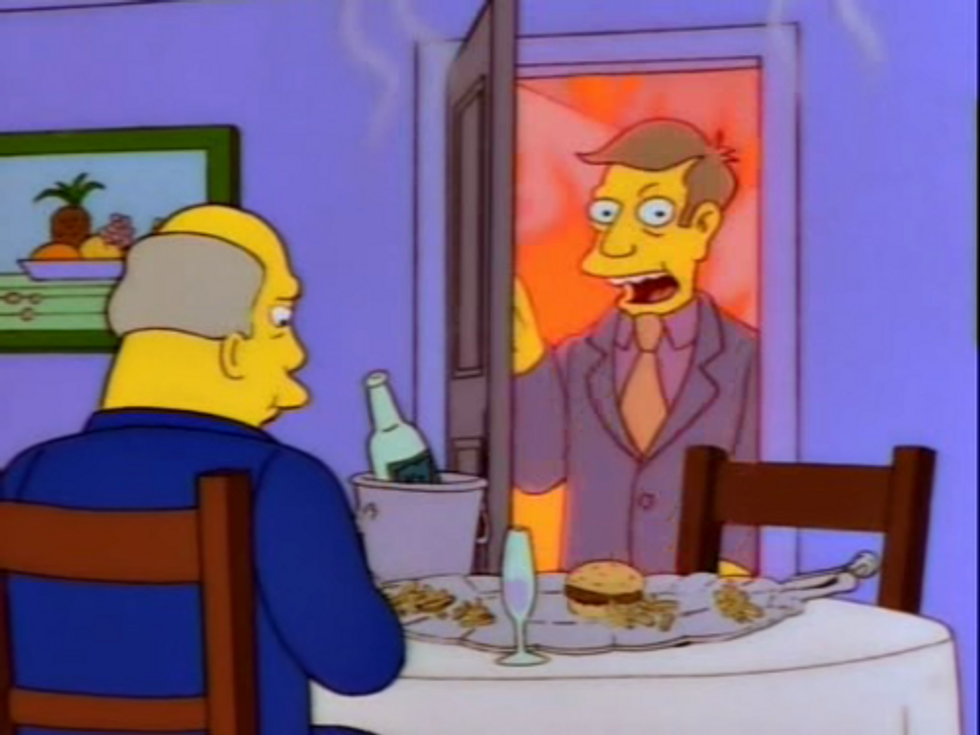 Everyone having a solid weekend? Hope you're not thinking about pending Cabinet appointments. Is Frank Booth about to be named Oxygen Czar? Hey, at this point, why the hell not? In spite of that whole deal, here's a little Corporate America Nice Time:
---
McDonald's will wait on you hand and swollen foot
Are you hungry but sick of standing in line for a triple cheeseburger? Do you need processed milkshake-textured liquid but also have a tight calf from intermittent pressing of the brake pedal? Then McDonald's was probably too much effort for you. But now you don't have be an Olympic athlete to eat like a person who doesn't move from his recliner for the entire Summer Olympics.
McDonald's will soon offer table service at all of its restaurants. I'm sure the tips will be plentiful for the additional labor. And by "plentiful," we mean "discouraged." 2017 will also bring easier mobile ordering and payment options.
The new approach may bring in the kind of customers who balk at lines, said Ivan Feinseth, analyst at Tigress Financial Partners.

"It will make it look less congested at the point of ordering," he said. "Then people feel they won't have to wait that long."
We've always said that we could get behind McDonald's if you didn't have to wait 90 fucking seconds for 1500 calories. What a time to be alive!
Come hither and listen to the story of Donald Trump saving car jobs that he didn't save
President-elect Donald Trump, singer of "Try a Little Tenderness," painter of "Starry Night" and writer of Seasons 2 thru 5 of Six Feet Under, achieved further greatness this week when he singlehandedly stopped Corporate Person Ford Motors from moving manufacturing jobs from Kentucky to Mexico.
That's right. Less than a fortnight after the election, Trump is already molding our shithole of a country into a shining behemoth that even Henry Ford could get behind: Come for the decent manufacturing job. Stay for the overt anti-semitism.

There's just one teeny-tiny problem with this statement (beyond "worked hard" and "the Great" state of Kentucky).
Ford had never said it planned to move its Louisville, Kentucky assembly plant to Mexico.

In fact, the automaker pledged last year, in a legally binding contract with the United Auto Workers union, to invest $700 million in Louisville, where it builds the popular Ford Escape.
On Thursday, Ford DID indicate it will keep production of the Lincoln MKC at the plant. It had planned to shift production and considered a Mexico plant under construction. However, none of this would have had any effect on the Louisville workers who will benefit from increased production of Ford's more popular models.
Ford reminded everyone that it added 28,000 American jobs in the last five years. (If only Obama ever did something for the auto industry??? smh) Because of slowing sales, Ford temporarily shut down the plant in October, as is common industry practice. But pursuant to terms of the collective bargaining agreement, workers were paid 80% of their wages. Pesky unions.
While it's clear that Trump is responsible for Ford's logistical decision to keep making the Lincoln model truck in Kentucky, it's totally unclear what he did to influence the decision. But who knows. Maybe Trump will give a hat tip to the United Auto Workers for negotiating an agreement that protects its workers' jobs. Or maybe he'll just keep marking gross notches on his gross bedposts for shit that he didn't do. Like when he wrongly took credit for Ford moving F-Series truck manufacturing jobs to Ohio back in 2015.
And if you were to just glance at headlines on non-fake news sites like Bloomberg or Reuters, you might infer that our next president was able to move a large-scale manufacturing outfit in 10 days by sheer force of will and probably a ton of trucker speed. Gee, watching "even-handed" coverage of this Administration won't be maddening at all.