Meanwhile In New Mexico, George W. Bush Tells High School Kids About Poop
News
May 22, 2009 12:38 PM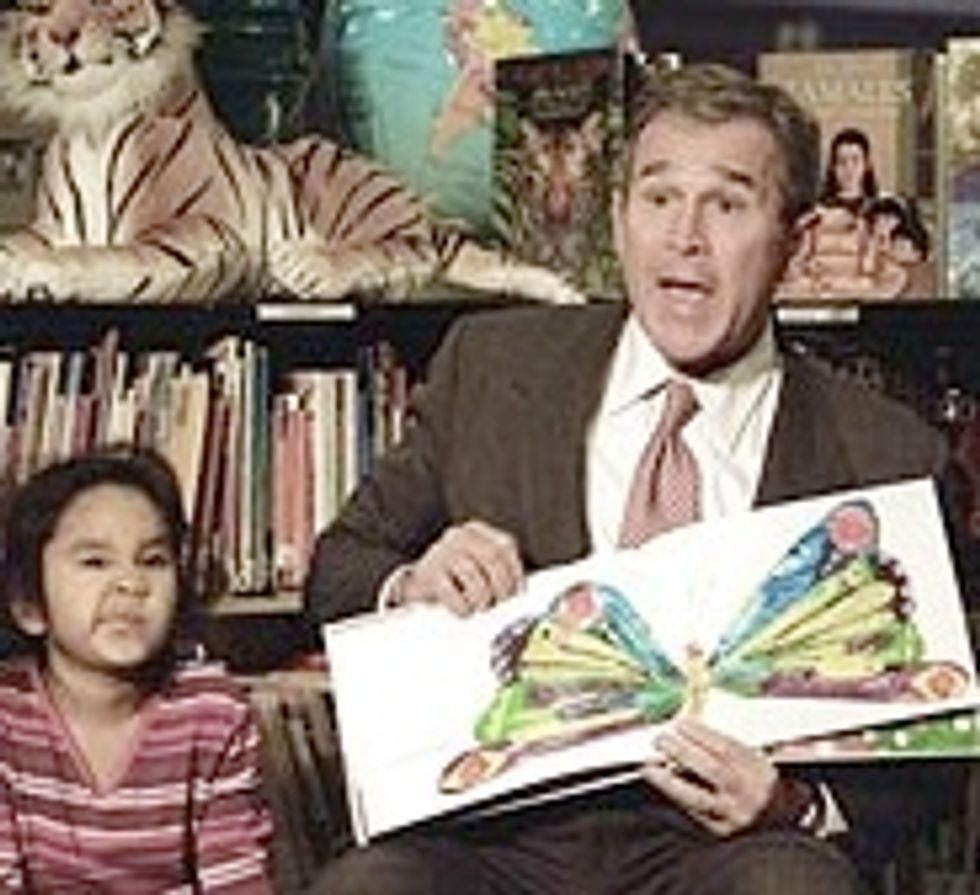 The so-called media elites in this godforsaken country got it all wrong yesterday, playing up that "Beltway Rumble" between Barack Obama and Dick Cheney. They should've been paying attention to the day'smost important speech from OH WE DON'T KNOW maybe the current President of the United States, George Bush Junior? He's alive! And while his former intern Dick Cheney was cackling about death and carnage and sadism in Washington, Bush was cold talkin' dog shit with a bunch of high school kids in the alien concentration camp of Roswell, New Mexico.
---
If you're wondering what the sam hill George Bush was doing in New Mexico, mouthing off to a cadre of alien teenagers, it's an old enough story and one you're familiar with: Big Oil made him do it.
Bush was invited to speak at a ceremony for Artesia High School seniors receiving scholarships from the Chase Foundation. The foundation was started by Mack Chase, who made his fortune in the oil industry, and has pledged $4.5 million in scholarships to more than 350 Artesia High School graduates since 2007.

Bush told the soon-to-be-graduates that it was a strange experience walking his dog Barney in his new neighborhood after he moved back to Texas.

[...]

It was the first time Barney had ever been in an ordinary neighborhood, and Bush had to stop when the dog took liberties with a neighbor's yard.

"And there I was, former President of the United States of America, with a plastic bag on my hand," he recalled. "Life is returning back to normal."
HEY-O! Now let's not kid ourselves, we all know that George W. Bush has an actual cotton slave to pick up his dog's shit. But it's a good story anyway, and the kiddies loved it.
Artesia High School students said they were excited to have the former president at the ceremony.

Abby Calderon said she was one of the first to find out the former president would be speaking, since she shares a hairdresser with the Chase family.

"I was like, 'Aw, that's sweet,'" she said.
??
Bush speaks at AHS Chase scholarship ceremony [Roswell Daily Record]