Megan Rapinoe Spent 24 Hours Drinking Champagne And Punching Conservative Men In The Dick. YAY!
Sportsball
July 10, 2019 05:08 PM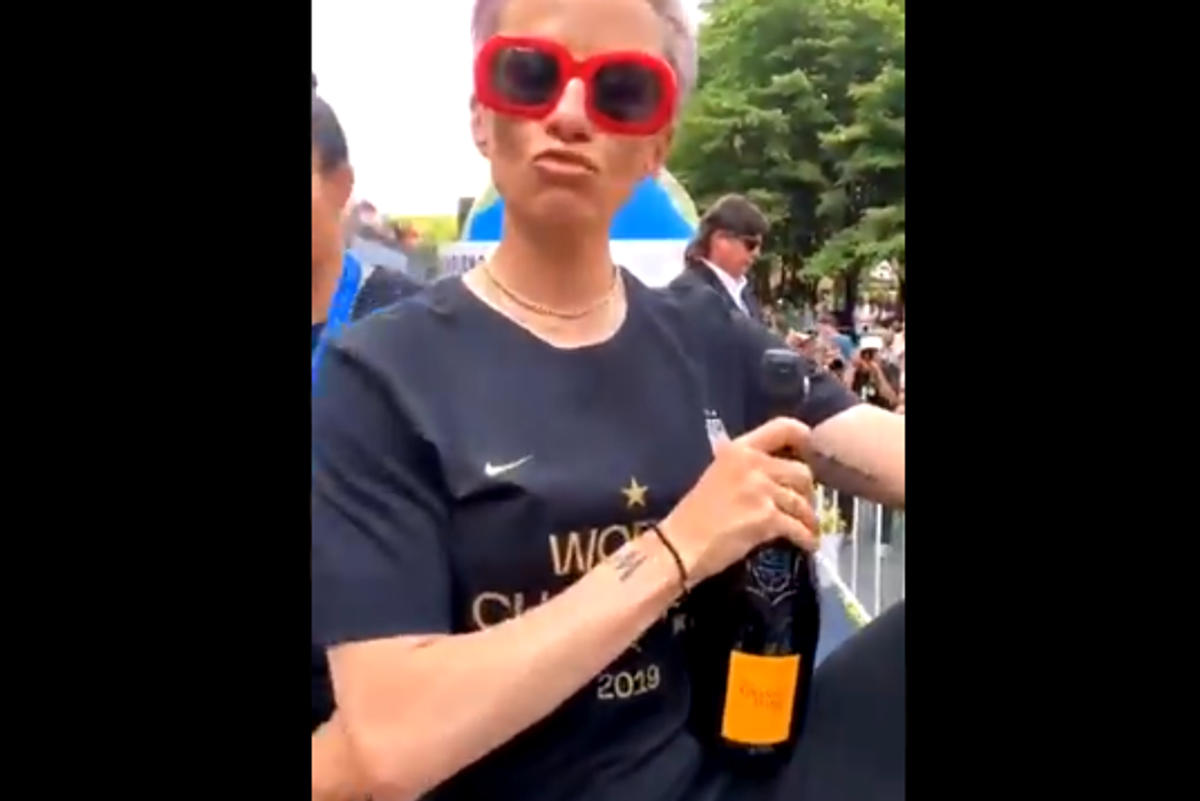 As an official bandwagon fan of Megan Rapinoe and the US women's national soccer team, we can affirmatively report that Rapinoe is having a pretty badass 24 hours. We can also report that she is driving conservative douche-rocket men CRAZY.
OH NO, DEAR CALEB, WHAT IS MEGAN RAPINOE DOING TO MAKE YOUR DICK FEEL SMALL TODAY?
Oh nothing, they just had a big-ass ticker-tape parade for the team through the Canyon of Heroes in New York, and Megan Rapinoe dared to BE SILLY LIKE A COMMON SILLY PERSON, saying "I deserve this! ALL OF IT!" while she drank Veuve that she did, in fact, deserve to be drinking in the morning, like the co-captain of the world's best soccer team who just won the fucking World Cup.
---
Let's get a closer look at that video:
And now let's go to the Piers Morgan section of the internet, to use his tears as a Slip 'n' Slide:
Bless his heart.
As NPR reports, the parade was pretty awesome. People screamed "USA! USA!" and also "EQUAL PAY! EQUAL PAY!" -- a reference to the pay discrimination lawsuit the team has filed against the United States Soccer Federation demanding, well, equal pay!
"These athletes generate more revenue and garner higher TV ratings but get paid less simply because they are women," said Molly Levinson, a spokesperson for the team in their lawsuit, in a statement to Vox. "It is time for the Federation to correct this disparity once and for all."
A lot of conservative men have been sports-splaining how men's soccer is cooler and therefore merits more pay, but, you know, the numbers don't lie. America's soccer team is the best in the world. There is also a men's team, we hear.
They are just saying:
"Despite the fact that these female and male players are called upon to perform the same job responsibilities on their teams and participate in international competitions for their single common employer," the lawsuit states, "the female players have been consistently paid less money than their male counterparts. This is true even though their performance has been superior to that of the male players — with the female players, in contrast to male players, becoming world champions."
Rapinoe talked a lot about the lawsuit last night on the Rachel Maddow program, and she offered encouragement to fans who want to get involved and help out:
Oh, how that triggered the conservative men and cut their penises off and made them cry! Because didn't you know that Megan Rapinoe HATES AMERICA, and therefore it is not fair for her to encourage fans to support her sport, which is HATING AMERICA?
To catch up on the state of play in the equal pay lawsuit, check out Vox, which has a very good 'splainer.
But back to the parade!
Megan Rapinoe said a swear at the parade. The wingnut media noticed and has now died of consumption, but don't worry, the wingnut media got better:
Rapinoe also had some encouraging words for the people who came to celebrate, on what we have to do as a nation to move forward:
Don't worry, guys, she's not running for president. NPR reports that she said, "I'm busy."
Those encouraging words echoed words she said to CNN's Anderson Cooper last night, addressing Donald Trump directly, just in case he was watching TV, since he always is:
RAPINOE: Your message is excluding people. You're excluding me. You're excluding people that look like me. You're excluding people of color. You're excluding, you know, Americans that maybe support you. I think that we need to have a reckoning with the message that you have and what you're saying about "Make America Great Again." I think you're harking back to an era that was not great for everyone. It might have been great for a few people, and maybe America is great for a few people right now, but it's not great for enough Americans in this world. And I think that we have a responsibility, each and every one of us, you have an incredible responsibility as the chief of this country to take care of every single person, and you need to do better for everyone.
Man, that definitely sounds like a lady who hates America a lot, the way she wants it to be better for all Americans. What a darn shame she hates America like that!
Look at this triggered conservative man who is triggered by Rapinoe's message:
That's right. Megan Rapinoe is the one excluding people, because she won't kiss President Accused Rapist's ring.
Fuck you, loser.
Rapinoe also re-confirmed that she's not going to the fucking White House, her team doesn't want to go to the White House, but they'll go see Alexandria Ocasio-Cortez and Nancy Pelosi and whoever else doesn't suck in Washington:
'Course, we bet they might be willing to go visit a real president while they're in DC, you know, like, if he wants to hang:
Anyway, GOLLY, Megan Rapinoe hurt the conservatives' feelings AGAIN when she said that!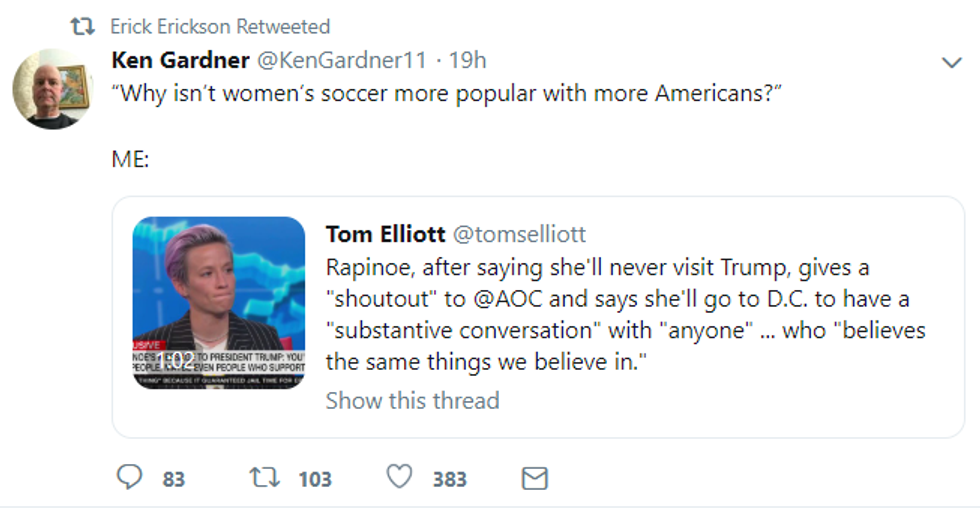 Well, this has been fun!
Megan Rapinoe had a very good day today, and her very existence makes the literal worst shitbag men in America feel shrivel-dicky and impotent. That's a win-win for everybody!
Now have an OPEN THREAD.
[Vox]
Follow Evan Hurst on Twitter RIGHT HERE, DO IT RIGHT HERE!

Wonkette is ad-free and funded ONLY by YOU, our dear readers. If you love Wonkette, SUPPORT WONKETTE.

Evan Hurst
Evan Hurst is the managing editor of Wonkette, which means he is the boss of you, unless you are Rebecca, who is boss of him. His dog Lula is judging you right now.
Follow him on Twitter RIGHT HERE.