Meghan Lashes Out At Blog's Claim That Dick Cheney Is More Important Than Her
News
June 02, 2009 12:48 PM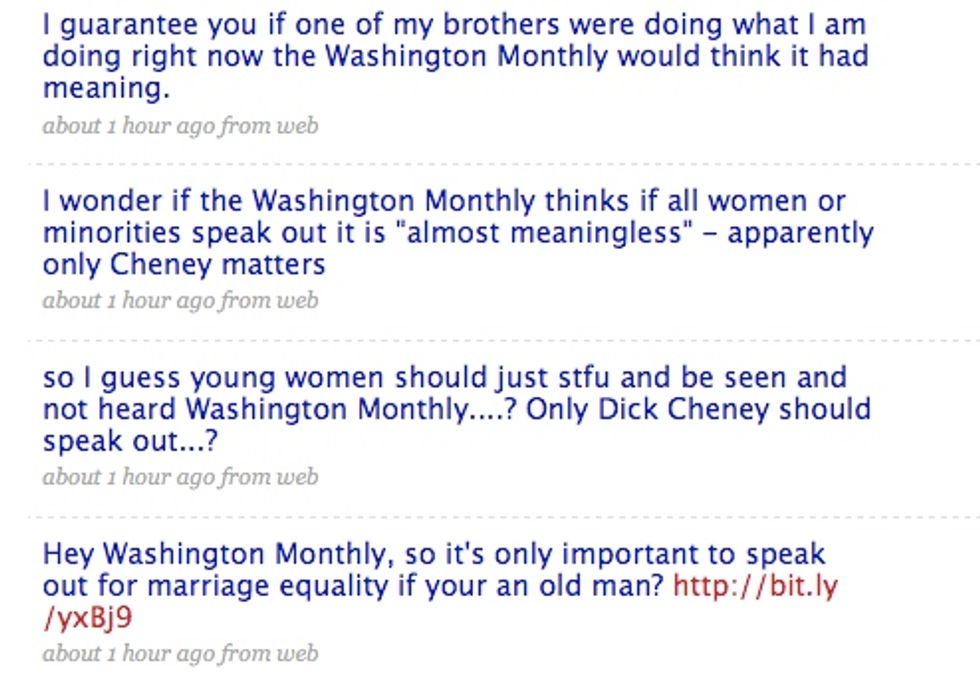 Oh Jesus, Meghan McCain's goin' nuts,again, on Twitter.
---
BACKGROUND: the Washington Monthly's Steve Benen wrote this yesterday: "It was pretty meaningless to hear Meghan McCain urge her Republican Party to come around on gay marriage. It seemed a bit more important when Steve Schmidt, John McCain's campaign manager, gave the GOP the same advice. But in terms of influence in Republican politics, Dick Cheney is on another level." Why that's more or less an objectively true analysis! But it hurt Meghan's feelings, because of sexism and racism (?), so there's your Mini-Rant response, up top.
(Later on she Twitter-fights Kos and Glenn Greenwald.)
WTF.
Thank you, 2009, for bringing us such a reliable emergency generator of political comedy -- The Washington Twitter Circuit -- during this election off-year.
Cheney Backs Marriage Equality [Washington Monthly]
McCain Blogette [Twitter]