Melania Trump: Sexual Assault Only Counts If Dude Wore A GoPro On His Dingle
News
October 10, 2018 01:55 PM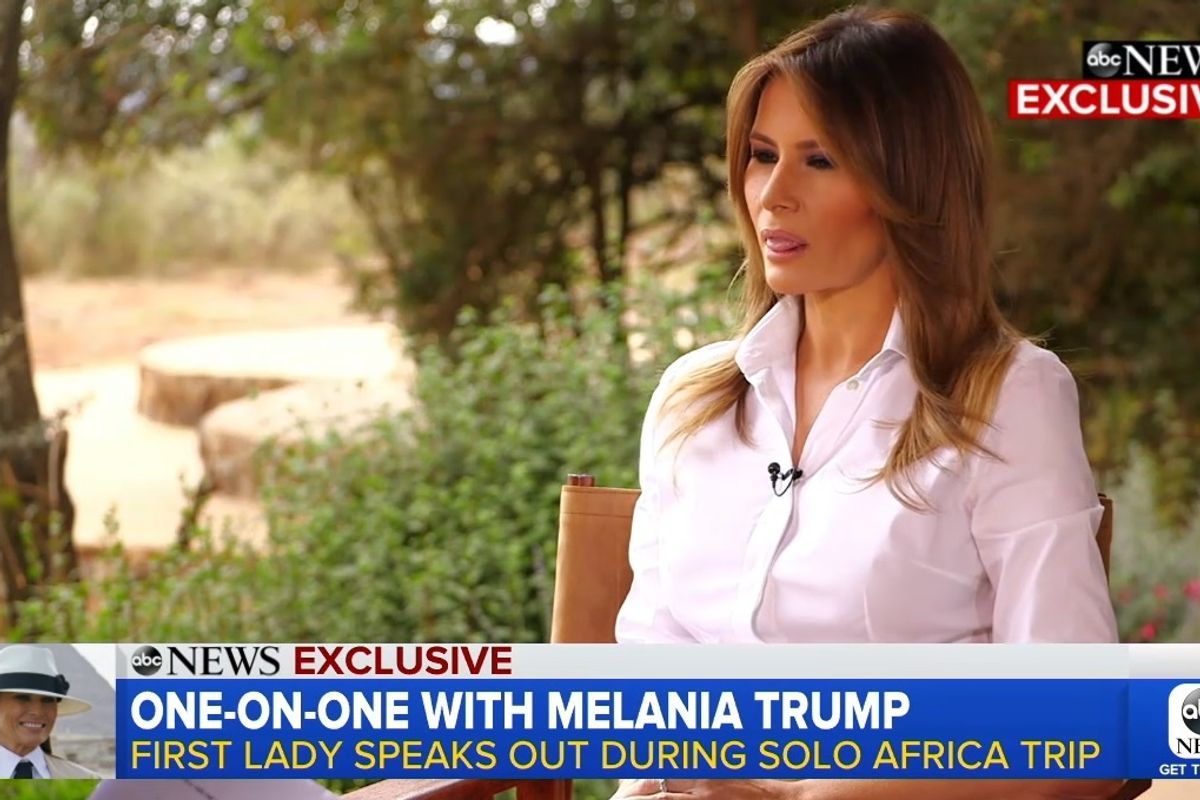 Let's just say it out loud: We have a really sucky first lady. We have had first ladies who were super fucking cool (the most recent one, for example) and we have had first ladies who were less cool, and we have never had a first gentleman because America is really bizarrely retrograde and literally "elected" the world's stupidest man in order avoid being led by a woman. But right now, we have Melania Trump, and as much as people try to be charitable or make excuses for how she never wanted this in the first place, it doesn't change the fact that she is bad and she is complicit and we frankly don't care anymore what kind of secret divorce settlement she's got lined up the second President PussGrab is out of the White House.
And we do specifically mean to say "President PussGrab," because the president of the United States, Melania Trump's husband, has been credibly accused of sexual harassment and/or assault by multiple women, and moreover has been credibly accused of being a gross sleaze-dick by pretty much every sentient human being in the entire world with access to a television.
Which brings us to today!
---
Melania Trump is still on her tour of all the countries in Africa her husband has called "shitholes," and she sat down with ABC News to talk about the events of the day, and you will be shocked to learn she said some really fucked up shit about sexual assault and the #MeToo movement. It's not that she thinks we shouldn't believe women -- she does. It's that she thinks we need to also believe men, and we don't mean men who have been sexually assaulted. Like so many others who are so terribly concerned about the plight of men in these dark times, Melania Trump seems to be worried that Bitches Be Lyin':
"I do stand with women. But we need to show the evidence. You cannot just say to somebody, 'I was sexually assaulted or you did that to me,' because sometimes the media goes too far and the way they portray some stories, it's not correct." [...] "I support the women and they need to be heard," she told ABC. "We need to support them. And also men, not just women."
We have asked this a million times, but it's possible we were yelling at clouds at the time, so we will ask it again: WHAT FUCKING EVIDENCE DO PEOPLE THINK THEY NEED?
By its very nature, sexual assault tends to be a crime that happens out of sight from the general public, and short of saying an accusation of sexual assault or rape doesn't count unless the guy was wearing a GoPro on his dick at the time, WHAT FUCKING "EVIDENCE" IS SHE LOOKING FOR RIGHT NOW?
Perchance, an audiotape of a man bragging about grabbing women by the pussy without their consent? Would that be "evidence"?
What about the testimonies of people who say, AYUP, that guy "Bart O'Kavanaugh" was a real disgusting blackout drunk and he and his pal Mark Judge threw parties where some really fucked up rapey shit happened? Is that EVIDENCE?
Hey, idea! What about women who open themselves up to getting death threats from the worst people in America and who go under oath in Congress and testify about the sexual assault they endured, while naming their attacker? HOW'S THEM APPLES FOR "EVIDENCE"?
Ooh! What about sworn statements? Because those, legally, are considered EVIDENCE!
You either believe women or you don't. There's not some great middle ground here where #BothSidesDoIt or Brett Kavanaugh and Christine Blasey Ford are somehow both telling the truth about whether or not Brett Kavanaugh tried to rape Christine Blasey Ford.
We suppose we shouldn't be surprised Melania Trump isn't willing to come out more forcefully for women. Consider, again, who she's married to. Also, she doesn't exactly have a great track record when it comes to pushing back against her husband's worst statements, all the way back to that time she literally supported Donald's birther crusade, long before he was even a presidential candidate. And now she's backing up his claims that this is just a really scary time in America, for men.
This, also, is the same human being who thought it would be a cool idea to wear a jacket that said "I REALLY DON'T CARE DO U?" as she traveled to meet refugee children at the US-Mexico border, children her husband had stolen from their parents.
She's kind of an asshole.
At the end of the video clip where Melania Trump said that shit, the journalist who interviewed her said we get to see more of their discussion tomorrow (hooray) and that we will be just shocked when we find out the real reason she picked cyber-bullying as her platform. Are you ready to be shocked?
Or do you not give a fuck?
SPOILER, you do not give a fuck, and neither do we.
Follow Evan Hurst on Twitter RIGHT NOW, DO IT RIGHT NOW!
Wonkette is the ONLY NEWS ON THE INTERNET. Please give us money RIGHT THERE BELOW if you want us to live FOREVER.
Evan Hurst
Evan Hurst is the managing editor of Wonkette, which means he is the boss of you, unless you are Rebecca, who is boss of him. His dog Lula is judging you right now.
Follow him on Twitter RIGHT HERE.