Mentioning Coffee In Romney's Presence a Form of Grave Offense
News
February 07, 2012 02:50 PM
One unfortunate Mitt Romney supporter in Florida seems to have discovered a novel way of getting kicked out of a campaign event: Alan Reynolds showed up to a Mittens rally with a sign bearing the (mysterious?) collection of words, "Tea Party Includes Cuban Coffee Romney." NOT COOL, said Romney campaign staff. Because Mitt Romney does not drink coffee. It is against his magick moon religion. Therefore this hilarious nonsense phrase must be kept away from Mitt AT ALL COSTS and Reynolds was told to leave. No, we don't understand it, either! Does Mitt Romney melt away like the Wicked Witch if he so much as reads one of the special Mormon naughty words?
---
That's one theory. The other conclusion one might draw is that Mitt Romney's campaign staff does not know how to properly interpret teabagger signage, ha ha:
[Reynolds] thought his sign would be well received at an event with a few hundred mostly Hispanic supporters and a heavily Cuban flavor -- including a heap of lechón.

But he may have touched off trouble with his other signage, a piece that read: "No Newt-ist Colony on the Moon, Vote Romney."

"They saw the word, 'Newt," and thought I was a Gingrich supporter," Reynolds says.

To smooth things over, he tried to demonstrate his Romney support by showing off his Cuban coffee masterpiece: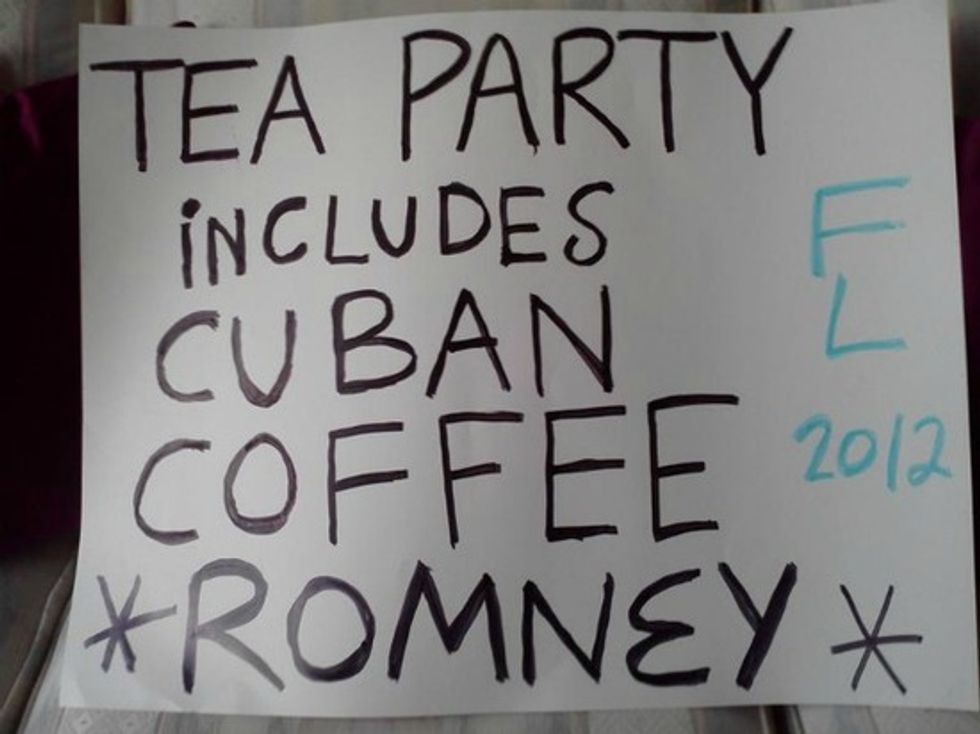 ​That's when things really got bizarre, with the staffers bringing up Mormonism's ban on drinking caffeine. "I said, 'This sign is clever!,'" he says. "They said it was offensive because he's Mormon."
Anyone caught drinking coffee in Mitt Romney's White House will be sent to Mormon baptize dead popes, as punishment. [Miami New Times]