Merry Xmas, America! (Don't Eat the Poison Gingerbread Houses)
News
December 25, 2010 09:24 PM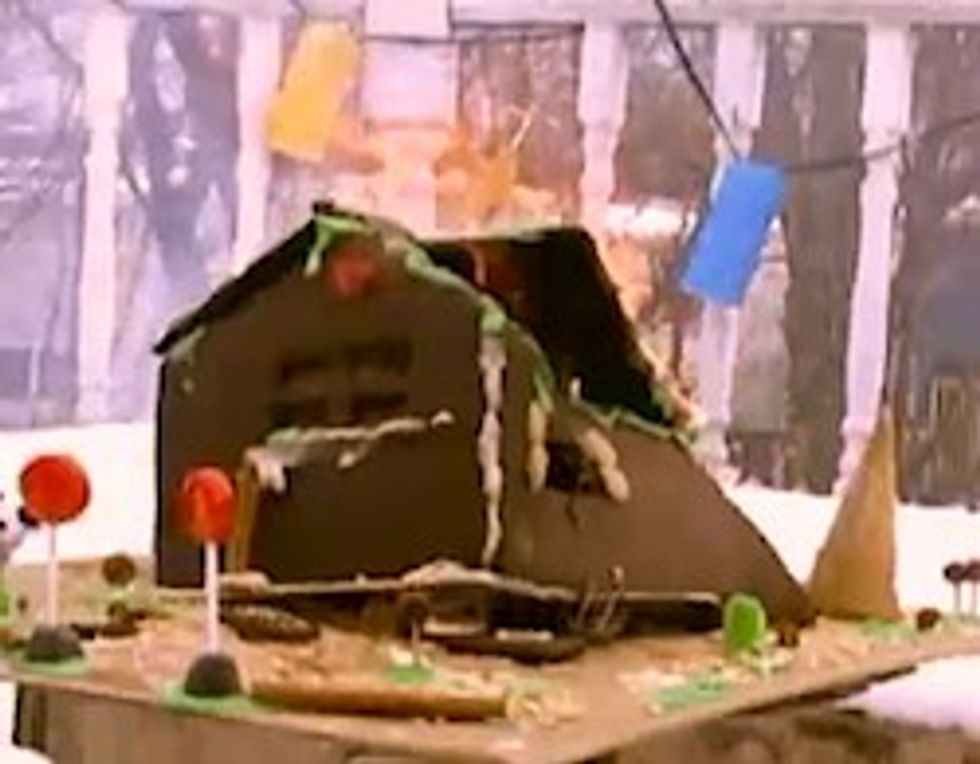 Christmas Day is over, pretty much! It's all down to the weeping and drunken fighting with what's her name, your relative probably, and the kids freaking out over their broken shoddy toys and the crippling mudslide/snowstorm that will prevent you from ever getting home (which was foreclosed, anyway). Also, the Gingerbread Houses are filled with a special Christmas treat this year: poison! And not the rockin' '80s hair band, either! (Haha there was a successful hair band called Poison, we've just remembered, because of these tainted gingerbread houses.)
---
News organizations report on the continuing crisis:
Assembled gingerbread houses manufactured by Illinois-based Rolf's Patisserie, and sold locally by Whole Foods Market, are among desserts being recalled after possibly causing food poisoning.

All desserts made by Rolf's, which are sold through retail outlets, wholesalers and online, are being recalled after being connected to several outbreaks of Staphylococcus aureus food poisoning. The bacteria produces toxins in foods and can cause nausea, vomiting, stomach cramps and diarrhea.
CNN adds that basically all baked dessert goods should be considered poisonous, forever:
Pastries, cakes, cookies, pies and other baked goods made by Rolf's Patisserie in Chicago are being recalled this Christmas Eve, over concerns that the sweets may contain Staphylococcus Aureus bacteria.

In a written statement released Friday, the U.S. Food and Drug Administration says the pastries have already sickened 100 people in Illinois and Wisconsin ....
People started getting sick from this shit about a month ago, so it's a good thing the FDA waited until last night, Christmas Eve, to put out the Death Warning.
Happy Christmas, people of Wonketteland! Prepare for a week of either a) gastrointestinal illness or b) a bunch of "year in review" articles.