Michael Moore Posts Bail For Fellow America-Hater Julian Assange
News
December 14, 2010 11:39 AM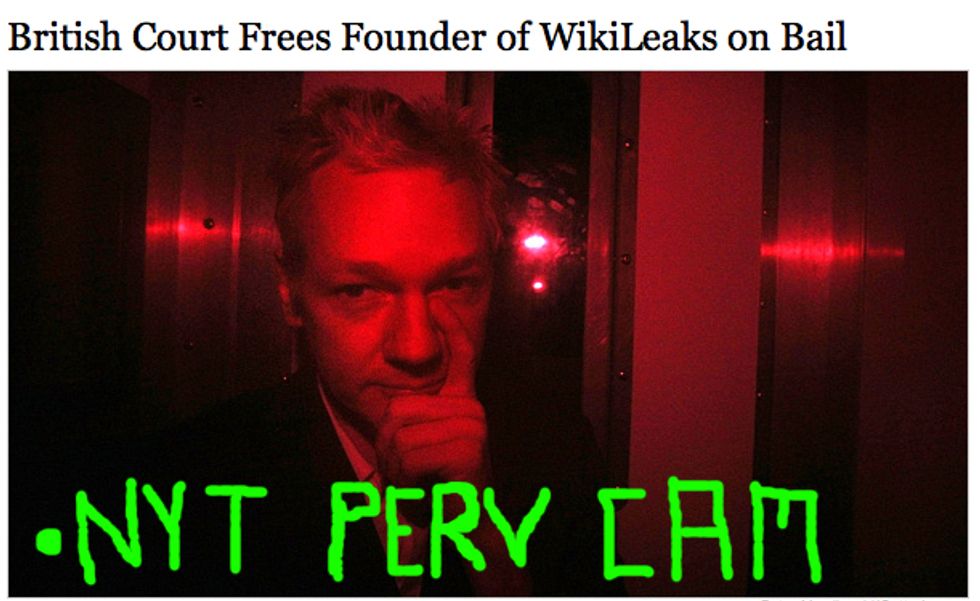 WikiLeaks America-hater-droid Julian Assange has finally been released on bail for not wearing a condom while in Sweden or whatever, and his bail was paid in part by the less Internetty, more fattily American Julian Assange, Michael Moore. Assange now "must reside at Ellingham Hall, a Georgian mansion in Bungay, eastern England," which would be a tough sentence for any criminal.
---
No wonder those hoodies like stabbing people so much. They get to live in a mansion while out on bail!
Mr. Assange must spend every night at the mansion and will be electronically tagged so that police can track his movements, the judge said.
And each night one of his mansion-mates will be found dead. Will he be next? Find out on the next Big Brother: Hercule Poirot Mysteries.
In a packed courtroom hearing lasting nearly an hour a week ago, Gemma Lindfield, a lawyer acting for the Swedish government, outlined some of the detailed allegations against Mr. Assange made by the Swedish women, both WikiLeaks volunteers. They involved three incidents , including one in which Mr. Assange was alleged to have had unprotected sex with one of his accusers as she was asleep.

In court last week, Mr. Assange refused to give a current address, giving first a post office box, then an address in Parkville in the Australian state of Victoria, where he lived before adopting a nomadic lifestyle since founding WikiLeaks in 2006.
This guy is the best. Can we cancel Christmas and have another Halloween so we can all dress up as various forms of Julian Assange?
BUT PLEASE, EVERYONE, THIS IS ABOUT MICHAEL MOORE. That man put up a whole $20,000 of Assange's $310,000 bail, so basically all of it. [NYT/Michael Moore]