Michael Steele Called Upon To Prove Some Republican Isn't Racist
News
December 02, 2011 09:42 AM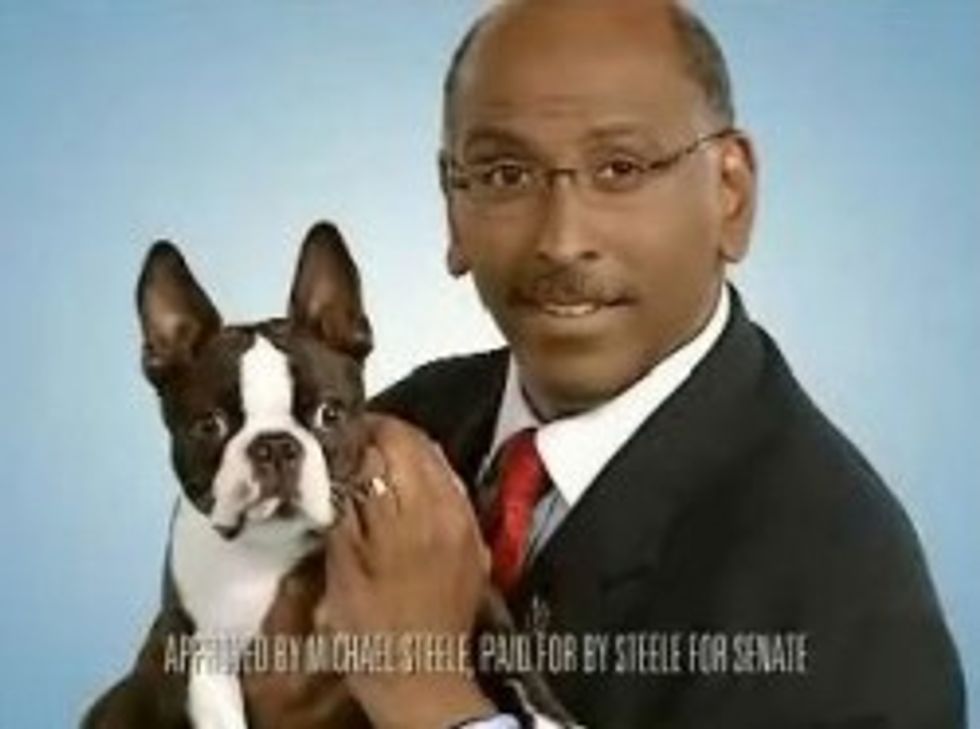 Irrepressible scamp and incidental former lieutenant governor of MarylandMichael Steele testified Thursday as a character witness for Paul Schurick, an adviser in former Maryland governor Bob Ehrlich's failed 2010 gubernatorial campaign who is in trouble for allegedly putting together an election-day robocall effort to drive down black turnout in the race. Schurick lined up a two-day flood of character witnesses including Steele and others (taking all comers, obviously!) who will talk about, oh who knows, the winsome glint of his eyes under the harvest moon? His unimpeachable church-goingness? And God, and the Bible? Pretty much his defense is trying to convince the jury that Schurick only approved the robocalls on accident because look at how Michael Steele is black, and he sure does like Shurick! Case closed. And with respect to the roboscript in question, there has probably never been a more noble defense of the idea of participatory democracy.
---
Just kidding! It's completely terrible, of course. Three cheers for our new robo-constitution!
"Hello. I'm calling to let everybody know that Governor O'Malley and President Obama have been successful," the call said. "Our goals have been met. The polls were correct, and we took it back. We're OK. Relax. Everything's fine. The only thing left is to watch it on TV tonight. Congratulations, and thank you."
Hello, probable black person. Relax. Your black president, who is not even running for re-election this year, and his local sidekick have been successful in some unnamed enterprise. Go back to sleep. It's going to be fine. Don't fight this. Shhhh. SHHHHHHH.
At first glance, it might seem sort of suspicious that these calls only went out to Democratic voters in overwhelmingly black Baltimore and Prince George's County. Not to mention that notes written two months before the election and later seized by the FBI did, in fact, show that an employee of Ehrlich campaign subcontractor Universal Elections, Inc. was scribbling the phrase "suppress turnout in black communities" smack-dab next to the number "100,000," which looks sort of like the number "112,000," which, guess what, is also how many robocalls were made on election night.
But before you go all predictably libtard, keep in mind that this same employee later testified that she was just too "lazy" to pop the floppy disk with Republicans' numbers into the robocalling Suppressotron 1999. And Schurick's defense is arguing that he didn't even listen to the roboscript.
Teeny bit of a problem with that, though:
Special Agent John Poliks, an investigator for the state prosecutor's office, testified that Schurick admitted to him that he authorized the robocall but denied that he had heard its contents on Election Day. Poliks provided phone records to the jury to show a copy of the robocall had been sent to the voice mail on Schurick's phone and that he had listened to his voice mail at 6:13 p.m. the day of the election. The robocalls began at 5:55 p.m. and ended at 8 p.m., phone records show.
Is this what it feels like to live in a Carl Hiaasen subplot? Also, quick question: are you supposed to laugh or just immediately get cancer when you hear that Michael Steele is somebody's actual character witness? [Baltimore Sun]