Michael Steele Is Now Going To Wreck MSNBC
News
May 23, 2011 02:04 PM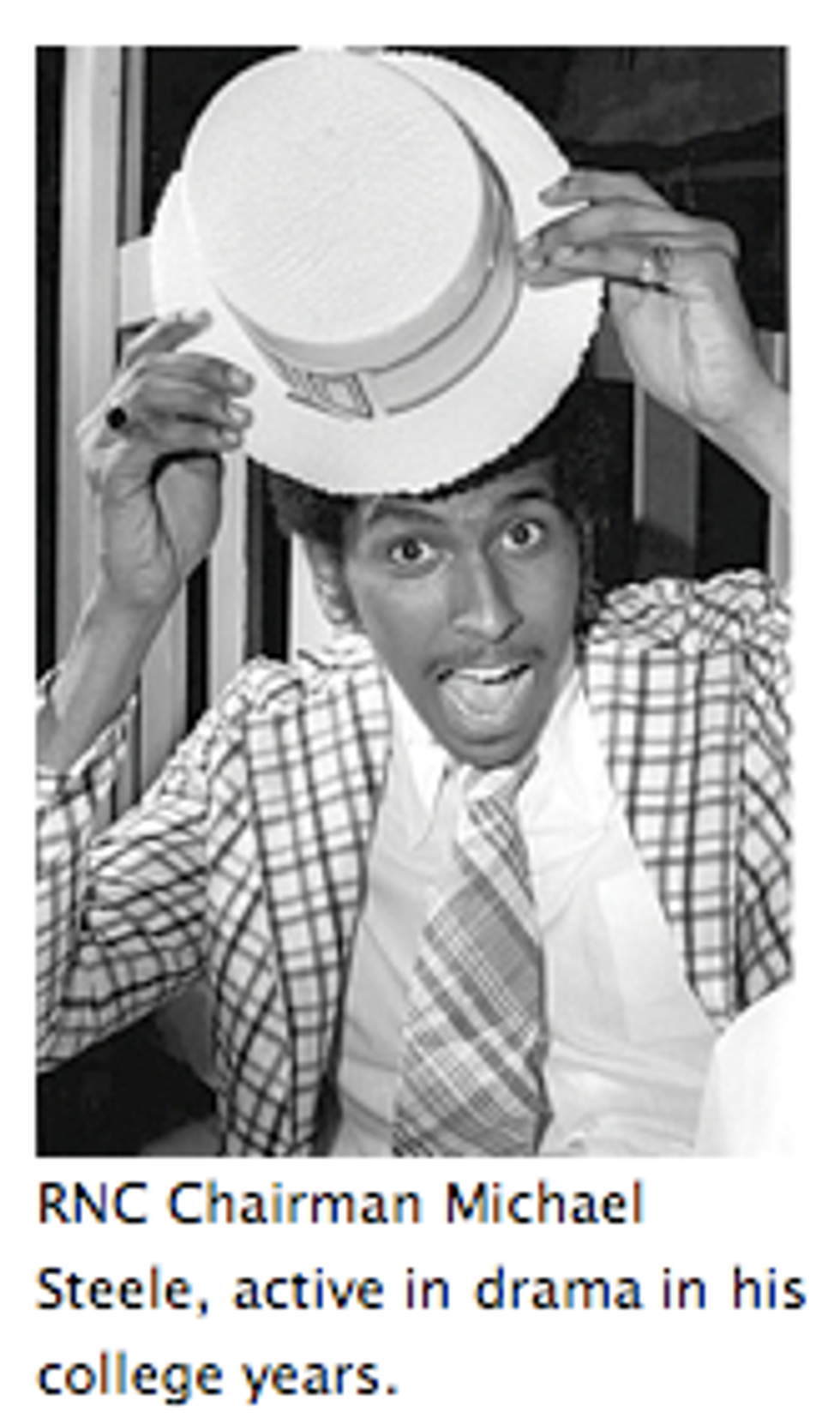 Michael Steele was (barely) chosen as the Republican Party chairman a few years ago as a response to Barack Obama's election to the presidency. Not apolitical response, so much as an image-y kind of thing. It's hard to remember now, but the trend in 2008-2009 was all about tall, dark and handsome men. Especially the "dark" part. But the Republicans only had creepy old goatee-man Alan Keyes and bald Maryland mediocrity Michael Steele to choose from, and what's his name, the pizza man, hadn't yet been born. (Herman Cain is a super baby, were you aware?) So they, the Republicans, picked Michael Steele to run the Republican party. And all the angry white old people promptly started their own Republican Party, but without the black people, and they called this the "Tea Party" (even though they mostly drank Sprite). Now Michael Steele has finished his work at the RNC, and is going to be a TV star with Rachel Maddow and ... I don't know anyone else on MSNBC. Conan O'Brien?
---
If you want a quick lesson in the history of Michael Steele, you should go read all the posts by my hero Juli Weiner, who is now a literary star at Vanity Fair magazine and probably has a limo and thrice-weekly nail appointments. The main things Michael Steele did for the RNC was to hire a lot of lesbian strippers, which is pretty street, and then to put these hip-hop videos on the Republican website. Let's find this press release they forwarded to us.
FORMER RNC CHAIR MICHAEL STEELE NAMED MSNBC POLITICAL ANALYST

New York – May 23, 2011 – Former Republican National Committee (RNC) chairman Michael Steele has been named MSNBC political analyst. The announcement was made today by Phil Griffin, President of MSNBC, and is effective immediately.

Steele, who has been a frequent guest on MSNBC, will now regularly appear on the full lineup of MSNBC programming as part of the network's diverse group of analysts and contributors.

"I'm thrilled to have Michael join MSNBC," said Phil Griffin, President of MSNBC. "His strong voice and opinions will be a great addition to all of our programs."

"It's an honor to contribute and engage in the dialogue on MSNBC," said Steele. "I look forward to engaging a diverse audience to share insights and analysis about the people, issues, and events shaping America's future. I'm sure our discussions will be both informative and a bit spirited!"

Michael Steele is President and CEO of The Steele Group, a company he started in 1999. The Steele Group works with institutional and individual clients to design overall business development, investor, networking, and communications strategies. He was the first African-American chairman of the Republican National Committee. Steele left the RNC post earlier this year after setting a new direction for the Republican Party that led to record-setting fundraising totals and winning more seats at the federal, state, and local level since 1928. Prior to that, Steele was elected Lieutenant Governor of Maryland, becoming the first African American elected in that state.
Dreamy. Do I link a news story even if it's just from a press release you forwarded me? I will link this story in the Baltimore paper because "The Wire" had a lot of black people in it and Michael Steele is probably just like in that show, because he lives in Maryland. Not really, he so lives in Chevy Chase! [Baltimore Sun]