Michael Steele's New Fund-Raiser Person Also Fired & Fined For Night Club Partytimes
News
April 06, 2010 09:19 AM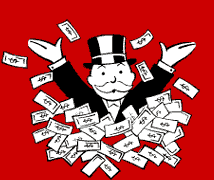 How "street" is RNC chairman Michael Steele, leader of America's Republican Party? His new fund-raising ace who gotfired & fined for blowing through nearly $70,000 from DC's pro-baseball lobby also got busted for inappropriately dropping money at night clubs. These Republicans are regular Lindsey Lohans!
---
TPM Muckraker's Justin Elliot reports:
The man recently hired by Michael Steele as a Republican National Committee fundraiser was accused in 2005 by a political action committee he chaired of improperly using PAC money on personal nightclub bills, according to a copy of the complaint filed against him.

Neil Alpert allegedly used PAC money for unauthorized personal expenses including "cash, C.V.S. drug store, gasoline, various meals, and night club bills" .... "The money slowly disappeared and we had no idea where it was going," Al Madison, a former official at the PAC, told TPMmuckraker in a phone interview today. "And he was very very circumspect. You never got a straight answer from him."
This guy is gonna go far! We figure he'll be named new RNC chief once Steele is finally fired later this week. [TPM Muckraker]