Michele Bachmann Finally Finds Something She Won't Talk About
News
May 25, 2010 10:27 AM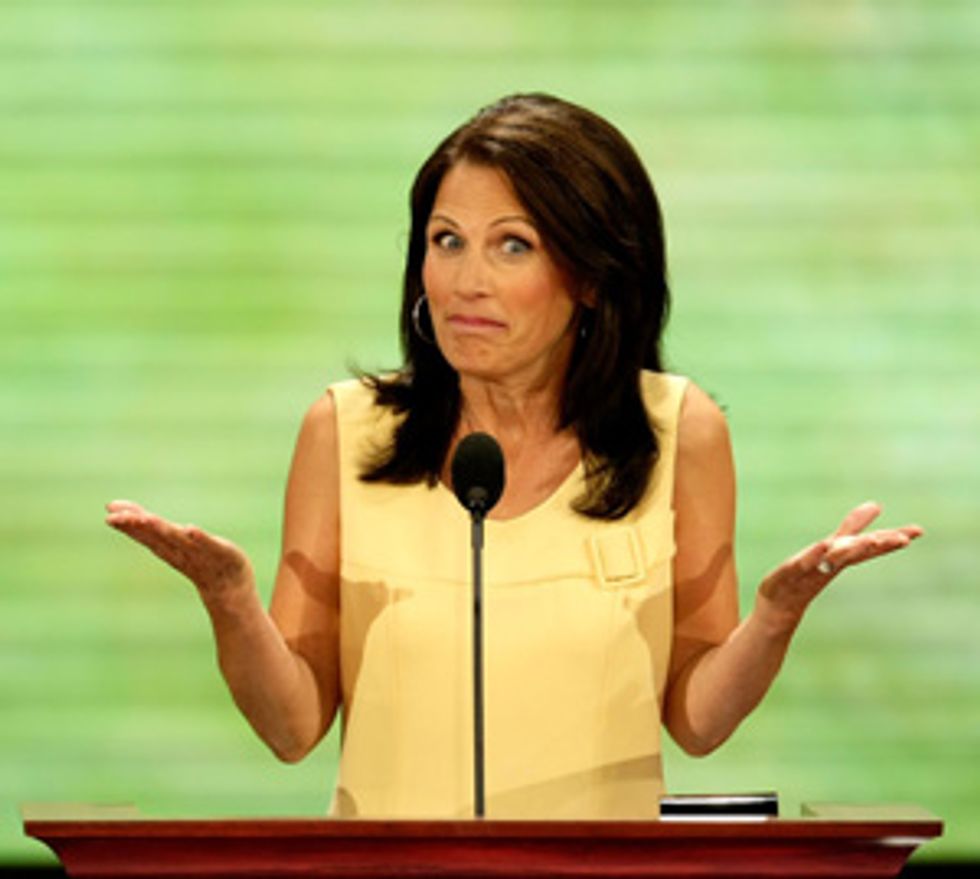 America's second most-hated Republican woman, Michele Bachmann, has always been comfortable expressing her views on the important political issues of the day, such as Americans' constitutional right to use incandescent light bulbs, and the need to liberate millions of innocent unborn babies from Obama's Maoist reeducation camps. But now there is one thing in this world that she will not talk about. Can you guess what it is? Hint: It's libertarian, lives in a segregated school bus at the Kentucky Derby, and is currently hiding behind a pile of inflation-proof gold doubloons so the teevee people won't find it.
---
That's right -- it's the Rand Paul monster!
"I'm not commenting on Rand Paul," Bachmann told a group of reporters, who caught up with her while she was delivering fruit baskets and living-wage jobs to the residents of St. Paul's homeless shelters. "I've got to focus on my race," she explained.
Why is anti-sexist woman Michele Bachmann suddenly oppressing herself like this? Until now, we have always been able to count on her steadfast refusal (inability?) to filter her thoughts. What kind of message does this send to the young women of America, who need dependable role models?
Looks like it's time for Sarah Palin to round up her team of mama grizzlies and pink elephants and have a talk with BFF-sister Bachmann, before she starts showing the restraint characteristic of a sane person on a regular basis ("going rogue"). Or before all of the snow women in their respective, freezing-cold states start wearing burqas, whichever comes first. [Minneapolis Star Tribune]