Michele Bachmann Trying To 'Get' To Nancy Pelosi
News
August 09, 2010 11:38 AM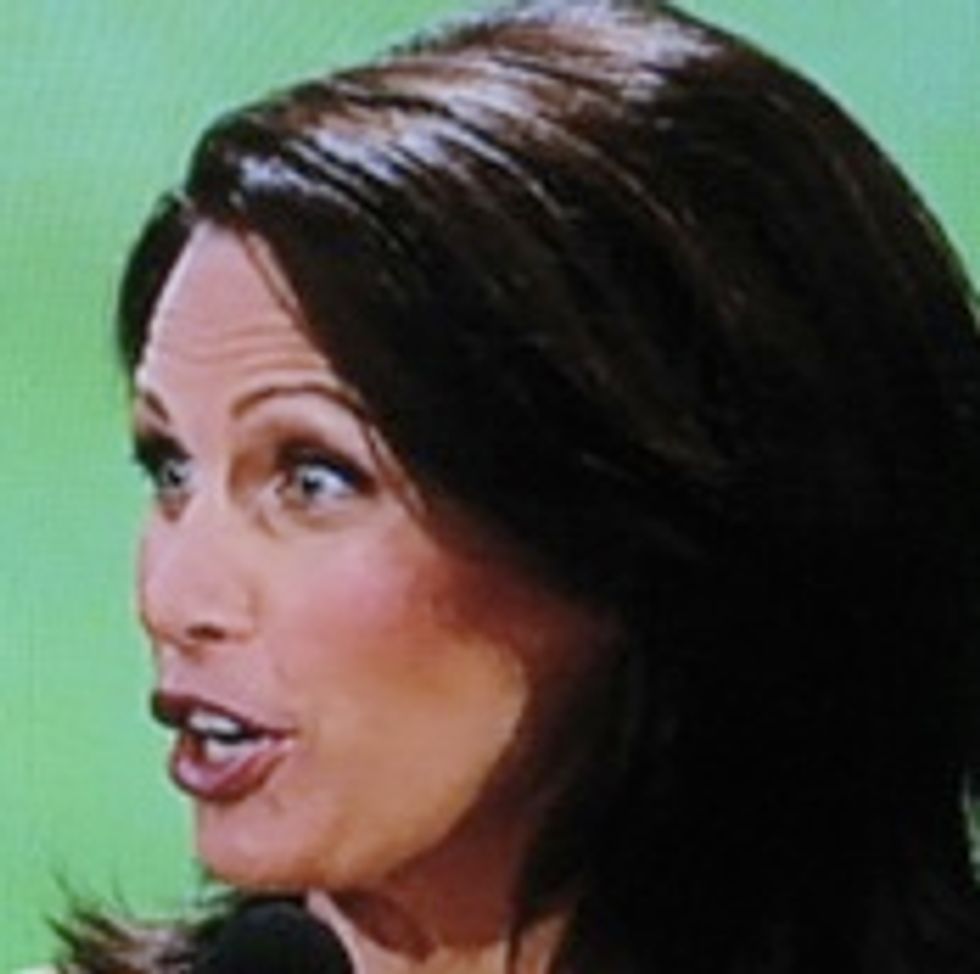 Empress of Minnesota Michele Bachmann has been using her popular e-newsletter and blog to ask the trenchant political questions of our time, like, "Is Nancy Pelosi afraid of strong conservative women?" and "Is Nancy Pelosi stress-binging oncherpumples after hours? I see love handles." Bachmann's latest complaint involves Pelosi's calling the House back from break this week to vote on a $26 billion spending bill for stupid crap like schools. In rebellion, Bachmann will launch a war in the form of a national tele-townhall that starts "at the exact moment Speaker Pelosi is opening her session." Oooh, nasty.
---
To get in on the fun, you have to sign up and then be at your phone at 7 PM Eastern time, when Bachmann herself will call you and everyone else who agreed to participate. She's "invited" more than 1,000,000 people, which is still pretty exclusive, if you consider how many Americans and illegal immigrant-terrorists live within our borders these days:
We will call 1,000,000 households, tell them what the Speaker is doing, and ask the peoples' opinion on the "Cash for Democrat re-election Program."

I am also inviting anyone to join us on the call by signing up at my website, michelebachmann.com. People can weigh in with their opinions in a live interaction with members of Congress.

This is by far the gutsiest move of desperation yet seen on the part of Speaker Pelosi.
If anybody knows about desperation, it's Michele Bachmann. A name you can trust!
Judging from the invitation, it seems you have to be a "tea partier" to be on the call. But Tea Partying is a state of mind, so don't let that stop you. You might, however, let "handing over your phone number to a woman who is emailing paranoid missives on a daily basis" stop you.
Speaking of stopping things, Bachmann is also calling on Fancy Pelosi to enter a 12-step program "for her addiction to job-killing spending," because she either cares about taxpayers very much or is simply jealous of Pelosi's deluxe office and flower gardens. (Unconfirmed rumor: Bachmann herself is in a 12-step program for people addicted to McCarthyism.) Among other things, this probably means that we won't see any photo ops of the two of them making "bipartisan girlfriend time" amends at the local Ann Taylor anytime soon.
UPDATE: Bachmann just sent out another Urgent Communiqué, reminding your Wonkette that we still haven't contributed to her Very Important Primary Campaign Fund so that she can win her Very Important Primary, tomorrow. [New York Times/MicheleBachmann.com]