Michelle Obama Does Topless Magazine Cover For Filthy Europeans
News
August 31, 2012 10:33 AM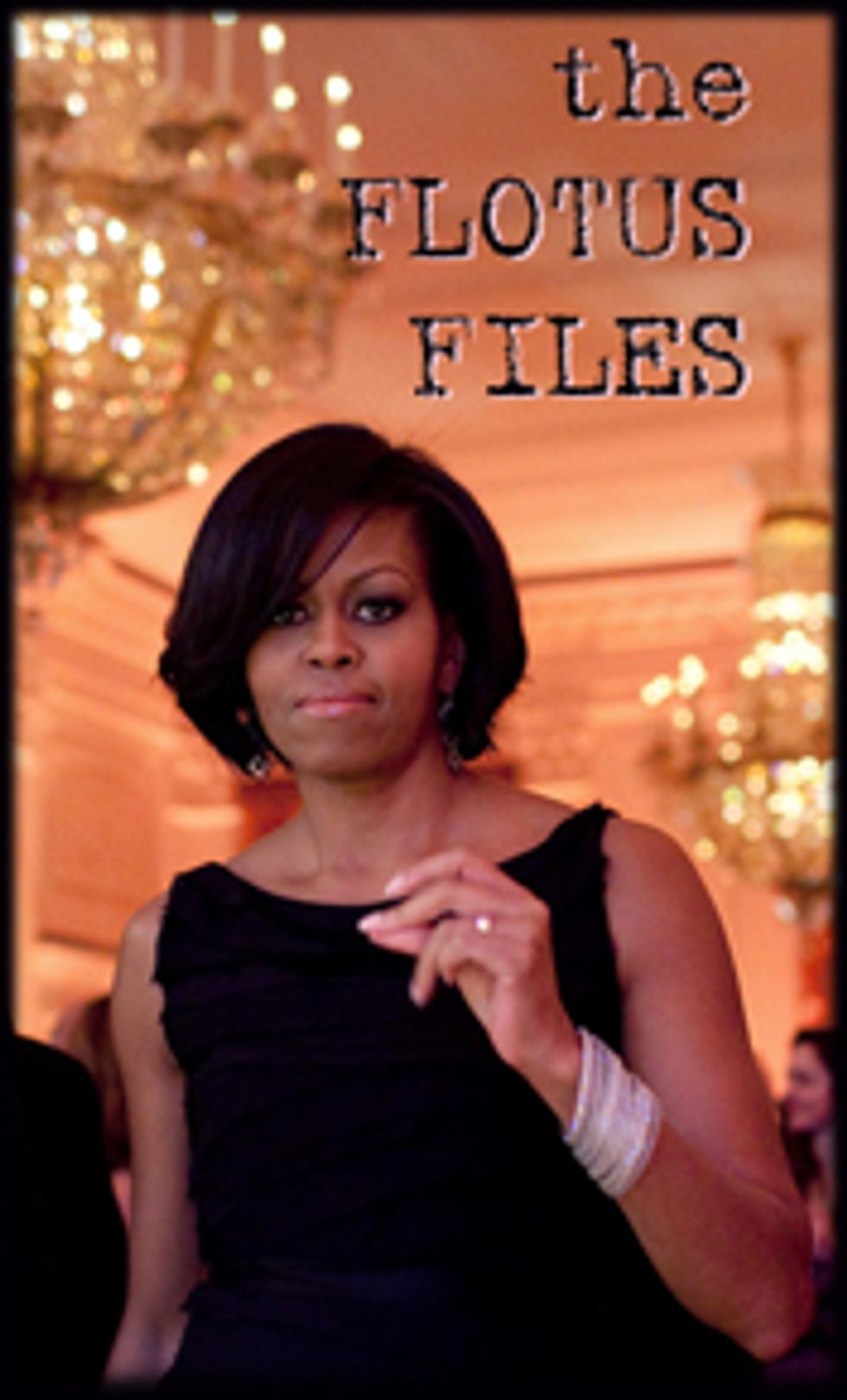 Here is the great news for those of us who have longed for some FLOTUS in our lives these past few days: Michelle Obama is involved in another scandal again, and surprise surprise, it involves Spain and France and being an Africanand, oh wait, NUDITY. And once our nation's bucket hat-wearing slobs and zombie white ladies finish fantasizing about what Clint Eastwood would say to them if they were an empty chair (gross!) they will probably get around to being "appalled" that our First Lady is a naked slave on a foreign magazine. Or they will fight for as many copies as they can get their creepy, trembling hands on. Actually, they will probably experience both of these reactions simultaneously. So what now, Ann Romney, homemaker/equestrian?
---
Is it racist? Is it art? Is it the result of a free 30-day trial of Photoshop gone awry? Let's ask these questions while staring at a blurred-out cartoon boob!
[Fuera de Serie] either decided to go provocative or political when featuring a manipulated image of the first lady pictured as a topless, enslaved woman.

Taken from the "Famous Nudes" series done by artist Karine Percheron-Daniels, the painting was created by superimposing Obama's face onto the body of the Black enslaved woman shown in the 1800 "Portrait d'une négresse" by French artist Marie-Guillemine Benoist.

"By choosing to use such a jarring image to tell the story of how America's first lady "seduced the people of the United States" and "stole the heart of Barack Obama," as Fuera de Serie describes her," writes Brande Victorian of Madame Noire, "it's clear the magazine agrees with that mentality and wants to spread the message loud and clear: todavía estamos esclavos. We are still slaves."
But no, an involuntary topless magazine cover is supposed to be empowering. You are getting it all wrong!
Percheron-Daniels has even updated her website with a statement regarding the controversial Fuera de Serie cover:

If any of you have found this piece of art insulting I would like to say that my GENUINE intention was never to chock [sic] or upset anyone. I created this picture as part of a series of other famous nudes. As an artist I only paint and create pictures of people I admire and feel passionate about Michelle Obama is one of these people. In my eyes, the picture I created here is of a beautiful woman with a beautiful message: The first Lady of America in the first time in history is a black woman who proudly and confidently displays her WOMANHOOD (the nude) her ROOTS (the slave) and her POWER (the First Lady of America embraced by the American flag). This picture, is a celebration of EVERYTHING GOOD, it is a celebration of achievment and in my opinion is not a racist slur.
So, uh, anyways, does anyone know who won that cookie bake-off? OH WHO CARES Michelle Obama is pretend-naked on the cover of a magazine! Sorry, Family Circle magazine, you lose this round. Four more years! [HuffPo/Styleite]