Michelle Obama Not 'Some Kind of Angry Black Woman'
News
January 11, 2012 11:45 AM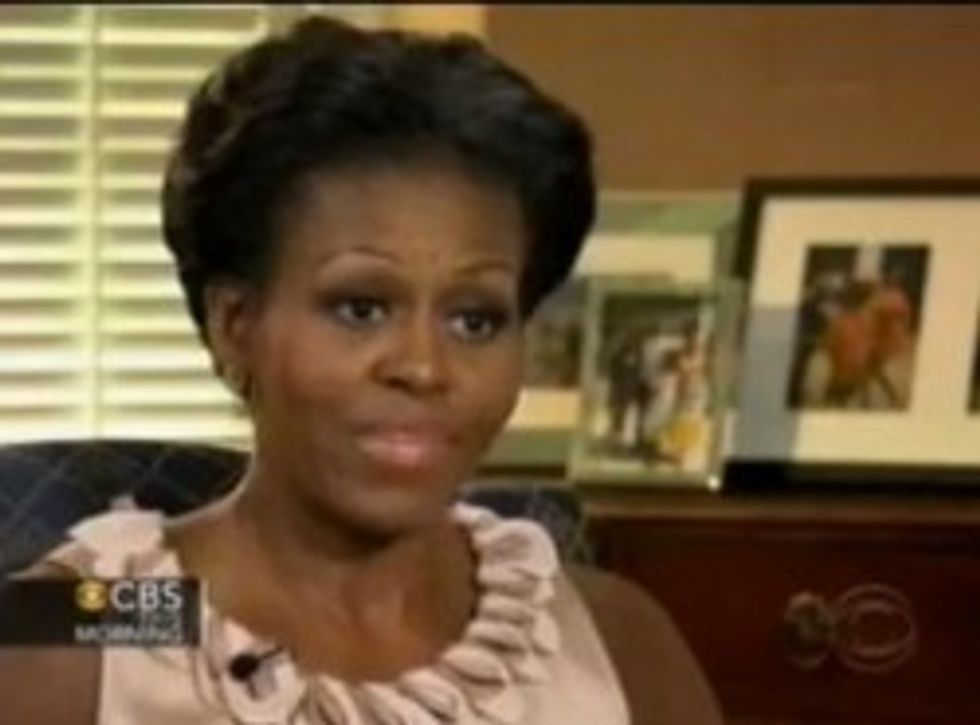 Michelle Obama didn't read that new book about her and the President, but she does have something to say about the tales therein. In an interview airing on CBS's "This Morning" Wednesday (here's a preview), the First Lady says, among other things, that she's sick of being portrayed as "some kind of angry black woman." "I guess it's just more interesting to imagine this conflicted situation here," she adds. EXCUSE ME, SOMEONE IS TRYING TO SELL A BOOK HERE, FLOBAMA.
---
The book, as our latest FLOTUS column explains, contains a lot of drama about Michelle's alleged clashings with, in particular, former chief of staff Rahm Emanuel and former press secretary and Obama confidant Robert Gibbs. For an indication of what that might entail, BuzzFeed Politics made this cartoon of exasperated White House employees attempting to communicate with each other. Among Gibbs' most offending comments toward Michelle:
Then fuck her, too!
Fascinating. But there is some kind of appeal to people huffing around the White House swearing at each other, no? Perhaps it is how they show us they care procrastinate.
In her interview, conducted by Gayle King (yes, Oprah's BFF), Michelle also has this to say:
I love this job. It has been a privilege from day one. Now there are challenges. If there's any anxiety that I feel, it's because I want to make sure that my girls (Malia and Sasha) come out of this on the other end whole. ... I do care deeply about my husband. I am one of his biggest allies. I am one of his biggest confidants.
But she wanted to dispel "this notion that I sit in meetings." If she doesn't actually, then fine. But SO WHAT IF SHE DID! After all, MOBama is pretty much the only person who has held her tenure in this White House as long as the President. She has experience now. She has on-the-job training. She probably doesn't hate everybody like everybody hates everybody else including her. She's smarter than her husband, etc.
But seriously, these guys really need Toby from HR. [Washington Times]