Michelle Obama Releases New Exercise Program Called 'Obamarcise'
News
May 26, 2010 01:01 PM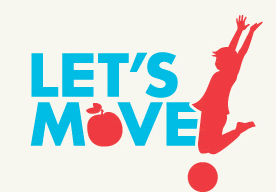 While Real American first lady Sarah Palin spent yesterday boarding up her windows with plywood to keepher terrible new spy-journalist neighbor from lookin' in, America's elected toned-arms lady Michelle Obama ran around the White House's South Lawn hopping like a bunny rabbit and picking fights with other people's children. Obama's just launched a new program called Let's Move to encourage kids to put down their frozen PorkPops and Crisco Crunchers and burn off some calories before they get super-sized. What is Michelle Obama's new five-year fitness plan all about?
---
Oh, you know, the usual Communist things:
In remarks she gave to the assembled group of kids wearing "Let's Move" t-shirts, she asked them to make a promise "that you will do your best to get that 60 minutes in every single day, and that you will find other people in your family and your schools and encourage them to do the same thing."

What followed was a good 30 minutes of structured play and exercise with help from Washington area sports teams conditioning personnel.
Interestingly, Fox News quotes Obama as telling the impressionable youngsters that they're going to "have to go home and take some of what you learn here and teach your families and the other kids in your schools," or else be sent off to jihadist fat camps. This is what she really said, because Fox News reports the truth 100% of the time.
Giving kids government-issued propaganda clothes, making them "play by the rules" and telling them to spread the doctrine of radical playtime philosophy to their friends and coworkers -- it's only a matter of time before we're all required to participate in synchronized gymnastics festivals like the North Koreans. The jumping red youth in the official Let's Move logo is just a non-too-subtle harbinger of things to come. At least we can say we were warned.