Midterm Madness: Donna Shalala Rolls Into Florida's 27th District Like A Hurricane
News
March 18, 2018 04:15 PM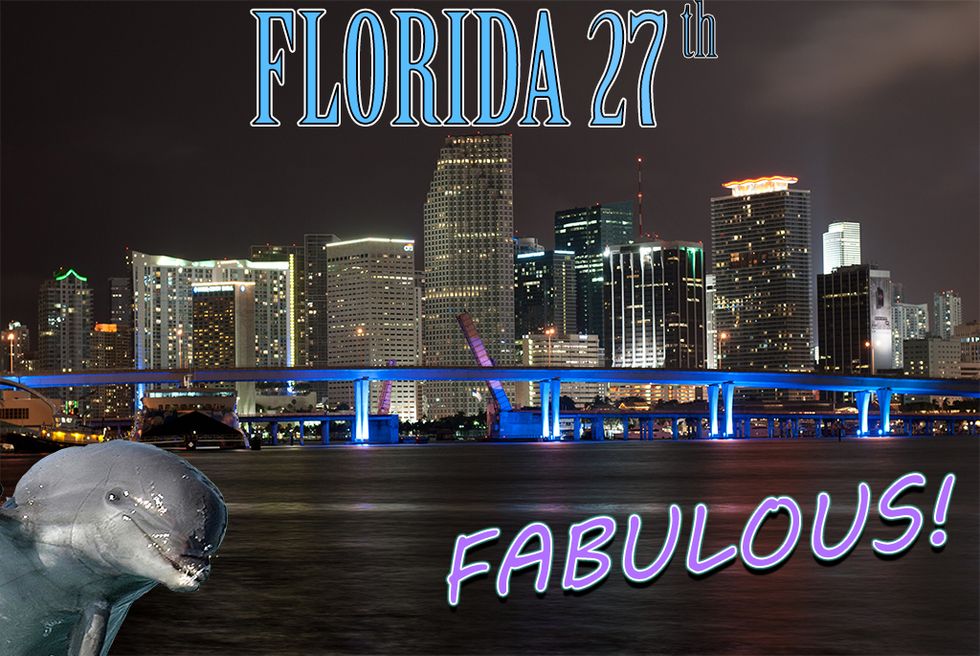 Hey there, Wonkers! This week we're sailing to Miami for a peek at Florida's 27th! It's a crowded race with some familiar faces.
---
This is a race that's wide open after current Rep. Ileana Ros-Lehtinen decided to fuck off from 495 in favor of fun, sun, and greased up dudes with daiquiris. Then again, her chances of keeping her head above the water in the face of the blue wave are as small as thong in South Beach.
Ros-Lehtinen announced her retirement in April of last year, and the number Democrats clamoring for her seat has risen steadily since. There's currently 15 candidates running to replace her, nine of whom are Democrats. The deadline to file isn't until May, and several candidates have already dropped out. By the time you finish reading this, it's entirely possible that another campaign will have launched.
Complicating matters for all the candidates, Florida just passed a "Resign-to-Run" law, which forces elected officials to resign their positions 10 days before qualifying to run for federal office. The bill is now on its way to Gov. Rick Scott's desk where it's likely to be signed into law, wrenching the arm of any Florida politicos getting too big for their sun shorts.
Since this is Miami and Southern Florida, the demographics fall along three groups: old Jewish folks, fabulous gay men, and a hell of a lot of Latino people. As a result, the income distributions skew among the very rich, the very poor, and the very retired. The issues being brought up are familiar liberal cornerstones like climate change, healthcare, and women's rights, as well as demographic specifics, like immigration, national defense, and prison reform. In the wake of the massacre in Parkland just few hours North, some candidates have been calling for gun control.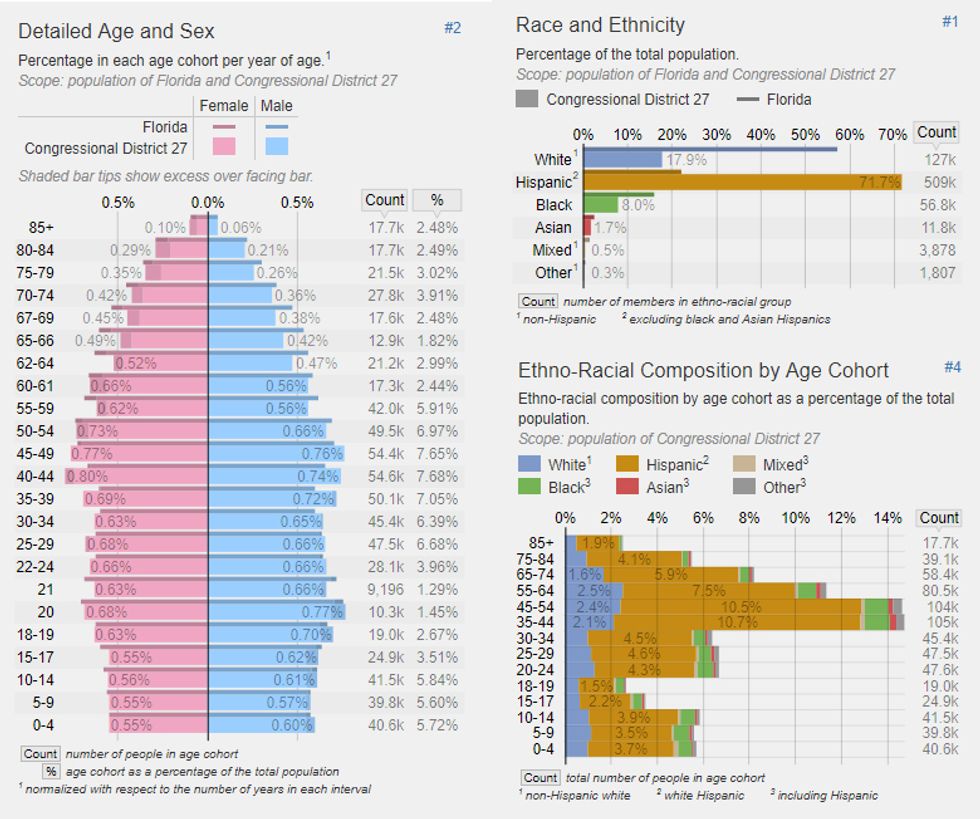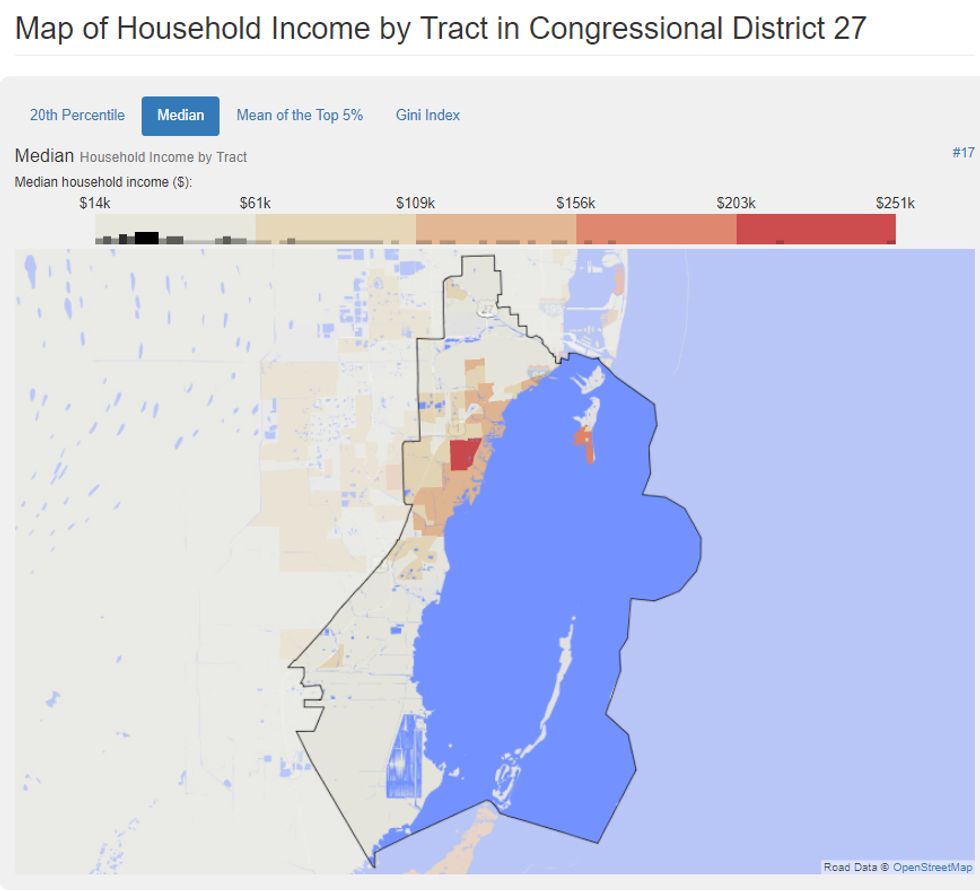 Maps and Charts via Statistical Atlas.
Aiming to replace Ros-Lehtinen is a string of hopefuls running the gamut from liberal to progressive. There's former circuit-court judge Mary Barzee Flores, who was nominated for the federal bench by Obama, only to be robbed by Marco Rubio. Now a prominent local attorney, Barzee Flores is running on Obamacare, climate change, public education and issues affecting veterans.
There's also Miami Beach Commissioner, Kristen Rosen Gonzalez. She's been a fierce critic of Trump, and recently called for an excise tax on bullets. Rosen Gonzalez will undoubtedly get hounded by her defense of a local arms dealer and major campaign donor, as well as her Trump-loving former campaign manager trolling people on social media, but she could still put up a fight.
Both Brazee Flores and Rosen Gonzalez have made the #MeToo movement a centerpiece of their campaign, openly sharing stories of sexual harassment.
Matt Haggman, a former investigative journalist who left the Knight foundation to run, is centering his campaign around the elderly, Obamacare, jobs, women's rights and climate change. Despite refusing PAC money, Haggman was leading the dash for cash at the end of 2017, (thanks to some big loans from some big banks).
Nipping at Haggman's heels are state House Rep. David Richardson, the first openly gay member of the Florida congress and a former forensic auditor/prison reformist, and state Sen. Jose Javier Rodriguez, who has pushed for environmental legislation and disaster funding.
Standing out in this wide field of congressional hopefuls is frontrunner former University of Miami president Donna Shalala. She only recently announced her candidacy, and she's been sucking up all the air like a category 5 hurricane. Shalala was the chair of the Children's Defense Fund before serving as HHS secretary under Bill Clinton, and was criticized for being too liberal. Shalala later went on to co-found Emily's List and push for a string of reforms at Walter Reed Army Medical Center during the second Iraq War.
Shalala will be able to rely on name recognition and her creds as a social justice pioneer, picking up votes from retirees, teachers, and mainstream liberals. Her ability to tap the ol' Clinton money machine will let her hold the seat for Democrats indefinitely, but she does comes with some baggage that could turn off progressives if the primaries get snippy (Clinton criticisms aside). Her tenure at UM wasn't without scandal, and just this week Shalala took a hit when a local paper ran a story that's already pissing off environmentalists. Neither should pose too much of a liability in a general election as this is Florida, there isn't a Republican in the state who can run on an environmental defense platform while they're still banned from saying "climate change."
A January poll showed Shalala getting 40% of the vote among informed voters, and 24% among uninformed voters. However, it's still very early in the race, and any number of things could happen. Shalala's candidacy is a blessing in disguise as she's not an elected official right now, so "Resign-to-Run" has no effect on her. That gives the state legislature the bodies it needs to press for more social policies, like prison reform, gun control, and banning offshore oil drilling. It also lets the current crop of candidates clean the skeletons collecting dust in their respective closets.
The bottom line here is that everyone running in this race has an angle they're working, but Shalala's familiarity with DC gives her an incalculable advantage once she gets into office. Considering that this race favors Democrats, and the Republicans are barely putting up a fight by allowing a candidate to run who described her alien abduction in 2009, the only way for Democrats to lose this race is through cheap shots and stupidity.
[Ballotpedia / Statistical Atlas / 538 / Miami New Times / Miami Herald / Tampa Bay Times / Florida Politics blog]
Wonkette is fully funded by readers like you. Click here to tip us!
Dominic Gwinn
Dominic is a broke journalist in Chicago. You can find him in a dirty bar talking to weirdos, or in a gutter taking photos.