Mike Huckabee Lectures Jewishes In Their Homeland. It Does Not Go Well
News
August 20, 2015 12:00 PM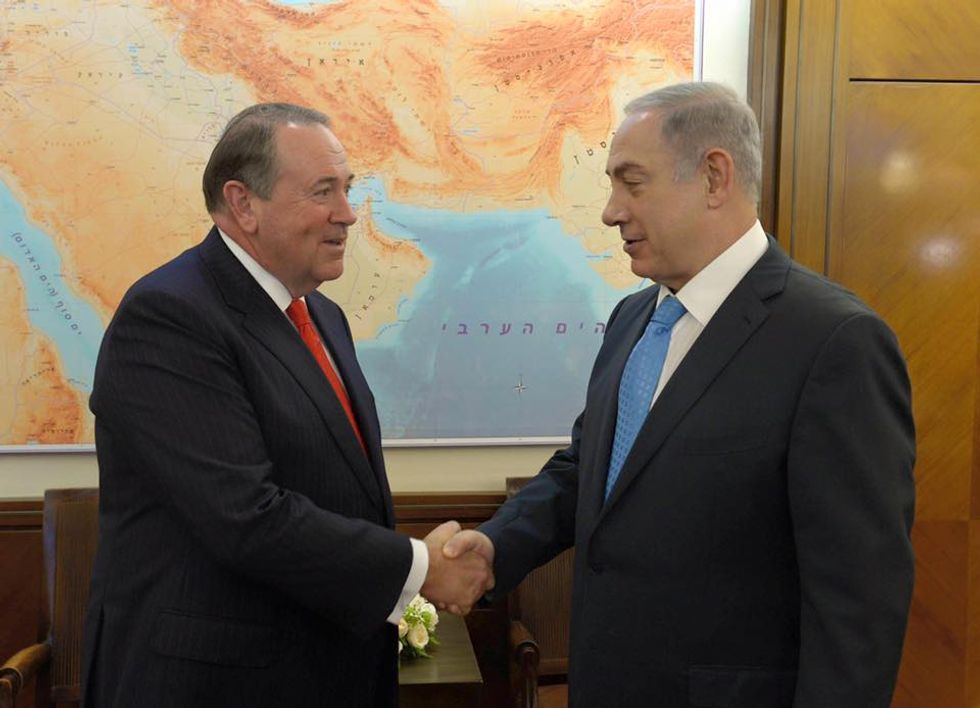 Some of his best friends yadda yadda
---
Oozing chancroid sore Mike Huckabee traveled to Israel recently to explain to his mishpucha why he will be the best president of the United States of Israel EVER, now give him all the Jew money, please and thank you.
You'd think a self-appointed expert on the Jewishes -- he's been to Israel several times, you know, and he's seen the ovens at Auschwitz, and he has so many Jewish friends he is practically more Jewish than they are! -- would know better than to lecture actual Israelis about their own country. You'd think:
At times taking positions to the right of Israel's government, the former governor of Arkansas at one stage described Russia as the "Soviet Union" – when referring to its plans to supply Iran with S-300 anti-aircraft missiles – before correcting himself.

He also seemed to suggest that the West Bank bordered one of Israel's enemies, as opposed to Jordan, which has long enjoyed a peace treaty with Israel. [...]

"I cannot imagine that any American who comes here would somehow feel that the Israelis are out of line in wanting to have as safe a barrier between them and their sworn enemies as possible."
And no, Huck wasn't talking about the existing wall between Israel and the West Bank. He was talking about making the West Bank a permanent part of Israel (bye, two-state solution!), and the only country on the other side of that river is Jordan. We can hardly blame Huckabee, a guy who still thinks hating Cuba is a thing, for momentarily getting confused about whether the Soviet Union is a thing too. Slip of the tongue and all. It's the kind of error any conservative who jerks off to Tom Clancy novels can make.
It's a little harder, though, to understand how the world's foremost expert on Israel could get the country's geography so terribly wrong. It's not like Israel is that big, after all. Maybe Huckabee simply hasn't heard the recent news about the peace treaty Israel and Jordan signed. In 1994. In a region where Israel has so few friends -- like, two -- it shouldn't be that hard to keep track of who they are. For someone as knowledgeable as Huckabee, that is.
Huckabee also tried to win the hearts and minds of the Israeli caucus-goers (that's definitely not a thing, FYI) by trying to out-extreme Israel's extremists:
Taking a position to the right of even the declared statements of rightwing Israeli ministers who have argued for the annexation of parts of the West Bank, Huckabee, an evangelical Christian who has visited Israel dozens of times, repeated his comments made in Shilo that the West Bank was part of Israel, adding that Israel should be free to expand there.
Adorable, innit? Can't imagine why actual Israelis have told Huckabee to shut the hell up and stop trying to help. That kind of extremism might not garner Huckabee any love from Israeli voters who can't vote for him, but gosh, it'll probably make the evangelical Christians back home happy, and isn't that what really matters?
Huck's love of Jewish Israelis and their right to exist -- and their right to give him money, of course; The Guardian notes that he is "certainly the first to have held a fundraiser for his campaign in an Israeli settlement" -- would be slightly more credible if it weren't so painfully obvious that his love of the nation has everything to do with his evangelical apocalyptical fantasies in which Jesus comes back and all the Jews burn in hell. It might be helpful if Huckabee's constant yammering about religious liberty in America included a reference to non-Christians too. Heck, he could go all out and offer a word or two on the 142 neo-Nazi groups right here in the United States and the anti-Semitism American Jews regularly experience.
But nah. That would mean Huckabee actually cared about Jews and their existence, not just the security of a country he needs to fulfill his dreams of one day pallin' around with Jesus in Heaven.