Mike Huckabee Declares Himself God's Unqualified Instrument
News
November 13, 2014 10:00 AM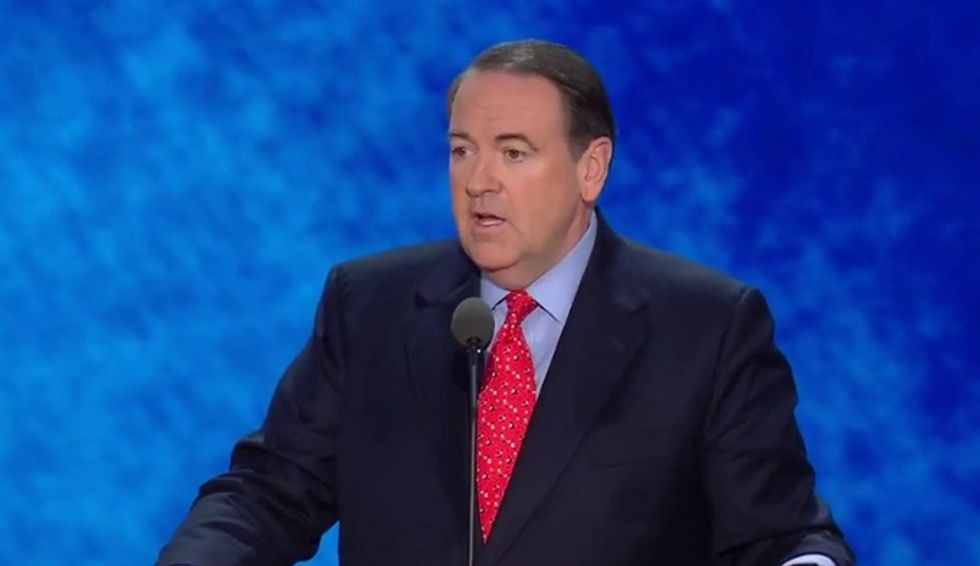 Mike Huckabee's Saturday night show on Fox News, "Huckabee," could soon be killed by its host's political ambitions, putting the cable commentary landscape in danger of losing a significant source of down-home everymanliness. Following a new profile in the Washington Post about Huckabee's non-campaign campaign, CNN's Brian Stelter reports that Fox's VP of programming would like to speak to the former governor regarding his future at the network at his earliest convenience.
---
"We are taking a serious look at Governor Huckabee's recent activity in the political arena and are evaluating his current status," (VP Bill) Shine said in a statement to CNN. "We plan on meeting with him when he returns from his trip overseas."
And what is this overseas trip that has Huckabee out of reach? As it happens, he's off on a 10-day tour of Europe with a hand-picked group of religious leaders from totally random places like Iowa and New Hampshire.
During the trip, pastors will have the opportunity to visit Krakow, Poland and London, England before ending the tour in Los Angeles, California. They will also make stops in Auschwitz to tour Schindler's Factory, have dinner at the historical Galicia Jewish Museum and visit important sites of Pope John Paul II. Furthermore, they will have dinner at the Churchill War Rooms in London, visit the Parliament and interact with Parliament members.
Huckabee didn't undertake this junket to bolster his chances in the Republican presidential primary by burnishing his foreign relations credentials and buying the love of early-primary pulpiteers with an all-inclusive vacation. Heavens, no! This is merely his way of fighting the scourge of narrow-minded elites who only want leaders who are qualified for things.
"Three remarkable leaders, Ronald Reagan, Margaret Thatcher, Pope John Paul, were the human instruments God used to change the course of all world history," said Huckabee in a video invitation sent to the pastors. "None of them were qualified according to the press and political pundits or professional critics but rooted in their unshakable beliefs, they rose to become prophetic voices for freedom and opportunity."
If there's one thing Mike Huckabee has plenty of, it's unshakable beliefs, not that he's comparing himself to these three God-approved leaders at all! Although if you happen to be in the market for a new "instrument" to get America back on the lord's good side, who could be better than a former governor and Baptist minister who appears unqualified and is about to have a little more free time on Saturdays?
Mike Huckabee is America's holy out-of-tune harmonica, just waiting for the breath of the almighty to honk a new song for our great nation. Huckabee/Santorum 2016!
[Christian Post / CNN / Washington Post / Media Matters for America / Image via YouTube]