TFW Europe Won't Meet The US Secretary Of State Because It's DONE With This Sh*t
Journalism
January 12, 2021 03:55 PM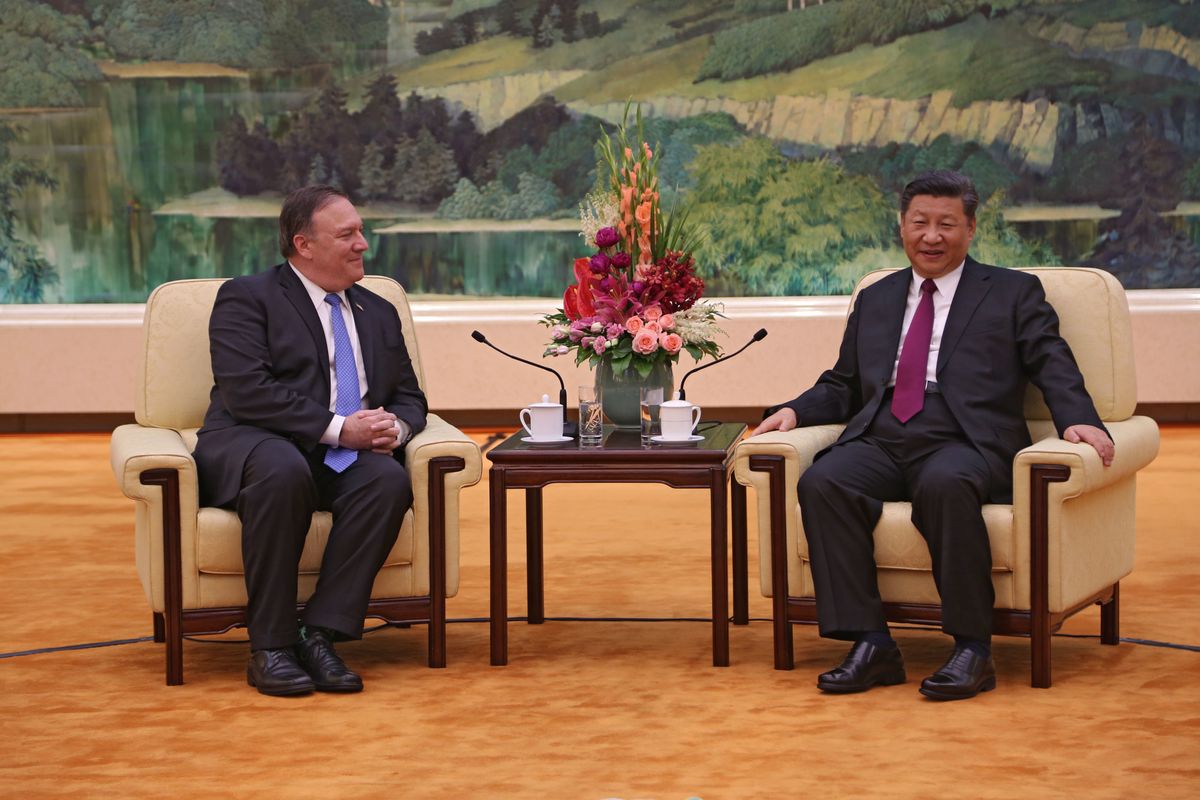 upload.wikimedia.org
Secretary of State Mike Pompeo is headed out the door next week, but he's doing his best to stink up the State Department on his way out.
For the past several days, Pompeo has used the official Secretary of State Twitter account to throw a multi-day parade in his own honor that would make a North Korean propagandist cringe.
"The Trump Administration led the world in reforming multilateral institutions and ditching bad deals. #EffectiveMultilateralism," he crowed on Saturday in one of 23 tweets extolling his own great accomplishments and showcasing a photo of his own face. He followed up with 24 more missives on Sunday boasting about kicking the United Nations' ass by, among other actions, cutting family planning because "UNFPA is still working with CCP butchers who forcibly sterilize Uyghur women," and leaving the Human Rights Council, which is "run by dictators, fixated on attacking Israel, zero accountability for gross abusers."
"America is a generous country, but prior Administrations let the UN treat us like a piggybank. @UN was inefficient, wasteful, and manipulated by malign actors. It needed to shape up. Fast," barked the gaping void of charisma who nonetheless labors under the delusion he'll be the 2024 Republican presidential nominee.
---
As @UN's largest contributor, I put U.S. taxpayers and America's interests first. The UN without American Leadershi… https://t.co/ip5sJmlPGp

— Secretary Pompeo (@Secretary Pompeo) 1610406001.0
Classy!
As of this writing, he's only twelve tweets into today's screed focused on Iran and Cuba, but the night is young.
But Pompeo isn't just some dick on the internet. He's a major dick in person, too! Yesterday the secretary of State marched over to the Voice of America to give those reporters a lecture on NEWS, HOW DOES IT GO, for simultaneous broadcast on every VOA station on the planet, naturally.
First he praised himself and shit on China, as per custom.
When the Chinese Communist Party attempted to exploit the tragic death of George Floyd to claim their authoritarian system was somehow superior to ours, I issued a statement, which read in part: "During the best of times, the People's Republic of China ruthlessly imposes communism. But amid the most difficult challenge, the United States secures freedom."

There is no moral equivalence. This is a self-evident truth.
Then he made it clear that VOA's chief mission is as an evangelist for God and Apple Pie, not to grub around with objective reporting of actual facts, which only gives aid and comfort to our enemies.
But this isn't the Vice of America, focusing on everything that's wrong with our great nation. It's the Voice of America. It certainly isn't the place to give authoritarian regimes in Beijing or Tehran a platform.

Your mission is to promote democracy, freedom, and American values all across the world. It's a U.S. taxpayer-funded institution aimed squarely at that.

Indeed, this is what sets VOA apart from MSNBC and Fox News and the like.
Addressing the staff, Pompeo lamented the bad old days in the Obama administration when "VOA lost its commitment to its founding mission. Its broadcasts had become less about telling the truth about America, and too often about demeaning America." Then he congratulated himself for decimating the VOA's governance structure.
"I read that some VOA employees didn't want me to speak here today. I'm sure it was only a handful," he laughed. "They didn't want the voice of American diplomacy to be broadcast on the Voice of America." Because if Mike Pompeo is anything, it's diplomatic!
Censorship, wokeness, political correctness, it all points in one direction – authoritarianism, cloaked as moral righteousness. It's similar to what we're seeing at Twitter, and Facebook, and Apple, and on too many university campuses today.

It's not who we are. It's not who we are as Americans, and it's not what Voice of America should be. It's time that we simply put woke-ism to sleep.
And then, taking no questions from the assembled reporters, he strode out imperiously. Or tried to, anyway. Here's VOA reporter Patsy Widakuswara attempting to ask the secretary questions, which is her job.
The nation's top diplomat @SecPompeo ignoring my questions about what he is doing to restore US reputation and whet… https://t.co/ywW6Q6dvhr

— Patsy Widakuswara (@Patsy Widakuswara) 1610398102.0
After that, Mike Pompeo, who just got through telling the world how much he deplores censorship and repression of free speech, got Widakuswara demoted. Yeah, try not to faint.
NPR reports:
[Pompeo's deputy Elizabeth] Robbins, previously a State Department official under Pompeo, made the request later Monday for Widakuswara to be reassigned away from covering the White House. Through a spokeswoman, Voice of America said it did not comment on personnel matters. A group of anonymous whistleblowers filed a formal complaint last week over Pompeo's visit, saying it was propaganda and that [newly installed VOA Director Robert A.] Reilly's intention to broadcast the address over VOA's airwaves was a violation of the newsroom's protections for editorial independence.
Ain't he a peach!
But sometimes being a raging asshole has a cost.
"Looking forward to my upcoming travel on January 13-14 to Brussels, to reaffirm the deep and enduring partnership between the U.S. and Belgium," Pompeo tweeted yesterday.
But today the trip was off, ostensibly because everyone at the State Department is just so busy "identifying the career officials who will remain in positions of responsibility on an acting basis until the Senate confirmation process is complete for incoming officials" that they've had to cancel all travel.
And if you are saying, "Mike Pompeo is going to give up a free trip to pat himself on the back in Europe to stay home and help Joe Biden out? Come the fuck on!" you are CORRECT. Reuters reports that Pompeo canceled his trip because no one in Europe will meet with him after his boss tried to stage a violent coup last week.
The extraordinary snub to Washington came days after the storming of U.S. Capitol by thousands of supporters of outgoing President Donald Trump, an unprecedented attack on American democracy that stunned many world leaders and U.S. allies.

Pompeo, a close ally of Trump, had sought to meet Jean Asselborn [the Minister for Foreign Affairs] in Luxembourg, a small but wealthy NATO ally, before meeting EU leaders and the bloc's top diplomat in Brussels, three people close to the planning told Reuters.

Pompeo had originally planned to go to Luxembourg, but that leg of the trip was scrapped, one diplomatic source said, after officials there showed reluctance to grant him appointments. The Brussels leg was still on until the last minute.
Dissed by Luxembourg! Welcome to private life, Mister Pompeo. May it be the first of many, many slights both big and small, and may they all be a stinging humiliation.
GET OUT.
[State Department / NPR / Reuters]
Follow Liz Dye on Twitter RIGHT HERE!

Please click here to support your Wonkette. And if you're ordering your quarantine goods on Amazon, this is the link to do it.
Liz Dye
Liz Dye lives in Baltimore with her wonderful husband and a houseful of teenagers. When she isn't being mad about a thing on the internet, she's hiding in plain sight in the carpool line. She's the one wearing yoga pants glaring at her phone.