Minnesota Congressman Keith Ellison Correctly Calls Opponent 'Scumbag' In Totally Harmonious Debate
News
October 18, 2012 02:29 PM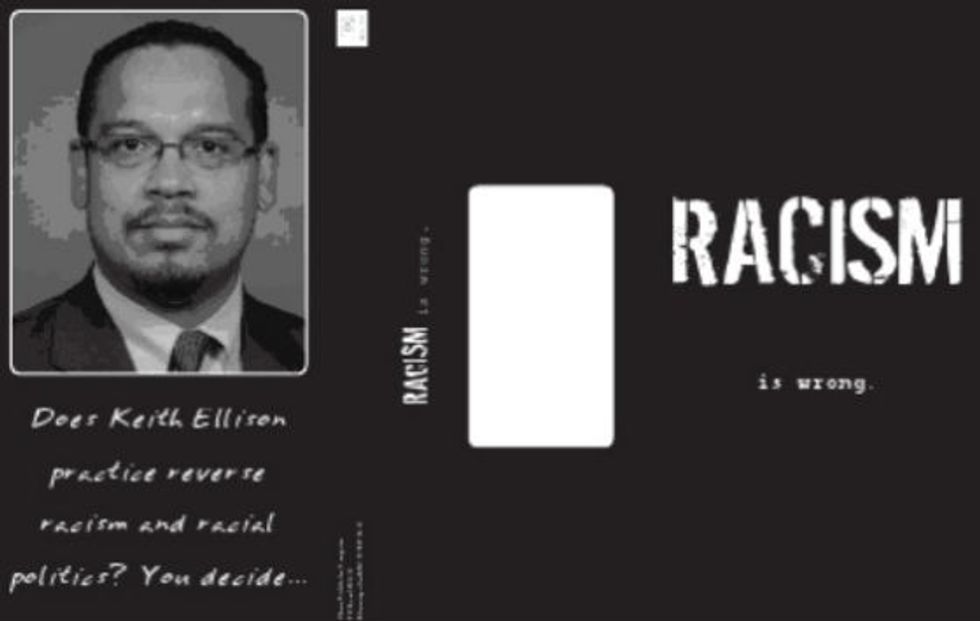 So here isthis Chris Fields fellow, running against OH NOEZ A REVERSE RACIST MUSLIN TERRORIST, Minnesota Congressman Keith Ellison, and apparently he is a "low-life scumbag." We know this because Keith Ellison said so during their debate this morning, and he hasn't lied to us yet! Chris Fields on the other hand, is sort of ... postmodern, as seen in that thing we just linked to twice and will link to again.
---
Chris Fields: "I just want to point your attention to a few things that are blatantly misrepresented."

City Pages: "In my post?"

Fields: "Yes, in your post. I did not explicitly call Keith a reverse racist. I didn't. I didn't."

CP: "Ok, I'm looking at the ad right now, it says, 'reverse racism.' And there's a picture of Keith Ellison next to it."

Fields: "Ok, it says two words. What about the rest of the words there? I mean, do they count? And I'm not trying to be confrontational here –"
Oh there's so much more! WE SUGGEST YOU READ IT. So anyway, today's debate.
From CityPages:
Things got so heated that at one point it seemed as though KFAI cut away from their coverage in fears the two might come to blows. When they came back from a commercial break about 30 seconds later, Ellison could be heard still yelling at Fields, then the audio quickly cut away again.
And more!
"You're really stupid for bringing up the domestic violence," Ellison said. "You're a scumbag. You're a lowlife scumbag."

Here, via Patch, is a transcript of the exchange that ensued after Fields briefly brought up Ellison's 2010 divorce:

CHRIS FIELDS: I'm trying to remove the biggest obstacle to fixing things. You're focused on looking into my divorce papers.

KEITH ELLISON: My daughter is in the next room -- I'm exercising a lot of self-control right now.

CHRIS FIELDS: My ex-wife was crushed by what you did.

KEITH ELLISON: You know I didn't do anything.

The debate was "temporarily put on hold" shortly thereafter, and when it resumed, both candidates had adopted more civil tones -- at least until the end, when Ellison told Fields, "I look forward to your concession speech, sir."
Here's some audio, from Patch. They just yell the whole time!
We are pretty sure Tagg Romney wants to punch Keith Ellison, or Chris Fields. Probably both of them, since they're both black.
Rebecca Schoenkopf
Rebecca Schoenkopf is the owner, publisher, and editrix of Wonkette. She is a nice lady, SHUT UP YUH HUH. She is very tired with this fucking nonsense all of the time, and it would be terrific if you sent money to keep this bitch afloat. She is on maternity leave until 2033.