Minor IMDB Celebrity Didn't Want To Be In Overrated Loser SAG Union Anyway!
Trump
February 05, 2021 10:00 AM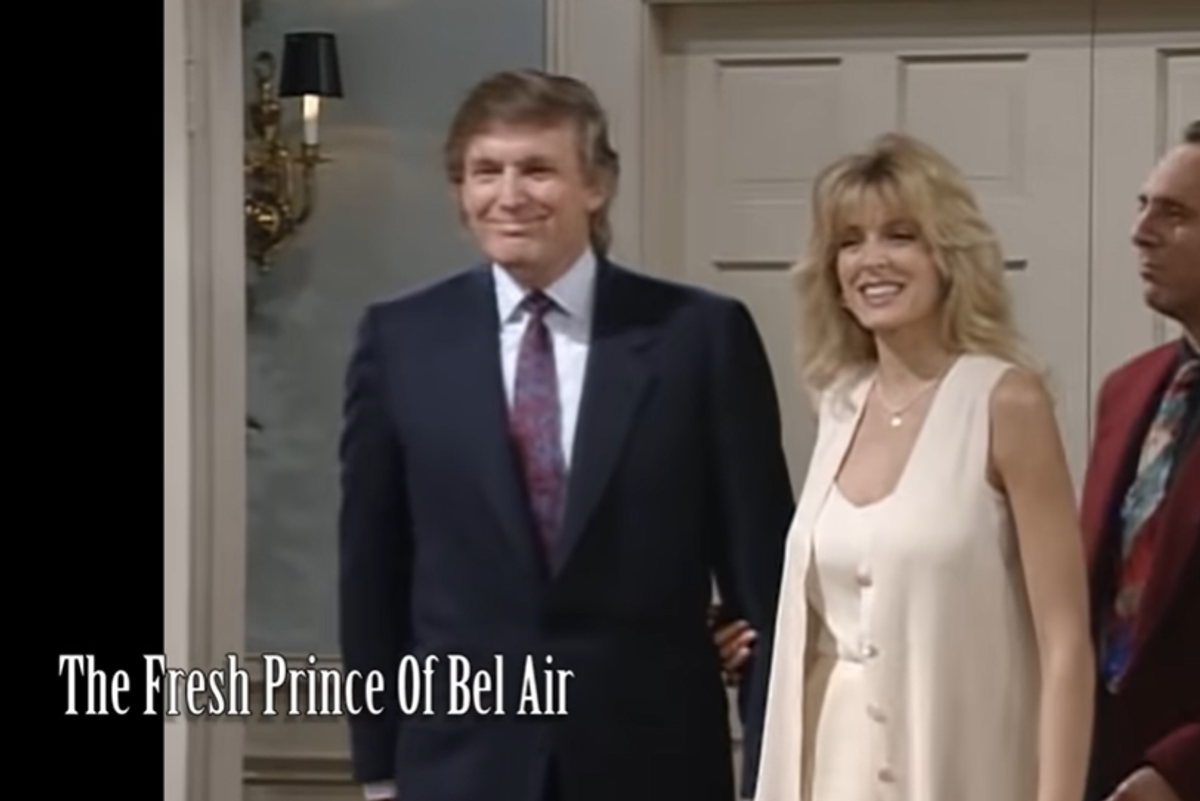 Donald Trump wrote Andrea from "Beverly Hills, 90210" a letter yesterday. It was an extremely angry letter.
You see, Andrea, AKA Gabrielle Carteris, because that is her real name and "Andrea" is a fictional character, is the president of the Screen Actors Guild-American Federation of Television and Radio Artists (SAG-AFTRA). You know it as "SAG," probably.
This minor IMBD celebrity is just really upset, because SAG was initiating a process to kick him out just for inciting a domestic terrorist attack on January 6. There were SAG members there covering the raid, who were in danger of bodily harm from the people he incited to attack the Capitol that day.
Carteris said:
"Donald Trump attacked the values that this union holds most sacred — democracy, truth, respect for our fellow Americans of all races and faiths, and the sanctity of the free press," Carteris said in a statement last month. "There's a straight line from his wanton disregard for the truth to the attacks on journalists perpetrated by his followers."
Fair.
Well guess what, SAG? Donald Trump HATES SAG and he is QUITTING SAG and he's been BANNED FROM TWITTER FOR WEEKS NOW and he has SOOOOOOOO! MANY! THINGS! TO! COMPLAIN! TO! ANDREA! FROM! 90210! ABOUT!
---
Former President Trump has resigned from the Screen Actors Guild after they ordered a disciplinary hearing into his… https://t.co/MYqQobli6j

— Sara Cook (@Sara Cook) 1612465985.0
You will want to savor every word of this missive from the 45th president of the United States, which we will mock throughout:
Ms. Carteris:

I write to you today regarding the so-called Disciplinary Committee hearing aimed at revoking my union membership.
SO-CALLED!
Who cares!
WHO CARES!
While I'm not familiar with your work,
Bull. Shit.
I'm very proud of my work on movies such as Home Alone 2, Zoolander and Wall Street: Money Never Sleeps; and television shows including The Fresh Prince of Bel-Air, Saturday Night Live, and of course, one of the most successful shows in television history, The Apprentice – to name just a few!
OK hold on. Wait. Hold on.
Now look. Hold on. Wait.
Far be it from us to deny an enthusiastic child his or her right to engage in artistic pursuits, even if they're not very good. Sometimes a participation trophy does wonders for their development. But sometimes you just have to look at the child and say, "listen, you lost both of your popular votes by millions, you only sorta won the first one because an enemy nation helped you, and you got the absolute everloving shit beat of you in the second. That's enough participation trophies for one lifetime, time to find something else to fall back on, kiddo."
Is Trump really saying he's proud of this?
All he says is "Down the hall and to the left"! That's it!
Fuck it, here is the rest of Trump's "work." His oeuvre, if you will.
They're just damn cameos, he's not an actor.
As for "The Apprentice," that show was a piece of shit. (Sidenote: Our most favorite, most adorable lie Trump supporters tell themselves is the one where they say everybody loved Trump before he ran for president. We think it's our favorite because it's the only one that's innocent. They think everybody loved Trump then, because they loved him, because they actually watched "The Apprentice" and thought it was a true-fact reality show about a true-fact billionaire who was true-fact good at business. Sad, right? Meanwhile, pretty much every liberal we've ever met saw it as the crappy clownass fuckshow it was, and was surprised to learn how much his supporters legit loved it. SIDENOTE OVER!)
Back to Trump's Dear John letter to Andrea from "90210":
I've also greatly helped the cable news television business (said to be a dying platform with not much time left until I got involved in politics), and created thousands of jobs at networks such as MSDNC and Fake News CNN, among many others.
Tweets he can't send no more.
Which brings me to your blatant attempt at free media attention to distract from your dismal record as a union. Your organization has done little for its members, and nothing for me – besides collecting dues and promoting dangerous un-American policies and ideas – as evident by your massive unemployment rates and lawsuits from celebrated actors, who even recorded a video asking, "Why isn't the union fighting for me?"
The Liddle' Screen Actors Guild is overrated, unpopular, and fat! Treats me very badly, and is not funny/no talent! A total waste of time! Lightweight! A joke!
These, however, are policy failures. Your disciplinary failures are even more egregious.

I no longer wish to be associated with your union.
Can't break up with Trump if Trump breaks up with you first!
As such, this letter is to inform you of my immediate resignation from SAG-AFTRA. You have done nothing for me.

Regards,

President
Disgraced former president, the only SAG member ever to be impeached twice by the United States House of Representatives.
Donald J. Trump
This has been a message from the previous president of the United States.
The union issued a reply to Trump: "Thank you."

The end.
[Variety]
Follow Evan Hurst on Twitter RIGHT HERE, DO IT RIGHT HERE!

Wonkette is ad-free and funded ENTIRELY by YOU. Be the change you want to see in the world! Thank you we love you!
Evan Hurst
Evan Hurst is the managing editor of Wonkette, which means he is the boss of you, unless you are Rebecca, who is boss of him. His dog Lula is judging you right now.
Follow him on Twitter RIGHT HERE.