Mississippi Is America's Obesity Champion; Oregon Fails In Fat
News
May 04, 2010 02:04 PM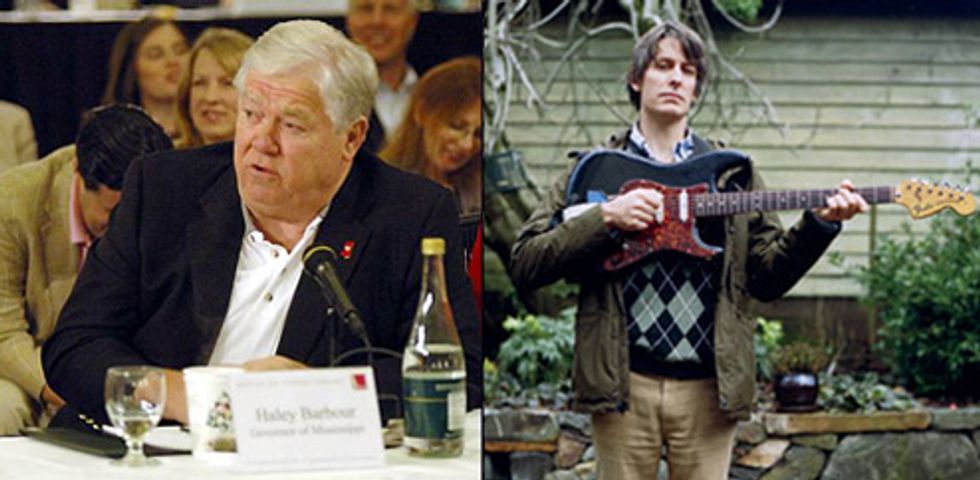 Illustrating today's Post-America America info-graphic are the two most famous living humans from Mississippi and Oregon: Vile slob and unrepentant racist Haley Barbour, the actual governor of Mississippi, and musician Stephen Malkmus of Portland.
---
Mississippi is, of course, America's worst state. And it also has the fattest children on Earth.
A tragic new study proves that 44% of Mississippi's 10-to-17 year olds are overweight, and 22% of them are Medically Obese. These are kids we're talking about, not 62-year-old lifelong swine like Haley Barbour.
Oregon, meanwhile, has the lowest ratio of fatso children in America, with "only" 10% of its children officially obese. There was even a small decline in the percentage of overweight and obese kids in Oregon between 2003 and 2007 -- Mississippi's juvenile fat-bags were up 8% during that same period, as the awful state's child-obesity rate went up 4%.
Nationwide, we continue to have some fat fucking kids, with the most recent national data (from 2004) showing 32% of U.S. kids are overweight and 16% are obese. And that was six years ago. Just look around. It is already much, much higher. We could very easily replace the lost oil from that BP well in the Gulf of Mexico by simply tapping the fat from Mississippi's children. [Reuters]