Missouri GOP Senate Candidates Play 'Wheel Of Assh*le'
State/Local Politics
February 10, 2022 09:44 AM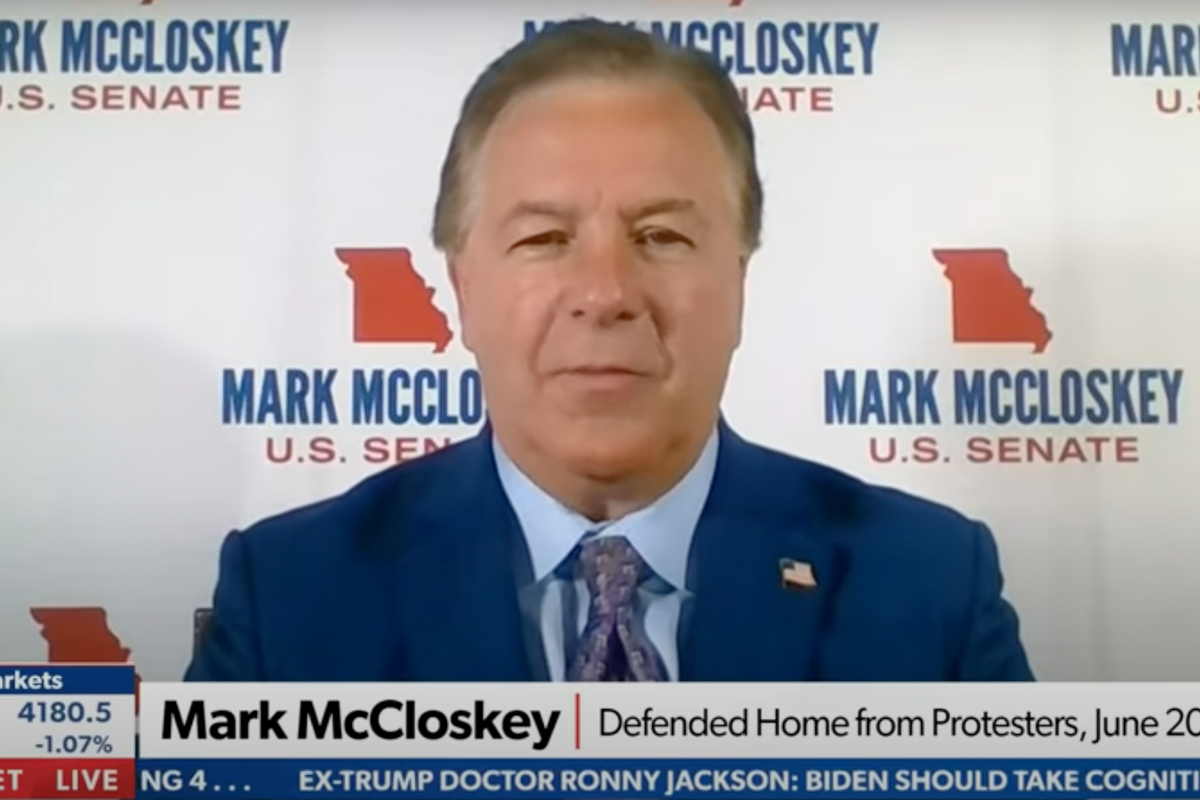 Republican Senator Roy Blunt of Missouri is retiring this year, and the race is on for the Trump-stepping stooge who'll replace him. There are Democrats running: Marine veteran Lucas Kunce has raised $2.48 million to set on fire in a state Donald Trump carried by 15 points, but let's not give up hope. GOP Sedition Caucus member Josh Hawley only defeated incumbent Democrat Claire McCaskill by six points (during a Blue Wave election).
REMEMBER? Why Won't Anyone Compromise Anymore, GOP Sen. Roy Blunt Whines On Way Out Door
Democrats likely hope that the GOP nominee isn't current Attorney General Eric Schmitt, who's probably unbeatable. His face isn't half as punchable as Hawley's. State Sen. Dave Schatzt and US Reps Billy Long and Vicky Hartzler are all terrible but also probably too normal.
Hartzler has tried to fix the last part. She claimed that GoFundMe has "discriminated against conservatives," because the platform has canceled "funds for truckers who are standing for freedom." The actual Canadian government disagrees with her benign description. She also accused GoFundMe of "raising millions of dollars for #BLM protests which burned cities to the grounds." I live in Portland and the wildfires in 2020 were the closest the city came to going up in smoke.
---
GoFundMe raised millions of dollars for #BLM protests which burned cities to the ground.\n\nToday, the crowdfunding platform is canceling funds for truckers who are standing for freedom.\n\nWe deserve answers regarding potential discrimination against conservatives. #FreedomConvoypic.twitter.com/peVKYVAOav

— Rep. Vicky Hartzler (@Rep. Vicky Hartzler) 1644336405
This week, Hartzler said, "There is no doubt in my mind that liberal hatred and vitriol for law enforcement played a role in the uptick in attacks on our police officers." Yeah, because hardened criminals take their marching orders from liberal hashtags on Twitter. That makes more sense than all the guns on the streets. COVID-19 was the leading cause of death for police officers in 2021, but Hartzler doesn't support the mask or vaccine mandates that would actually keep officers safe.
But any asshole can tweet lies and smear liberals on the House floor. If you're into demonizing Black Lives Matter protesters, your ideal candidate is probably Mark McCloskey, who literally pointed a gun at some of them. McCloskey announced his Senate candidacy last September. He probably thought he needed to seek new career options. McCloskey and his wife, Patricia, have been trying to keep their law licenses after they were charged in 2020 with recklessly waving their guns at random pedestrians.
REMEMBER? Gun-Toting Ass Will Defend Your Mansion From Pedestrians As Next Missouri Senator!
Missouri Gov. Mike Parson pardoned the couple in August but his mercy doesn't extend to their ability to practice law. Tuesday, the Missouri Supreme Court put the McCloskeys on probation for a year. They can still practice law but their licenses will be suspended if they break any more laws. Mark McCloskey considers this slap on the wrist a great injustice and is considering taking it up with the Supreme Court, a wholly owned subsidiary of MAGAcorp.
From The St. Louis Post-Dispatch:
The McCloskeys say some of the 350 to 500 protesters who marched past their home on the way to then-St. Louis Mayor Lyda Krewson's house ignored signs they were entering a private street and destroyed a gate in front of their home, which they contend constitutes criminal rioting under Missouri law.
If protesters seriously injuring a gate constitutes "criminal rioting," then what would you call breaking into the US Capitol and beating the crap out of police officers? McCloskey has no harsh words for the MAGA mob, though, and he's fully embraced Trump's Big Lie.
Oh, this reminds me: Although Rep. Hartzel voted to overturn the presidential election results, she also denounced the MAGA mob that assaulted the Capitol and called Trump's remarks on January 6 "unpresidential." She's toast.
REMEMBER? Disgraced Former MO Gov Eric Greitens Shouts LOCK HER UP In Pathetic Attempt To Get Trump Nod
Disgraced, scandal-ridden former Missouri Gov. Eric Greitens, however, has recast himself as a faithful Trump disciple. He even went to Arizona last year and stuck his nose in the rightwing fraudit. Greitens's campaign is weighed down with so much baggage that he's lost the support of the rightwing power brokers who've long since lost control of the GOP.
We're almost tempted to root for Greitens because in simpler times, a Democrat like Lucas Kunce could stand half a chance against him. But the days of Todd Akin losing a Senate election because he said something gross are long behind us. Now gross and steady wins the race.
Follow Stephen Robinson on Twitter.
Do your Amazon shopping through this link, because reasons.
Yr Wonkette is 100 percent ad-free and entirely supported by reader donations. That's you! Please click the clickie, if you are able.
Stephen Robinson
Stephen Robinson is a writer and social kibbitzer based in Portland, Oregon. He writes make believe for Cafe Nordo, an immersive theatre space in Seattle. Once, he wrote a novel called "Mahogany Slade," which you should read or at least buy. He's also on the board of the Portland Playhouse theatre. His son describes him as a "play typer guy."