Mitch McConnell IS NOT A Cry Baby! Wonkagenda For Wed., Feb. 22, 2017
Post-Racial America
February 22, 2017 09:22 AM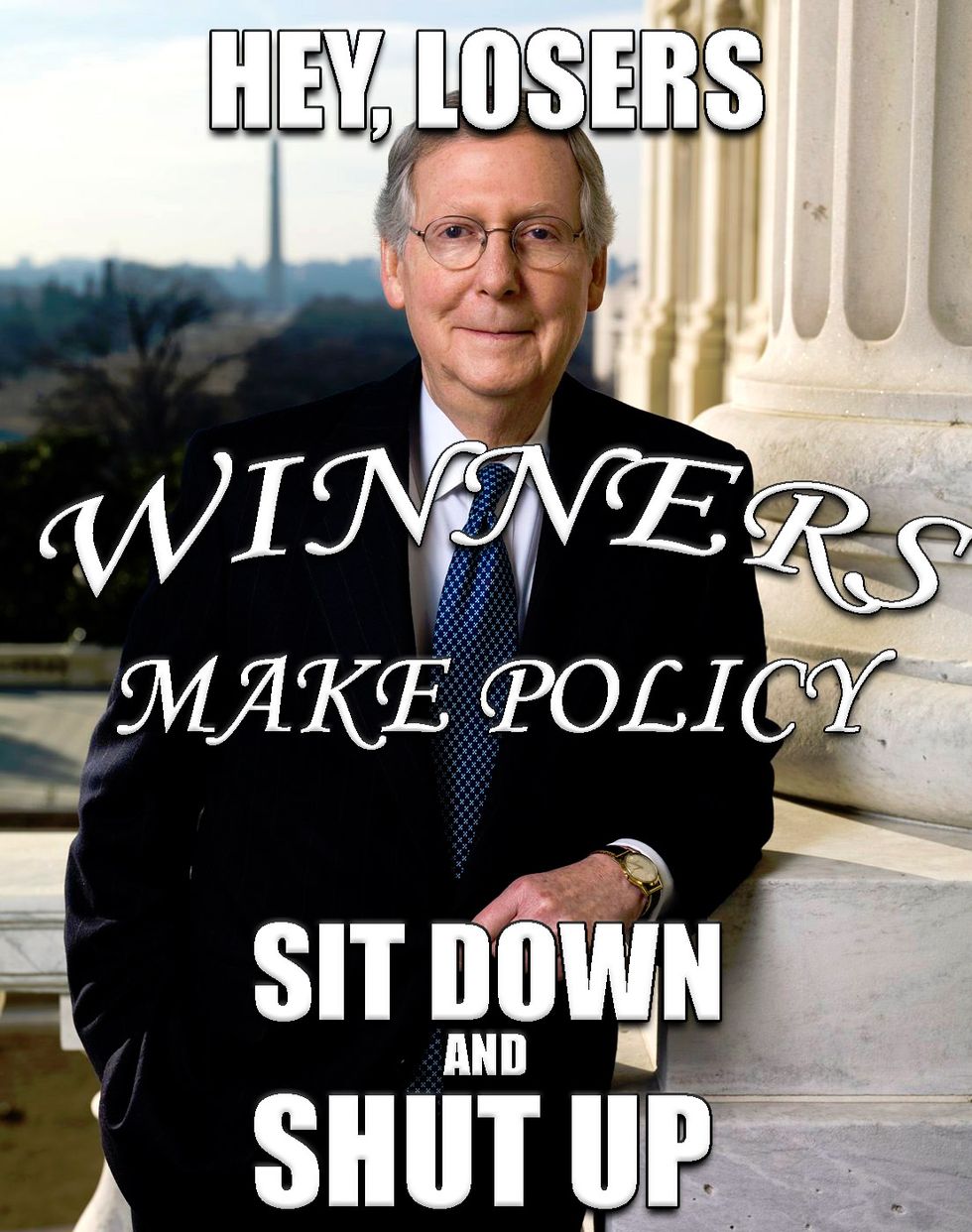 Morning Wonkers! Here's a nifty website to find out when and where your Congress critter is holding a town hall this week. And here's some of the things we may be talking about today!
---
Congresspeople are slinking back to their districts and finding all sort of people are very, very angry. However, Mitch McConnell gives absolutely ZERO fucks about what you want because Mitch is a fucking winner, you're a bunch of losers, so you should all sit down and shut up like Elizabeth Warren![Morning Maddow]
People are holding their breath as the Standing Rock protesters face a 2 p.m. deadline to move out of the way so that an oil pipeline can be built, but some protesters are refusing to budge.
Trump's new mass deportation plan strict immigration enforcement policy is going to allow redneck militias along the southern border to act as cops and scare off migrants while it tries to find an inexhaustible labor source to build a big, stupid wall, and the Mexican government is pissed.
Paul Ryan will tour the U.S.-Mexico border today, where he'll pretend to listen to people's problems before fucking off back to Wisconsin for some squats and a protein shake.
Trump's Justice Department secretly loves immigrants so much that it's challenging a U.S. District court ruling to make detained "unaccompanied" minors hang around in legal limbo jails forever, and ever and ever!
Trump's cabinet picks can't staff their own agencies because they keep failing the Trump loyalty test. We assume that means not leaking ALLEGED secret Russian pee hooker tapes to a certain old, grey lady.
A federal court has decided that Hillary Clinton's lying, flying, international child killing, vagenda emails from the State Department do not contain "hints of nefarious government action or motive," and has denied a FOIA request to share more pasta recipes with the American people. CONSPIRACY!
The Fourth Circuit Court of Appeals has upheld Maryland's ban on high capacity magazines and assault weapons because they "are not protected by the Second Amendment," thus denying gun fetishists their Crom-given right to commit acts of mass murder without having to reload.
Zimbabwe's lovable little dictator, Robert Mugabe, celebrated his 93rd birthday by praising Trump and denying how many feet he has in the grave.
A Russo-Trumpkin politician in Ukraine is being investigated for treason after allegations he traveled to the U.S. to cut a deal with Trump's lawyer, Michael Cohen, to cede Crimea to Russia and kill U.S. sanctions.

Yes

, more Mike Flynn super spy stuff!
A Idiot vandalized The National Mall with a bunch of nonsense graffiti, and now the U.S. Park Police and the National Park Service are very politely reminding people that YOU SHOULD NEVER SCRIBBLE BULLSHIT ON NATIONAL MONUMENTS!
Now that ISIS has created new bomb dropping drones, the French are fighting back by literally sending fucking eagles to take down the shitty remote controlled death robots.
Maryland Governor Larry Hogan is unblocking people from Facebook after the ACLU threatened to sue him for trying to hide all the mean, hurty troll spam.
Military families are starting to feel the gut punch of the federal hiring freeze as some military bases have begun suspending childcare programs. Don't worry, soldiers and their families know all about sacrifice.
Here's your late night wrap up! Colbert had Scarborough, who acted like he wasn't a spineless shit heel; Jimmy Fallon imagined the Trump News Network;James Corden argued for Trump to visit the Queen because it'd make for a great sitcom. Seth Meyers had a Trump-style Press gaggle, and then he talked to Kristen Gillibrand.
And here's your morning Nice Time, rockhopper penguin chicks!
Contrary to popular belief, we don't get a dime of that mythical George Sorry-O's cash, we're funded by readers like you! Help us pay our bills and we'll love you forever!
Dominic Gwinn
Dominic is a broke journalist in Chicago. You can find him in a dirty bar talking to weirdos, or in a gutter taking photos.