Romney Actually Concerned About The Very Poor, Namely Drug Testing Them
News
February 10, 2012 09:25 AM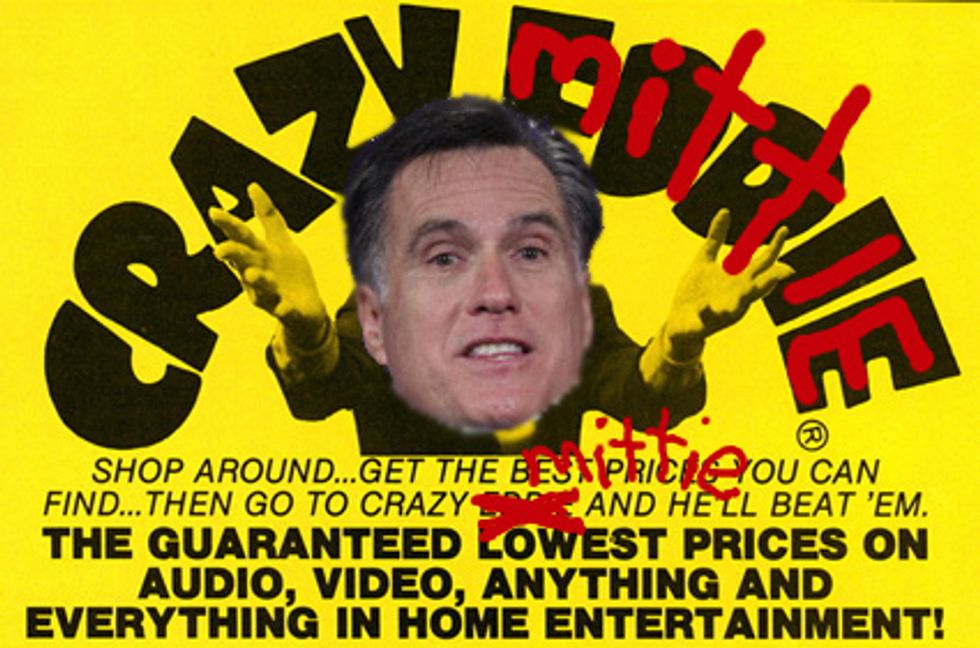 As the undisputed loser of three crucial Republican head-on collisions this week, Mitt Romney can't be blamed for turning his campaign into something of a fire sale. This is America, kiddos. ABC, Always Be CLOSING. Mitt is a businessman, allegedly, so he knows that if no one(literally!) is buying what you're selling, well, it's time to give any loony offer that comes your way a serious hearing. In practice, this means Mitt will pretend to listen to what you're saying and -- before your voice can even start lilting upward to form the question -- he will already be vomiting forth his grinning assent. Anything, ANYTHING, to move the still-smoldering inventory of his presidential aspirations. Drug testing welfare recipi-- "YESSSSSSSSSSSSSSS YES WHEN DO I START!!!!"
---
A reporter at Atlanta NBC affiliate 11 Alive braved the onslaught of Mitt's in-your-face agreeability:
Hullinger: "How about a quick question [on] the state legislature. It's been bantered about-that welfare recipients should be drug tested. What do you think?"

Romney: "states will deal with drug testing with welfare recipients, but my own view it's a great idea. People who are receiving welfare benefits, government benefits, we should make sure they are not using the money for drugs. I think it's an excellent idea."
WHAT AN EXCELLENT IDEA YOUR EXCELLENT IDEA WAS LOOK FOR IT ON MY WEBSITE IN EIGHT SECONDS NOW DO I HAVE YOUR VOTE FRIEND?? [WXIA via Maddow]