Montana State Sen. Charged In Congressman's Boat Crash
News
October 07, 2009 04:21 PM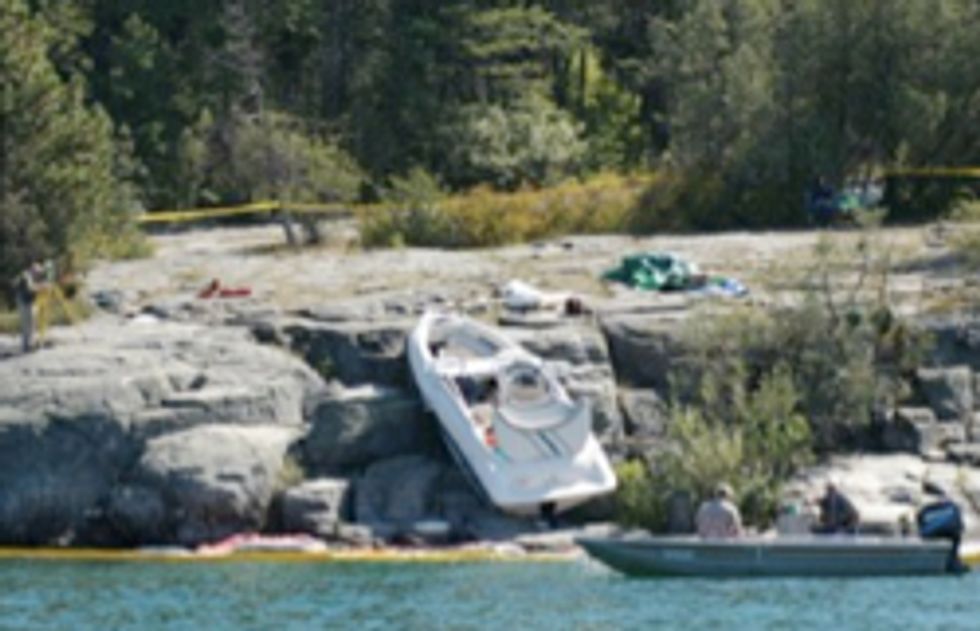 In late August, juuuuuust as the Congressional recess was reaching a close, Montana Rep. Denny Rehberg -- who has ahistory of getting trashed and flopping around on horses in Kazakhstan -- went out on a boat with some buddies, and within minutes that boat was somehow vertical, among a pile of rocks. How drunk was the Boat Captain?, America asked. Well now we know: 0.16 -- and that was several hours after the crash! It wasn't Rehberg, though, operating the boat, just one of his buddies, some loser local politician who is now in big big trouble.
---
TPM Muckraker, doing that thing they do, with legal records:
Montana State Sen. Greg Barkus, who crashed his boat in a lake with four passengers aboard, including Rep. Denny Rehberg (R-MT), was charged today with one count of criminal endangerment and two counts of negligent vehicular assault, the Flathead county attorney's office confirmed to TPMmuckraker.

[...]

Reached at his home this afternoon by TPMmuckraker, Barkus said he had not heard of the charges, all of which are felonies. He said he had no comment on the matter.
He should call the police! They have things to tell him.
The complaint describes a night of revelry by the group, which attended an "'end of the summer' dinner at the Docks Restaurant in Lakeside" and "left by boat a little after 10:00 p.m." Bottles of red and white wine were out at the dinner, according Kristin Smith, one of the passengers and Rehberg's deputy chief of staff. Barkus had two drinks (Dewars) and "was basically drinking ... red wine for the rest of the night," Smith is quoted as saying.

Nearly two hours after the accident, Barkus' blood alcohol level came in at .16, or twice the legal limit, according to the complaint.
Maybe Barkus just doesn't remember this, ergo there cannot possibly be any charges against him. Think about THAT, liberal east coast "muck-raker" website.
MT State Senator Charged With Felonies In Allegedly Drunken Boat Crash With Rep. Rehberg [TPM Muckraker]