Nancy Pelosi And Chuck Schumer Just Cock-Slapped Trump, AND HE LIKED IT
News
September 06, 2017 03:10 PM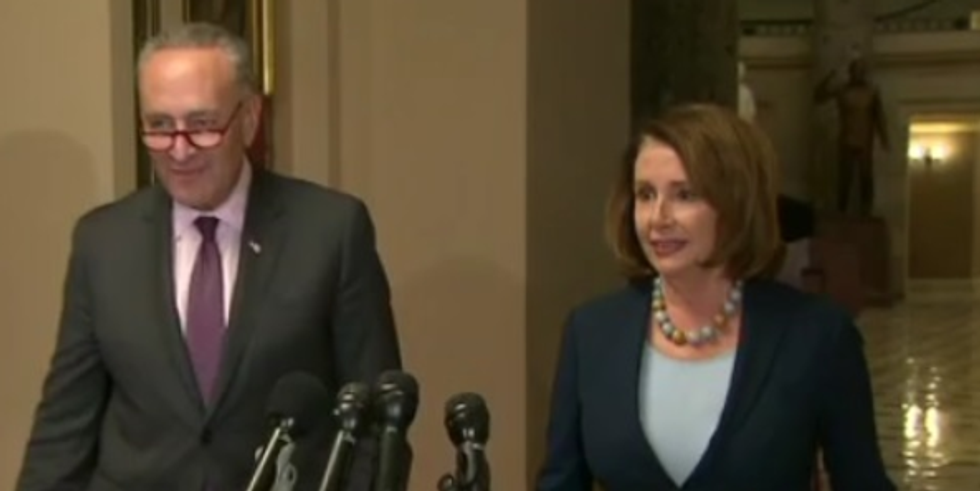 Damn it feels good to be a gangsta
---
There really is a tweet for everything. Donald Trump in 2013: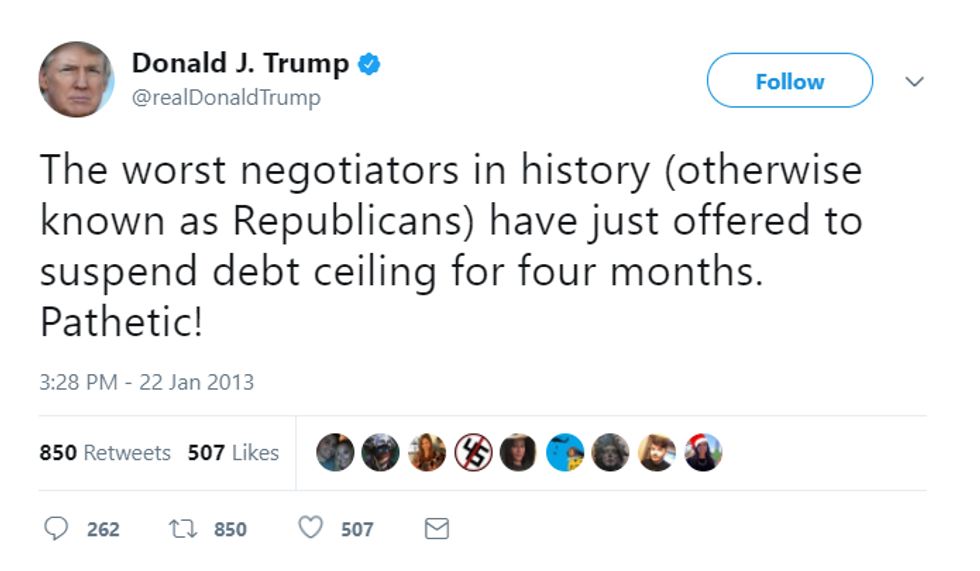 And Donald Trump right now, September 6, 2017, speaking via a statement from Chuck Schumer and Nancy Pelosi:

"In the meeting, the President and Congressional leadership agreed to pass aid for Harvey, an extension of the debt limit, and a continuing resolution both to December 15, all together. Both sides have every intention of avoiding default in December and look forward to working together on the many issues before us."
Pelosi and Schumer added that the DREAM Act needs a clean vote, like yesterday.
So basically Pelosi and Schumer went into a meeting with Trump and got Mr. Art Of The Deal to give them everything they wanted. (They did this back in May too!) And how did they do that? Did they give Trump a framed county-by-county electoral map, as former Wonker Jim Newell teased on the Twitter? Did they tell him he has the prettiest appleheaded vagina mouth they've ever seen? Or did they do it more good cop/bad cop, where Chuck Schumer said nice New York words at Trump while Pelosi jammed her high heel into his neck and called him a pussy?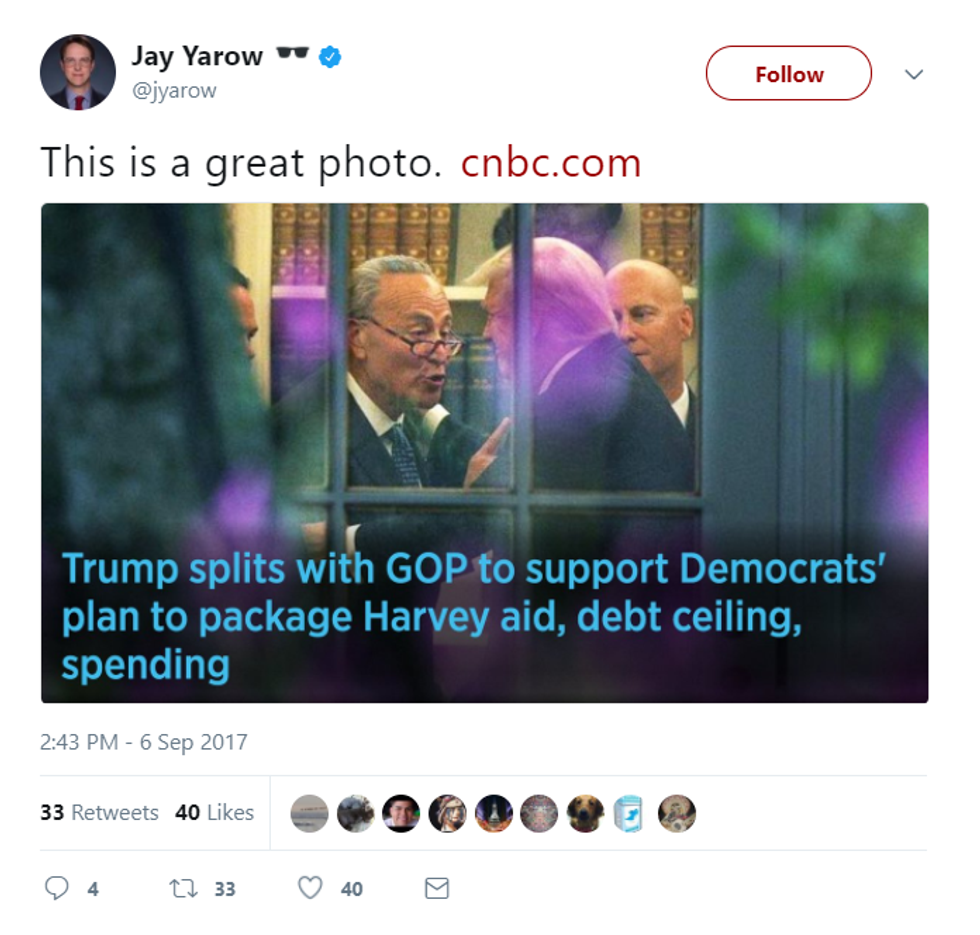 Out of frame: Pelosi cock-slapping Trump.
It's clear, though, that Trump put up quite the fight, as did Mitch McConnell and Paul Ryan, who also were there: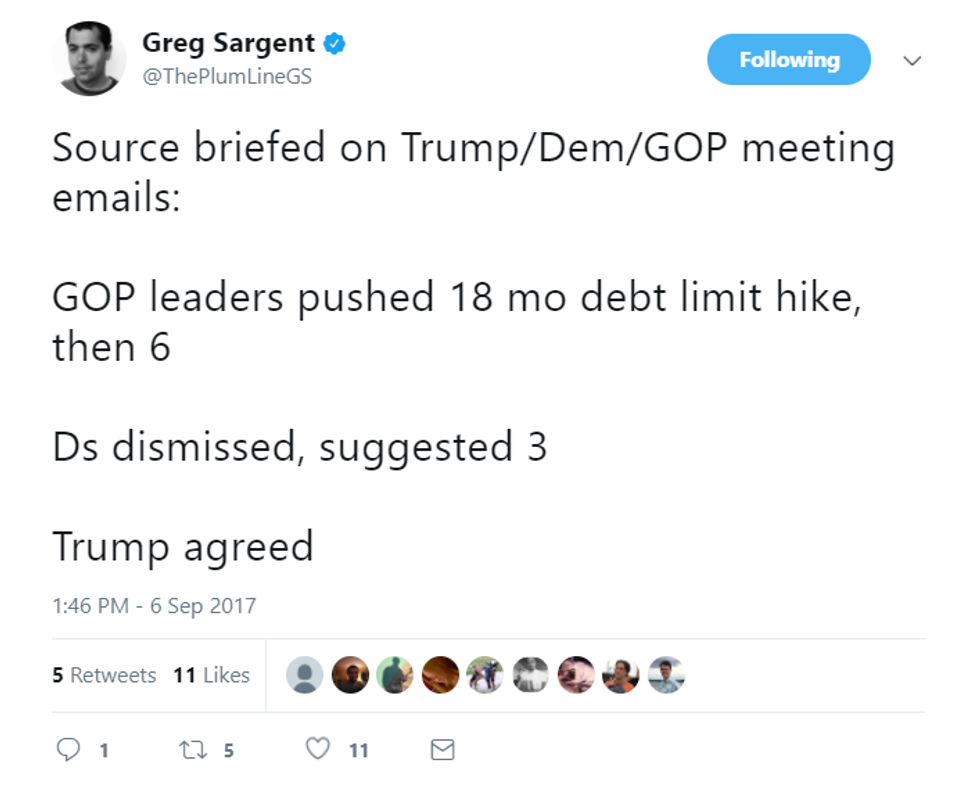 OK, it was the opposite of a fight.
Also: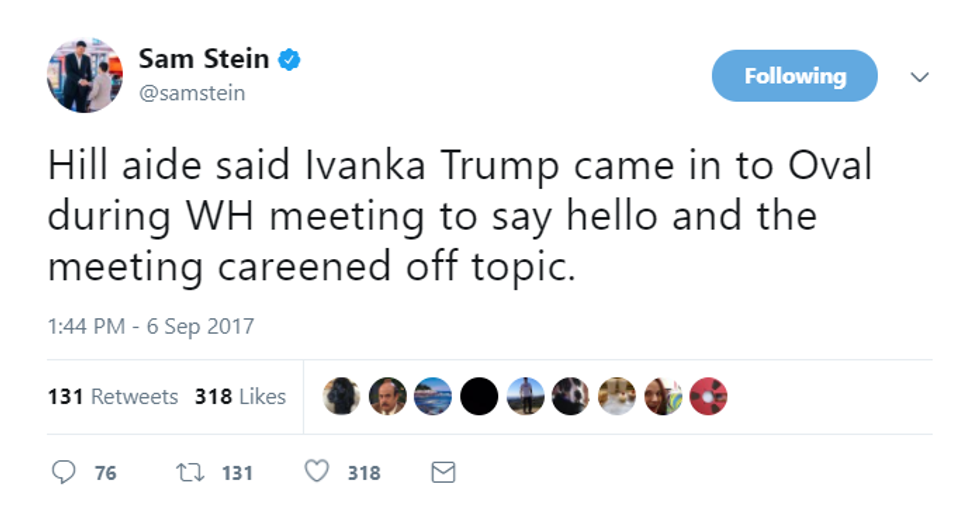 Imagine that.
But back to Nancy Pelosi and Chuck Schumer showing Trump how REAL leaders grab puss and take it to Haverty's, Jonathan Swan at Axios spoke to a "Republican close to leadership" and learned there's even hope for DACA coming out of this meeting:
"Dems bluffed their way into total victory. They win the politics of DACA and leverage on debt in the winter. The fate is sealed - DACA will be reauthorized without strings, Schumer has inserted himself into all negotiations in the winter, including tax, spending and immigration."
Excuse us? "Reauthorized without strings"? But we thought ...
Did Pelosi and Schumer tell Trump America has pee hookers too? Jesus Christ.
Did we mention Treasury Secretary Steven Mnuchin was in the meeting too, fighting on the side of Ryan and McConnell, and ALSO got told to go eat a bag of his own dicks?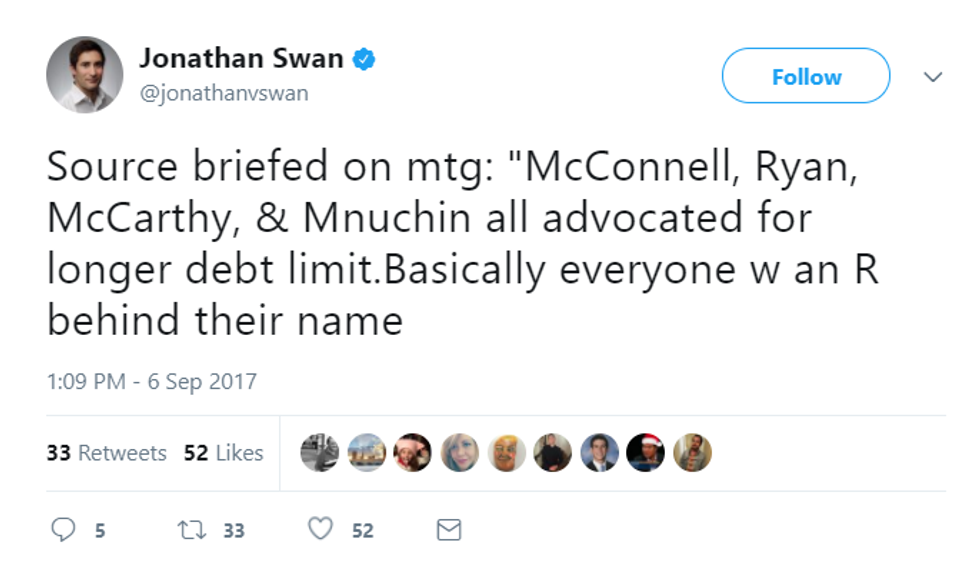 Meanwhile, Trump is declaring victory:
"We had a very good meeting with Nancy Pelosi and Chuck Schumer [Trump notably did not mention Ryan or McConnell]. We agreed to a three-month extension on debt ceiling, which they consider to be sacred, very important, always we'll agree on debt ceiling automatically because of the importance of it. Also on the CRs and also on Harvey, which now we're going to be adding something because of what's going on in Florida, but we had a very good meeting. We essentially came to a deal, and I think the deal will be very good."
Did they present him a new pair of gloves with the words "World's Biggest Hands" cross-stitched on them?
We are not done LOLing at this yet! And yeah, we're pasting another tweet, because when we use Axios as a primary source, it makes us feel like dumbing things down. No idea why. Look at this Trump statement from Air Force One: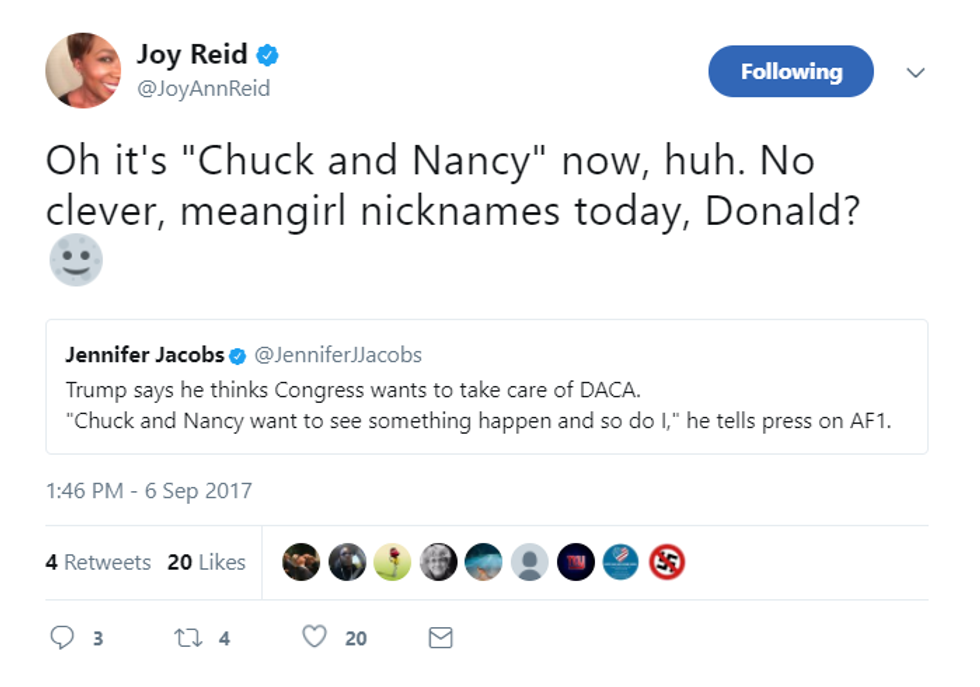 CHUCK AND NANCY? God, Trump's being so sweet you'd think he just got birthday "D" from Vladimir Putin.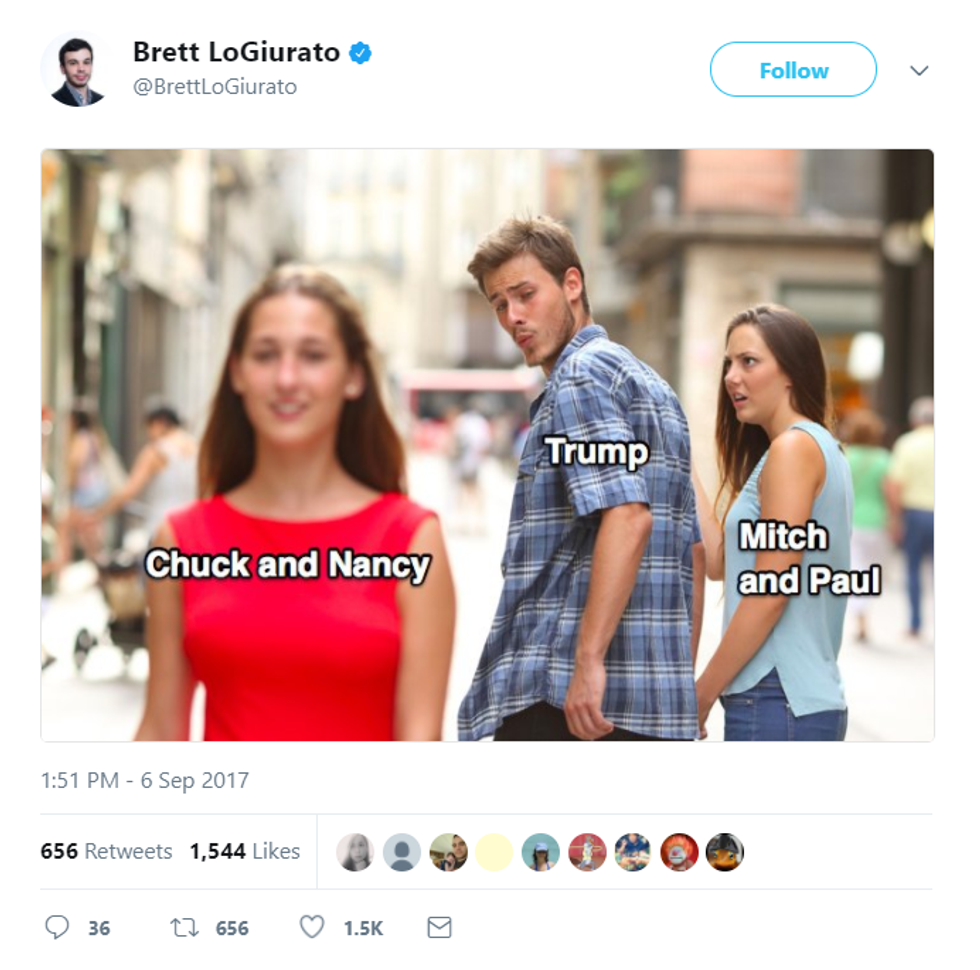 WHAT DID THEY DO TO HIM? Did Schumer give him a swirlie and a wedgie at the same time while Pelosi gangsta kicked him in the nuts?
OR ...
MAYBE ...
iT COULD BE that Schumer and Pelosi are really fucking good at their jobs, which makes Fox News say mean things about them, which makes them a "liability" for the party come mid-terms (especially the lady one named Nancy!), which means we should obviously fire them and hire that Tim Ryan doucherabbit instead. #FreshBloodssssss!
We are just saying.
Follow Evan Hurst on Twitter RIGHT HERE.
Wonkette salaries are fully paid by loving souls like you! If you love us, click below to pay us!
[Axios]
Evan Hurst
Evan Hurst is the managing editor of Wonkette, which means he is the boss of you, unless you are Rebecca, who is boss of him. His dog Lula is judging you right now.
Follow him on Twitter RIGHT HERE.