Nancy Pelosi Will Tell You What A Pussy Donald Trump Is Now
Culture
June 09, 2017 01:40 PM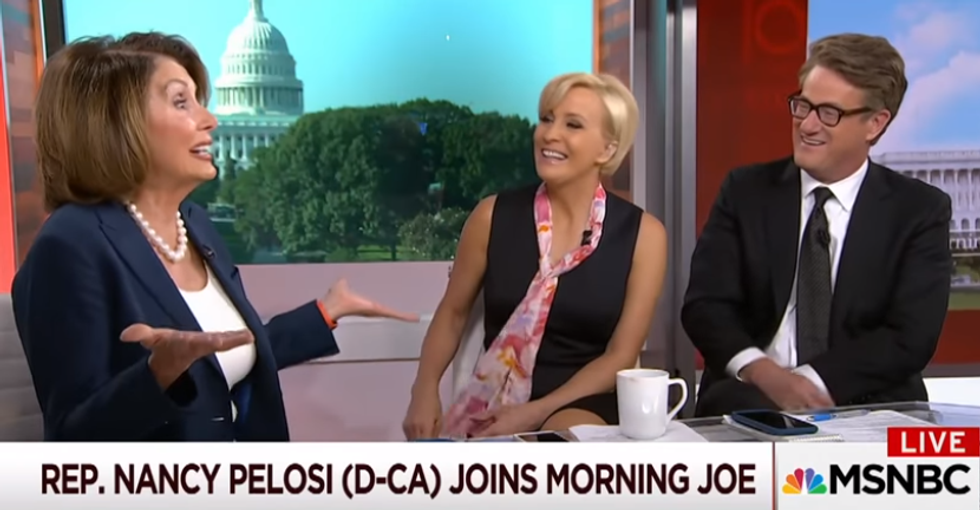 LOL! AND THEN HE SAID!
---
Time for story time with Aunt Nancy! It is a well-accepted worldwide science fact that Donald Trump is a pussy. Angela Merkel knows it. Justin Trudeau knows it. Emmanuel Macron knows it. All patriotic U.S. Americans know it. And Nancy Pelosi told a story about what a pussy he is on Friday morning's "Morning Joe." It is GREAT.
We'll go ahead and pass her the mic:
Quite the story from Nancy Pelosi about her first meeting with Trump—and his insistence that he won the popular vote. (via @Morning_Joe) pic.twitter.com/xvmCmJA6el

— Kyle Griffin (@kylegriffin1) June 9, 2017
PELOSI: The first meeting we had, House and Senate, Democrats and Republican leadership in the White House, this is a big deal -- I mean it really fills you with some pride to have a seat at the table. [...] I have been at that meeting with President George W. Bush as a leader ... and speaker, same thing with Obama -- and now here we are with a new president. First thing he says, to open the meeting: "You know I won the popular vote."

LOVEBIRDS JOE AND MIKA, AND ALSO WILLIE GEIST, IN UNISON: Giggle!
Pelosi laughed with the hosts about how they all wish literally any human Republican was president instead of Donald Trump, but then Willie Geist asked how she reacted to Trump at the time. Apparently, she was like "O RLY MISTER PRESIDENT?"
When he said that, I said, "Well, Mr. President, that's not true." There are no facts, there is no evidence to support what you just said. And if we were going to work together, we have to stipulate to a certain set of facts. When we worked with President Bush or when we work across the aisle, we all have to start at a place where we are dealing with facts, evidence and data, and then you can compromise but you can't make up ... he said, "Well, three to five million people voted illegally! You know this. It came out later!" And I said, "Well that's not true." And he said, "and I am not even counting California!"
LOLOLOL wait, "three to five million people voted illegally" in NOT CALIFORNIA? Where did they do all that illegal voting? Were a few of them in Ohio, Wisconsin and Pennsylvania and were they actually Russian citizens voting for Trump from computers in Moscow? HAHA WE KID THE PRESIDENT. (No we don't.)
We all know how, both just after the election and also right this very second, Trump has been feeling kind of, ahem, flaccid about his very small Electoral College victory, and even more than that, his PATHETIC loss in the popular vote. He runs around yammering about how his Electoral College totals were HISTORIC AND YOOOOGE, as long as you don't count all the other recent presidents. He's also said many times that he WOULD have won the popular vote if Hillary Clinton didn't let millions of illegal Cali-Mexicans vote for her in California, the very un-American largest state in the union. Somebody should investigate that! Also too, if there was no Electoral College, he would have won the popular vote EVEN YOOGER, because he would have campaigned in all those places and everybody would have fallen in love with his sexual body and truthful statements.
Oh and then there are the maps he loves to give out, of all of the red counties that voted for him, compared to the little tiny blue counties Hillary won. Now, logical people might say, "Yeah, but most of those red counties represent three cows and two pairs of married cousins, whereas Hillary's counties are where people live," but SHUT UP! FLAWLESS VICTORY IS HIS AND YOU ARE A LOSER.
Oh, and his enormous (tiny!) inauguration crowd! He loves talking about that.
But this is an amazing new delusion from the syphilitic squirrels who hunt for hickory nuts inside Donald Trump's brain. Not only did three million illegal Mexi-fornians vote, THREE TO FIVE MILLION other people voted illegally in other states, and they all voted for Hillary Clinton, and if they hadn't voted so improperly, Trump would've won the popular vote by MILLIONS, instead of losing to a common GIRL.
Never change, Donald Trump, by which we mean change everything, because literally every part of you is completely unacceptable and embarrassing.
Here's the full interview, if you'd like to watch it. It's pretty great! They talk about the Comey hearing, and at one point she accidentally says she hopes any mental fitness/health problems Trump has are "not repairable," but don't worry, it was just a SILLY GOOF. She meant "irreparable." She also reassures us that America "can withstand anything" and "God is always with us," therefore we will be FINE. Your mouth to God's ears, Leader Pelosi.
Wonkette is fully funded by readers like you! If you love us, click below to fund us!
[h/t Kyle Griffin on Tweeter]
Evan Hurst
Evan Hurst is the managing editor of Wonkette, which means he is the boss of you, unless you are Rebecca, who is boss of him. His dog Lula is judging you right now.
Follow him on Twitter RIGHT HERE.