National Review's Andy McCarthy Has Theory About Barack Obama And Baseball
July 17, 2009 02:28 PM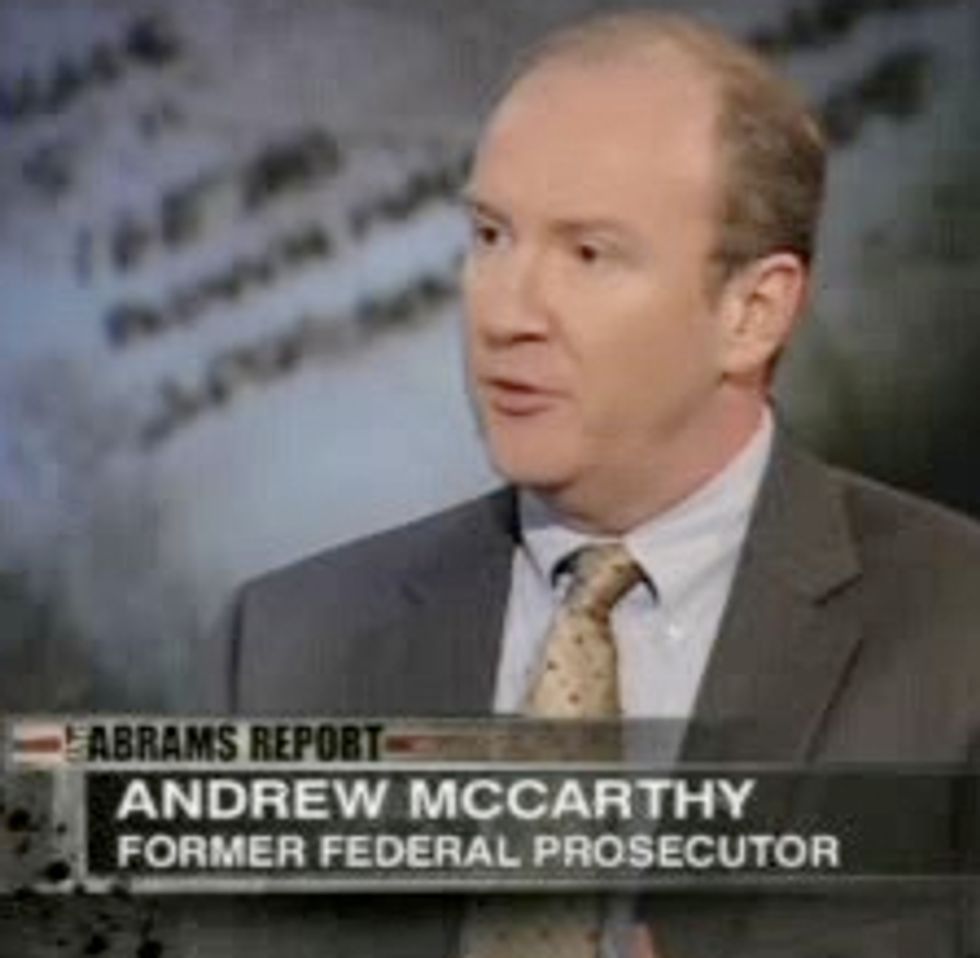 Former federal prosecutor and currentNational Review smart person Andy McCarthy has a number of interesting political opinions about such things as Barack Obama's memoir, Barack Obama's attitude towards Iran, and the Uighurs. Now he has a new interesting political opinion about Barack Obama's first pitch at the Baseball All-Star Game Tuesday night. What does he have to say?
---
Here's a major chunk of Andy McCarthy's latest interesting political opinion, but you must be sure to read the whole entry, so as to be properly politically informed!
The media fawning really is so shameless it's become self-parody. Take ESPN, for example.

Put aside the unacknowledged booing for a moment. The other embarrassing fact is that my six-year-old throws a baseball better (far better, in fact) than Obama. Yet the media went out of its way to obscure that, too — no doubt wishing to avoid unfavorable comparisons to the strike President Bush famously fired from the mound at Yankee Stadium at the 2001 World Series. In its live broadcast, Fox (and remember, this is Fox Sports, not Fox News) covered Obama's first pitch at a very weird angle that conveyed his spastic motion but didn't do justice to how pathetic the toss was. But that's nothing compared to ESPN's laughable coverage. Here's the clip. Besides reporting only that there was a "standing ovation for the commander-in-chief," the announcer made a point of noting that Obama's pitch "didn't bounce" before reaching home-plate (though the announcer did cop to the "horrible camera work that made the trajectory of the pitch impossible to see).

Now, take a look at this clip from MLB.com, about 24 seconds in. It's the only decent footage I've seen, and it shows that Obama's first pitch did bounce. In fact, the pitch did not even reach home-plate — and they evidently knew it wouldn't. The player who was sent out to catch Obama's pitch (more on that in a moment) was crouching on top of home plate, not behind it where catchers always set up. And even so, he had to reach out a couple of feet in order to short-hop the ball, which otherwise might have bounced all the way to the backstop.

Now, about that player who caught Obama's pitch: It was none other than the Cardinals' great first-baseman, Albert Pujols. What does that matter? Well, the tradition is that the first pitch is tossed to the catcher, not the first-baseman — and, in fact, the starting catcher for the National League last night was the Cardinals' own Yadier Molina. But while Molina is popular, Pujols is like God in St. Louis (in fact, a fan in the stands either last night or the night before was holding a banner that said, "In Albert We Trust").
It is true that Barack Obama threw his baseball pitch like a 4-year-old dandy, from France. Beyond that, though, who fucking cares about any of this, right?
Meet Me In St. Booie! [National Review/The Corner via Balloon Juice]