I Mustache You A Question! Wonkagenda For Thurs., October 31, 2019
popular
October 31, 2019 09:03 AM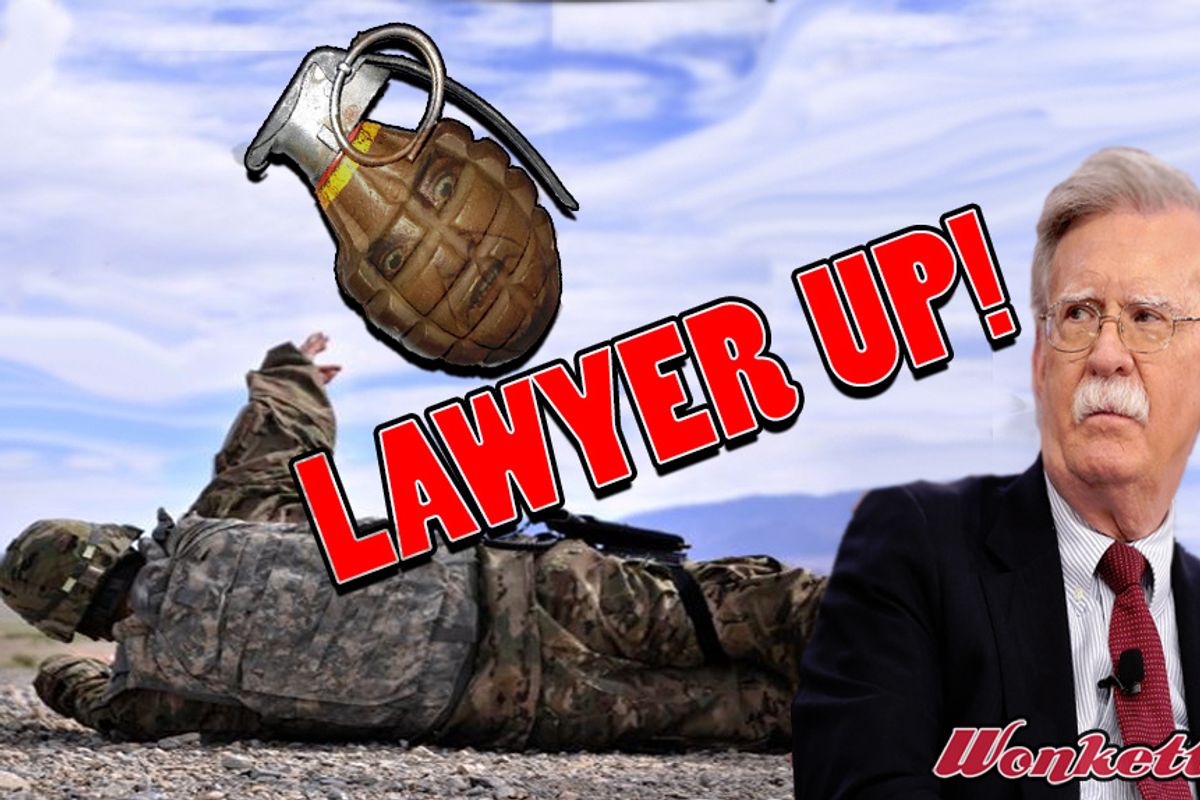 Happy Halloween, Wonketariat! Here's some of the things we may be talking about today, but first...
---
The Shining + My cat (HD)www.youtube.com
A White House lawyer was so freaked out after Trump's "perfect" phone call with the Ukrainian President Volodymyr Zelenskiy that he moved the transcript into a highly classified server with restricted access. The new details come following the testimony of Army Lt. Col. Alexander Vindman, a top advisor for Ukraine policy in the White House, who was listening in on the conversation. The lawyer, John Eisenberg, was already aware of national security officials' concerns about a shadow foreign policy operation to make up dirt on Trump's 2020 rivals -- and now the House impeachment investigators want to drag former National Security mustache John Bolton behind closed doors to talk about Rudy Giuliani's "drug deal" in Ukraine.

Tim Morrison, top White House advisor on Russian affairs, is set to leave his post just as he's about to testify on the House impeachment inquiry. HMMM
Trump is effectively bribing vulnerable GOP Senators to hold the line on impeachment. His campaign is now sending out mailers to Front Row Joes, demanding they fork over all their petty cash to Republicans facing tough reelection bids.
Trevor Noah went off script to 'splain the Republicans' tactic is to make people doubt common sense.

Tackling Trump's Attacks on Vindman - Between the Scenes | The Daily Showwww.youtube.com
Roll Call has a great rundown on how Rudy Giuliani has spent over a decade working with lobbyists, but never once registered as a lobbyist himself.
The open enrollment period for healthcare starts tomorrow despite the the conservative push to kill Obamacare over the last three years. Politico has a good recap of all the new ways Republicans are using local laws and judicial fuckery to strip poors of their newfound ability to see a doctor.
The acting director of the US Citizenship and Immigration Services Ken Cuccinelli had a bad day when the House Oversight committee grilled him on the administration's now-reversed policy of deporting foreign nationals with serious medical conditions. The Cooch got VERY butthurt when Debbie Wasserman Schultz accused him of peddling a "heinous white supremacist ideology," and things just got worse from there. Republican senators are now warning the White House they'll nuke Cuccinelli at his confirmation hearing if they insist on him as the nominee to head DHS.
Rather than muck about with vetting half-truths, Nazi bullshit, and free speech arguments, Twitter has decided to simply ban political ads. In a middle-finger clearly aimed at Facebook, Twitter CEO @Jack Dorsey said it wouldn't be right to stop people from gaming their platform unless they coughed up cash. Kara Swisher opines that this is "low-hanging fruit," but it's a good sign Silicon Valley is (finally) putting on its big-boy pants and "not only starting to clean itself up but also beginning to understand the major responsibility it has to the well-being of society at large, well beyond just making money.

For instance, it's not credible for us to say: "We're working hard to stop people from gaming our systems to spread… https://t.co/HvPnUstSHd

— jack 🌍🌏🌎 (@jack 🌍🌏🌎) 1572465911.0
Speaking of "the big F," a major Facebook content moderator is quitting after Casey Newton cracked open their doors and shined a blacklight on all the super gross nightmares going on behind the scenes.
Both Joe Biden and Sen. Kamala Harris have a serious cash problem. Politico is reporting that Harris's campaign has laid off staff, slashed overhead, and begun relocating staffers from its Baltimore headquarters to Iowa in order to make a seven-figure ad buy in the Hawkeye state. Meanwhile, a super PAC supporting Biden launched yesterday, just a week after Biden reversed course and said he'd accept the support of dark money groups. Biden's camp is also doubling down on digital ad spending, leaning into a 10-year-old campaign strategy based on Facebook and text messages. All his people in New Hampshire are now ringing fire alarms after new polling data showed the candidate's favorables falling off a cliff.
Democratic strategists are getting worried DINO Rep. Tulsi Gabbard might abandon her doomed bid for the Democratic nomination in 2020, and become the next Jill Stein (like Hillary Clinton predicted) after new polling from University of New Hampshire and CNN showed Gabbard at eight percent in New Hampshire. Gabbard has previously shot down suggestions of a kamikaze candidacy, but Bakari Sellers, a surrogate for Sen. Kamala Harris, tells The Hill that he hasn't been attacked on Twitter by real people during disagreements with Gabbard, saying, "I'm getting attacked by Russian bots. This isn't rocket science. This is something we've seen before." [Podcast]
With just days to go before Virginians head to the polls for state elections, Republicans hitched a ride on the Trump train, painting Democrats as baby-killing, immigrant-loving socialists who want to steal your guns and healthcare. Political wizards don't think it's a wise strategy as the road to Richmond runs through the increasingly liberal suburbs of Northern Virginia, but they're watching closely.
Over in Kentucky political fortune tellers are predicting that the tight governor's race is bad news for the reelection bid of Senate Majority Leader Mitch McConnell. #MoscowMitch is throwing all his weight behind his former nemesis, Gov. Matt Bevin, but politics watchers say many in Kentucky have already decided Bevin is a loony, anti-vaxing prick who hates children.
As the Chicago's teacher strike enters its 15th day, a potential agreement was within reach last night until Chicago Mayor Lori Lightfoot refused to compensate teachers for lost pay as a result of the strike. In a bid to end the strike, Democratic state leaders came out in favor of Chicago (finally) getting an elected school board.
A court in Colorado has ruled police are not responsible after SWAT officers destroyed an innocent man's home with explosives and an armored vehicle during an hours-long standoff with a man suspected of shoplifting clothes from a Walmart. While fleeing from police, the suspect broke into a stranger's home, barricading himself and firing a handgun at police. Tactical units responded with explosives and chemical munitions, causing around $400,000 in damages.
A Missouri man wearing a t-shirt that said "It's not a crime unless you get caught" was caught on a security camera breaking into a laundromat vending machine and stealing $600 in cash and change. Area police are asking for help identifying the man.
On Tuesday DC celebrated its 19th annual High Heel Drag Queen Race. It was FABULOUS! [Photos / Photos / Video]

Drag whistleblowers, Nats and more run the annual High Heel racewww.youtube.com
Some people are claiming a haunted house in Tennessee is actually a front for kidnapping and torture, and are urging state legislators to shut the place down. The owner disputes the allegations, and says every applicant, if selected following a rigorous screening process that asks for participants' fears, is required to sign a 40-page legal waiver. The owner adds that nobody has completed the haunted house, which is designed to be "mentally and physically" challenging "until you reach your personal breaking point." The price of admissions is a few bags of dog food. [Video]
Former White House bullshit artist Sean Spicer is still on that stupid game show for failed celebrities who think they can dance. Last night Trevor Noah broke down how Spicey has been stroking the alt-right's hard-on for culture wars despite the real possibility that he may have the "body of a Lego." [Video]
Stephen Colbert ribbed Joe Biden for posting a picture of himself with a dog on #NationalCatDay, and his new pro-pet platform.

Joe Biden: It's Time We Put A Pet Back In The White Housewww.youtube.com
And here's your morning Nice Time:IT'S TOPI!

HALLOWEEN WIZARD - Topi the Corgiwww.youtube.com
Follow Dominic on Twitter and Instagram!
We're 100% ad-free and reader-supported, so consider buying us coffee, or get a subscription!
Dominic Gwinn
Dominic is a broke journalist in Chicago. You can find him in a dirty bar talking to weirdos, or in a gutter taking photos.