NBC Says Trump Won't Run, Iowa Christian Fundamentalists Say He Will
News
April 18, 2011 01:17 PM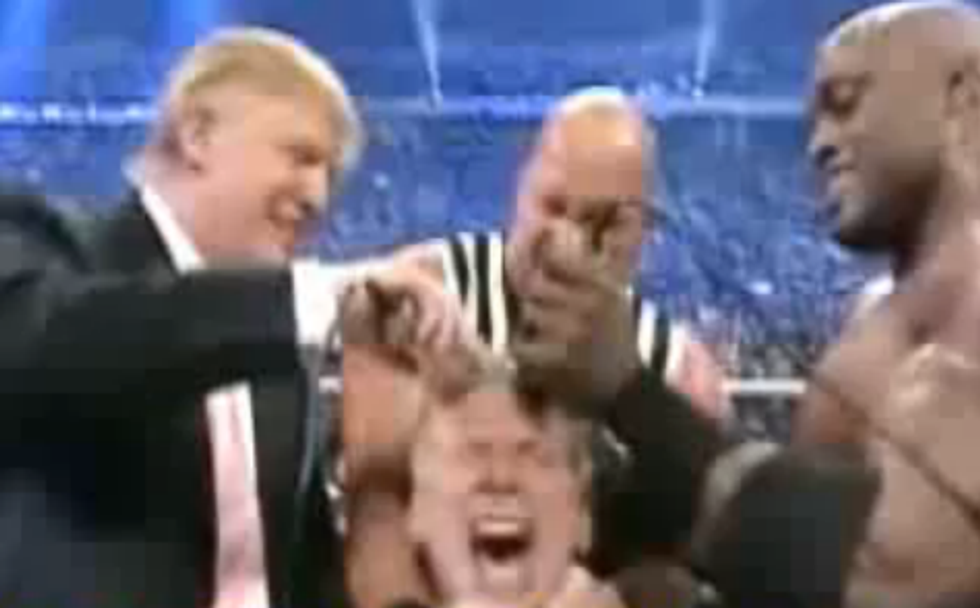 At some point one of the two top-tier Republican frontrunners, Donald Trump and Mike Huckabee (haha, this is still funny), are going to have to leave their Fox deals and run, right? Is the Fox money really better than going down in the column in history books that lists the loser of each presidential election? Maybe it is. According to "one senior" NBC executive talking to theNew York Times, Trump won't run. "This is Donald being Donald," he said, a reference to the famous quote about Pol Pot cutting open an infant's skull, "This is Pol being Pol." Campaign careerists and Iowa gatekeepers, though, reportedly say he will run. "I'm convinced he's probably going to run," said some important Iowa evangelical guy, which is also something people used to say about Pol Pot when he hosted a reality teevee show about firing people right before he ran a murderous regime.
---
"Anyone assuming that the reality show host's interest in running for president is just another one of his publicity stunts would not likely be wrong," wrote Charlie Cook, the political analyst, who in a column last week wondered whether a "Jersey Shore" cast member would try to run for president next.
That crazy Chalie Cook, always with the trenchant pop-culture humor!
The real estate mogul has spoken to pollster Tony Fabrizio as well as members of Larry Weitzner's Jamestown Associates, sources said. Three Republicans said that Florida-based media consultant Rick Wilson had been recommended to Trump as a potential hire. [...]

He recently called pollster and strategist Kellyanne Conway, who agreed to set him up with some evangelical leaders.
Sure, that sounds like people who work on campaigns. Very politics, those names.
Meanwhile, Trump continues his rampage of stupid shit:
"I'm a much bigger business man and have (a) much, much bigger net worth. I mean, my net worth is many, many, many times Mitt Romney," Trump said Sunday on CNN's "State of the Union." "I built a very big net worth and I'd like to put that ability … to work for this country."
Hooray! Trump is going to buy us all some crappy property after he rids the world of foreigners! But then again, the Teabaggers may tear off his limbs and eat him first:
"We must have universal healthcare," wrote Trump [in a 2000 book]. "I'm a conservative on most issues but a liberal on this one. We should not hear so many stories of families ruined by healthcare expenses."