Nevada Dongwhistle Michele Fiore Actually Running For United States Congress, Hooray!
Guns
March 08, 2016 02:00 PM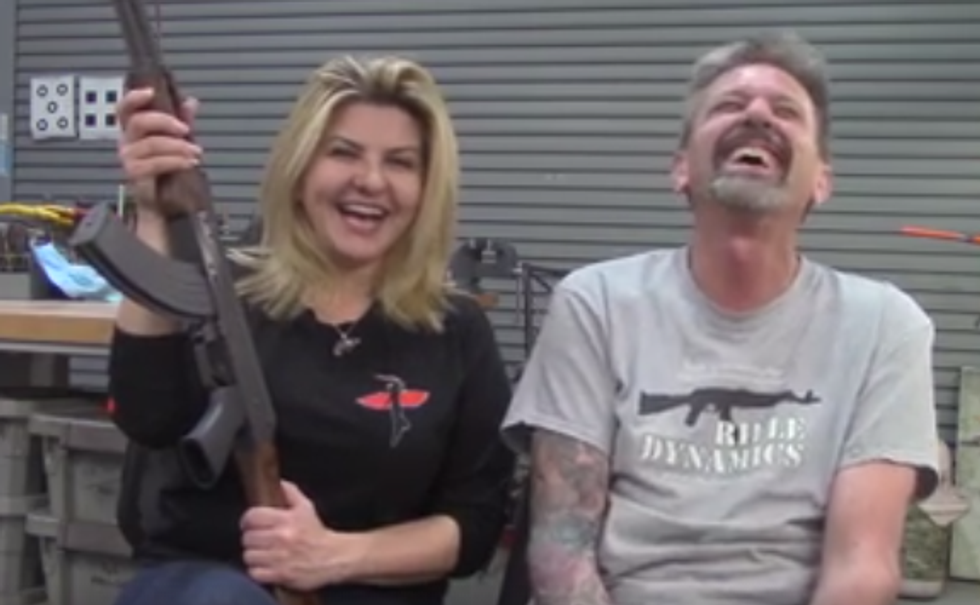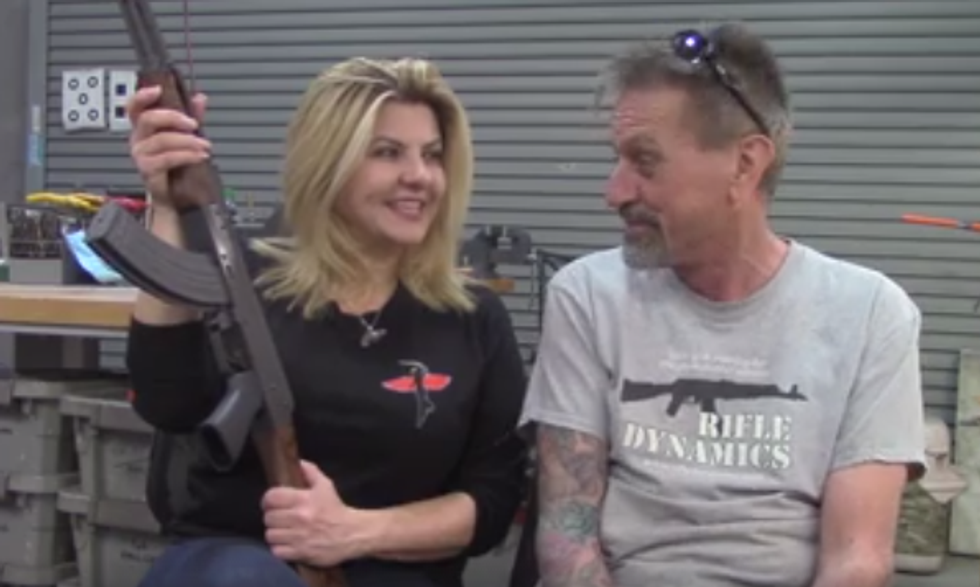 Michele Fiore and her gun and her boyfriend we guess.
---
[contextly_sidebar id="JrK1OswwwNswWUVfQ8qYBcngsj6zBfIV"]We told you in November that Nevada assembly-lady Michele Fiore, whose boobs are as locked and loaded as her massive gun collection (and she's not afraid to use them!), was threatening to run for Congress. But way back when, it wasn't official. After all, she had just released a funbags pin-up calendar in order to "fight for the Second Amendment" or something, so maybe saying she was running for Congress was just a publicity stunt, much like every other goddamned thing she does.
But, gigglesnorts and LOL-lerskates, Wonkers, we have good news!
[T]he gun-calendar making grandma has announced she is officially filing paperwork to run for Congress from Nevada.

"I invite you to join me this Wednesday at 10:30 a.m. at the Clark County Government Center, 500 S. Grand Central Parkway on the first floor in the Pubelo room as I file the paperwork to become your next Congresswoman," Fiore announced on her website Tuesday.
She's ACTUALLY DOING IT! And if you live in Nevada somewhere near the shadows cast by Michele's ginormous knockers, you can go to her kickoff "with a bang" party, at the Pro Gun Club, where you will get a chance to win a Kalashnikov rifle Michele maded all by herself, except for how her pal Jim Fuller helped her maded it. Playing with Michele's homemade guns sounds like fun for the whole family where nothing could go wrong at all.
You can watch the full video about what a tits-out kinda gay-ass time Michele and Jim had building guns together, or you can just rely on us to tell you the important stuff. For instance, here is the part where Jim asks whether she would be known as a "congressperson," and Michele says, "Congresswoman. I'm just a woman!" They both realize this is the funniest joke they have ever heard, and they LOL accordingly: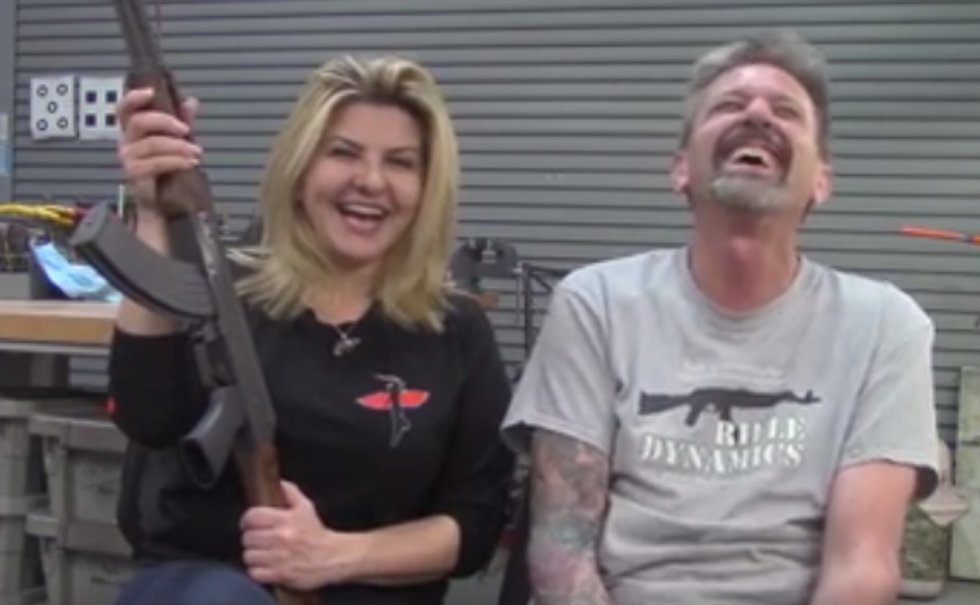 The rest of the video is a shitshow and a waste of your time, except for the part at the end where Michele says she "can't wait to SHOOOOOOT!" her new gun, and Jim says well, they gotta make sure it works, and Michele is like, "Oh." She adds, "absolutely," with all the enthusiasm of a child being forced to eat peas while being told that Santa isn't real.
[contextly_sidebar id="vUSL3CtdYcx2t6ruajC9Nnh6Ild0KBJQ"]ANYCRAP, back to the subject at hand. Last time we heard from Michele Fiore, she was singlehandedly saving America from tyranny by sitting on the phone in the Portland airport trying to help convince those Oregon militia hollow-dicks that Bubba's Last Stand At The Bird-watchin' Sanctuary is actually not a good place to die. She had traveled to Oregon to be an attention whore, and because she has a special place for those Bundy boys between her sumptuous bosoms and her heart.
[contextly_sidebar id="rwyDYEixzwhRrcCK2DLWi2wlk2IATqx1"]Before that, she had been last seen trying to figure out how to stuff an entire arsenal into those little three-ounce shampoo bottles you have to take on airplanes, so she could go to Paris to murder all the Parisian terrorists, god we don't even fucking know with this woman.
And she calls black people "colored," to their face.
And she thinks she can end sex trafficking by taking a weed whacker to pimps' ball sacs.
And she thinks cancer is a fungus, easily cured with baking soda.
[contextly_sidebar id="sGVtJQxjNqv13wPHBXDNZzZdm4MoXrME"]And she's totally fine with transgenders taking showers with her, as long as they've had the common courtesy to have a goddamned vagina installed. Until then, she says they should stay away from her own sacred "nakedness area."
Are we being hypocritical and selfish and only thinking of our own joke-writing needs when we say we sincerely wish Michele Fiore all the best in her campaign? Donald Trump is the frontrunner for the Republican presidential nomination and God is dead, who the fuck cares anymore?
Evan Hurst
Evan Hurst is the managing editor of Wonkette, which means he is the boss of you, unless you are Rebecca, who is boss of him. His dog Lula is judging you right now.
Follow him on Twitter RIGHT HERE.