Nevada's Bunny Ranch: Stay Away From Our Nice Hooker Sex Ladies, Josh Duggar!
Featured
June 12, 2015 10:15 AM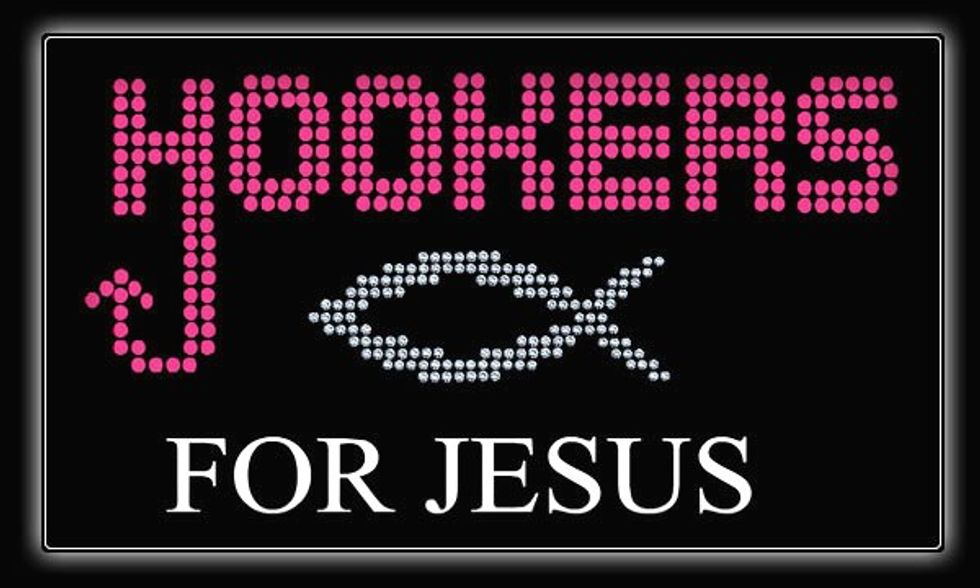 It's funny how nobody wants Josh Duggar around anymore, all because a couple police reports, probably concoctions of the lamestream media, say he molested four of his sisters and a babysitter back in the day. The latest place Duggar is persona non grata is the very famous Moonlite Bunny Ranch outside Carson City, Nevada, which has issued a press release saying SORRY JOSH, but your diddle-fingers are just TOO GROSS for our ladies of the night.
---
Bunny Ranch owner Dennis Hof has some harsh words for the highly hypocritical Duggar boy:
The world famous Moonlite Bunny Ranch, famed legal brothel that has been featured on HBO's smash hit series "Cathouse", has taken the extraordinary step of banning TLC's "19 And Counting" star Josh Duggar from entering any of their properties, citing concerns for the safety of the 500 legal prostitutes that are employed there. [...]

"My number one priority has got to be the safety of my girls," said Dennis Hof, owner of the world famous Bunny Ranch and six other Nevada brothels. "We employ 500 girls at any one time, and we've had tens of thousands of them come and go over the years. With the Duggars having 19 kids, it is just simple math that the odds are much greater than usual that one of their daughters might come work for us at some point. There's no way I would ever put them or any other girl in harm's way, should that brother of theirs come prowling around here. He's persona non grata, starting now."
[contextly_sidebar id="BeWR2xOmPZQdOobpSPjN6g9w7voH6j8E"]
IT'S JUST MATH. One of the Duggar girls will become a healthy, happy sex worker (WHICH IS AN OKAY THING TO BE, ALL CAPS DISCLAIMER, so you Twitter Twatters can shut right up), and they just don't want Josh coming in and trying to reenact any scenes from childhood on the Bunny Ranch premises.
And here is Hof showing just exactly how high his moral high ground is, as compared to the Duggars:
"Those poor girls (the Duggar sisters) were propped up on television by their Bible thumping parents to make excuses for their brother, saying that their mother and father had protected them after they became aware of the molestations by putting locks on the girls' doors. We don't have locks on our girls' doors, because we've never needed them. Apparently the Bunny Ranch brothel is a safer place for young girls than the Duggar household."
Holy boy howdy mother of pearl GODDAMN that is a sick burn. Even better for being so fact-based!
Hof, who once told reporters that his Senator Harry Reid would have to "pry the cathouse keys out of his cold, dead hands" if he tried to shut down his whorehouse, likes to ban famous creepy assholes from the Bunny Ranch, regardless of whether they're actually likely to patronize the joint. Donald Sterling got banned, for being a racist fuck; Ray Rice got banned, for being a wife-beating fuck; Michael Vick got banned, for being a dog-abusing fuck; "Duck Dynasty" patriarch Phil Robertson got banned, for being a gay-hating fuck; and Paris Hilton got banned, for being Paris Hilton. Nice company you've landed yourself in there, Josh Duggar!
[contextly_sidebar id="Kkk4uDFwFsQ6eHsC0QX1UuKg1bxnodnv"]
Maybe they could all have a reality teevee show together, about how they Cain't Get No Hos.
[JoeMyGod]
Evan Hurst
Evan Hurst is the managing editor of Wonkette, which means he is the boss of you, unless you are Rebecca, who is boss of him. His dog Lula is judging you right now.
Follow him on Twitter RIGHT HERE.