New York Times And New York Post Had A Jerk-Off Contest And Everybody Died
Post-Racial America
August 02, 2018 02:03 PM
New York City! The greatest city in the world. The center of the known universe. Eight million people in the city itself, and millions more in the surrounding metropolis. Every kind of food you could ever imagine, and lots of it is available from vendors on the street. Broadway! Times Square! Woke up it was a Chelsea morning and the first thing that I heard ...
And no good newspapers.
There are two really big ones. One is a gossip rag with all the latest rumors and insinuations about the derrings-do of the rich and famous, the president of the United States and the lady who beat him in the popular vote, who has a big charity foundation that probably rapes puppies, sources say. The other one is the New York Post. Both papers just had a really good day Wednesday.
---
First, the New York Times, which tweeted this last night: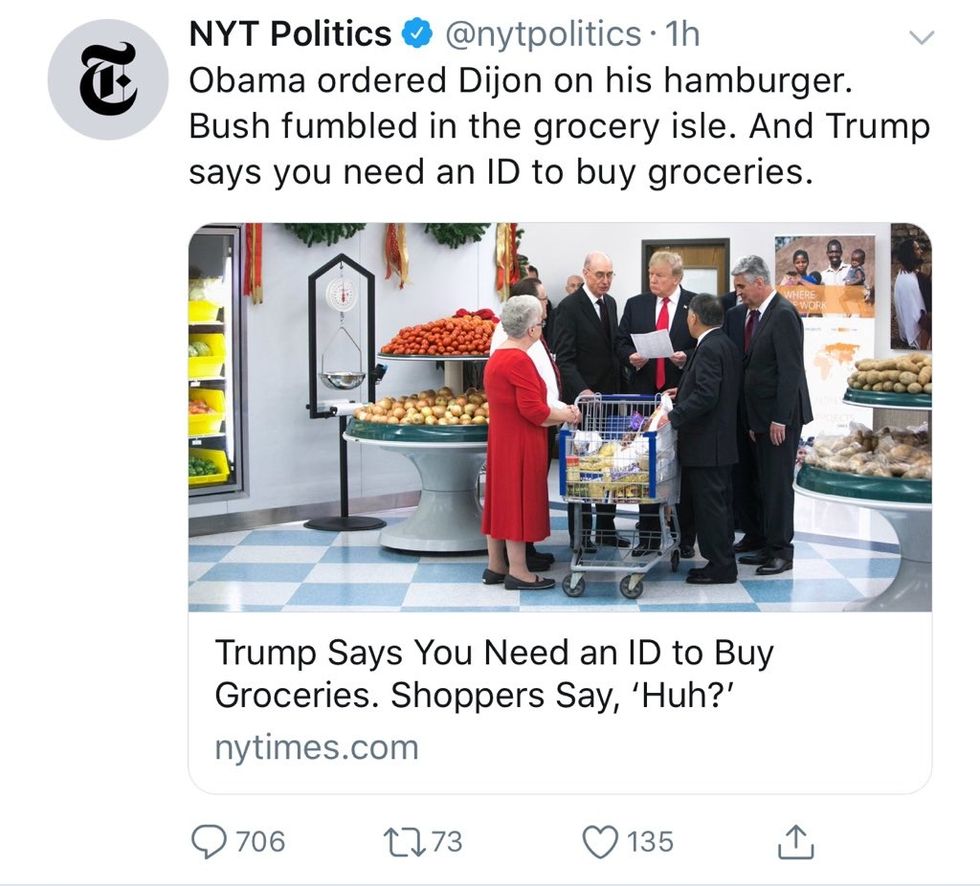 Wow! Very good job, NYT internet writer! The internet is making fun of how the NYT writer misspelled "aisle," but we'll skip that part, because they corrected it, but didn't delete the article in question, which was NYT's actual mistake. Look at this superb piece of shit:
It is not often that Mr. Trump, a mold-breaking billionaire, is seen as behaving presidentially, which he thinks would be too boring, anyway. But with this particular offhand and baldly inaccurate comment, the president landed himself in the company of other presidents and presidential hopefuls who have fumbled while trying to showcase their everyman appeal.
Silly presidents! They're just like each other!
Because, you see, Obama ate fucking bowls full of Dijon and George H.W. Bush was confused about grocery scanners and Donald Trump told his poop-sucking troll followers that you have to have a photo ID to buy groceries, therefore you should have to have a photo ID to vote! Those are the exact same! Except factcheck FUCK YOU, because Dijon mustard is actually not fancy outside the crowd of people who think Olive Garden is fancy, and Bush 41 was confused by the scanners because they were new-ish at the time (they "took off in the grocery and retail business in the 1980s"), a fact the New York Times actually points out in its dumb article.
Meanwhile President Meat Farts over here is pushing racist voter ID policies based on how he thinks you have to show your driver's license to buy eggs.
Anyway, good job, New York Times. This is almost as good as that time your internet social media writer just CASUALLY SUGGESTED maybe Hillary Clinton and Huma Abedin spend all their nights in a hot tub full of lesbian with each other: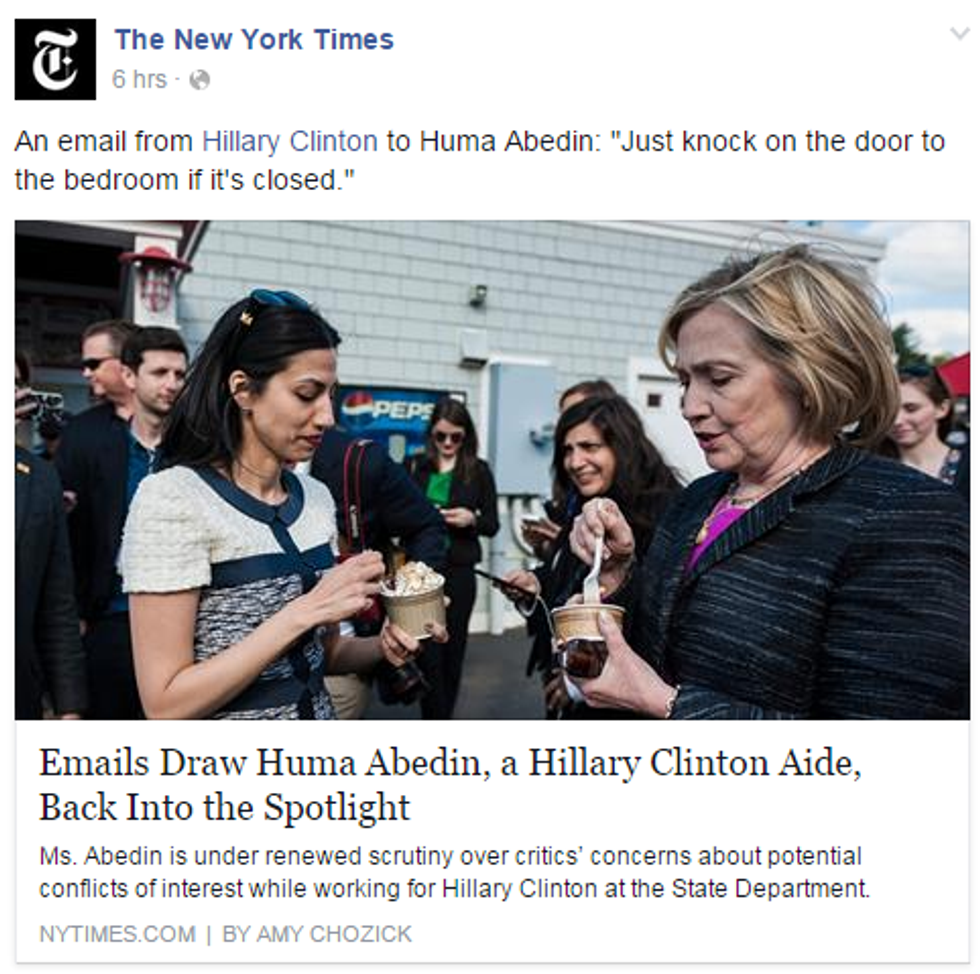 Now let's take a brief look at how the New York Post is failing, to see who wins this jerk-off contest. (SPOILER: Everybody loses and everybody dies. We said it in the headline.)

Oh for Christ's sake. BREAKING: Black Obama Blacks It Up With Black Endorsement Of Scary Black Rapper, At Hip-Hop BBQ, Of Blackness!
Way to say the quiet part loud, New York Post! And by "quiet part," we mean how you are all a bunch of fucking racists.
Antonio Delgado, who is running for Congress from upstate New York, is a Rhodes scholar who went to Harvard Law. He is not "controversial" except to white people who are scared of black people with their hippity-hopping and their you don't stopping. He's been a successful lawyer FORFUCKINGEVER, he's a badass on abortion rights, and oh yeah, one time he made a rap album with some cusses. That is obviously the important thing here.
He's also super cute: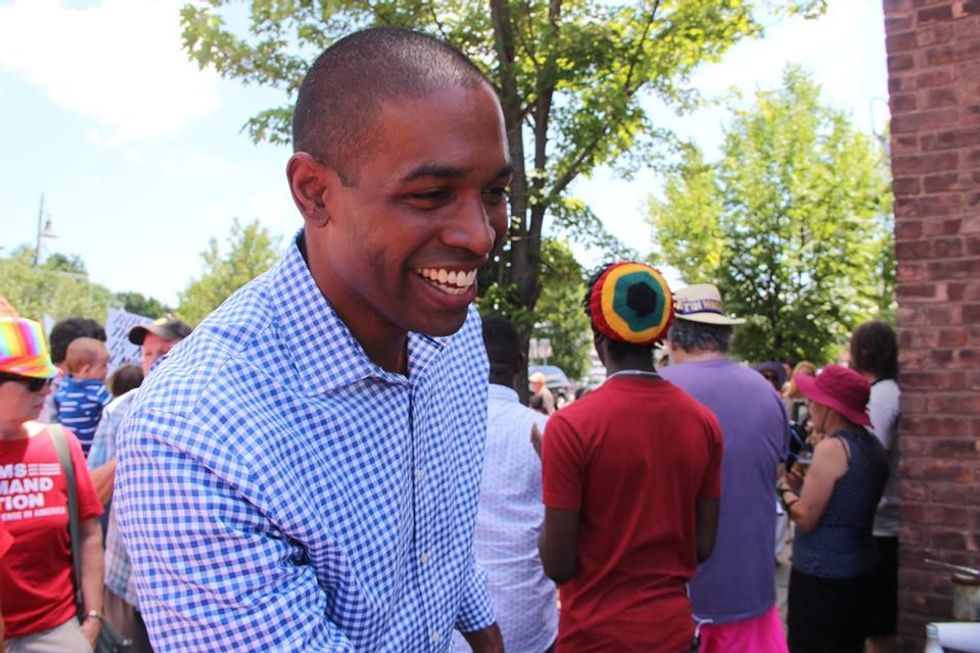 But sure, New York Post. Call him a CONTROVERSIAL RAPPER in your headline.
As we said, in this jerk-off contest, nobody won and everybody died, so RIP all of us, and it's all the fault of the worst newspapers in America, all of which are located in New York.
Follow Evan Hurst on Twitter RIGHT NOW, DO IT RIGHT NOW!
Help Wonkette LIVE FOREVER! Seriously, if you can, please help, by making a donation of MONEY.
Evan Hurst
Evan Hurst is the managing editor of Wonkette, which means he is the boss of you, unless you are Rebecca, who is boss of him. His dog Lula is judging you right now.
Follow him on Twitter RIGHT HERE.