Newt Gingrich Was Aspiring Polygamist in Nineties, Ex-Wife Says
News
January 19, 2012 01:20 PM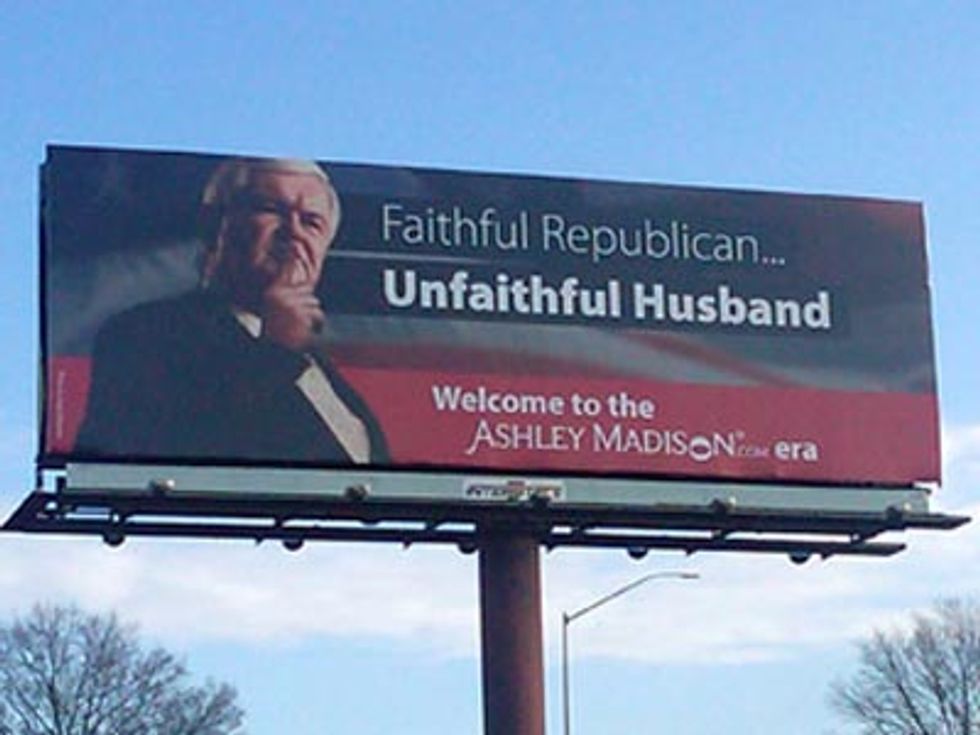 The density of swollen piglet Newt Gingrich's sleaziness is apparently such that there are still, ten years later, more awful details of his second divorce that America had not yet learned: ex-wife Marianne Gingrich told ABC News that before Newt left her, he asked her to just be cool about the whole affair thing and try sharing him with other women. This sounds like the sort of argument that Newt concluded with a whimpering, "but that's how Thomas Jefferson's marriage worked, in history!" And now, today, no one in America is laughing harder than Marianne Gingrich, because this sordid little revelation has won the news cycle timing jackpot and immediately reduced Newt's endorsement from Rick Perry to sullen ashes.
---
In her most provocative comments, the ex-Mrs. Gingrich said Newt sought an "open marriage" arrangement so he could have a mistress and a wife.

She said when Gingrich admitted to a six-year affair with a Congressional aide, he asked her if she would share him with the other woman, Callista, who is now married to Gingrich.

"And I just stared at him and he said, 'Callista doesn't care what I do,'" Marianne Gingrich told ABC News. "He wanted an open marriage and I refused."

Marianne described her "shock" at Gingrich's behavior, including how she says she learned he conducted his affair with Callista "in my bedroom in our apartment in Washington."

"He always called me at night," she recalled, "and always ended with 'I love you.' Well, she was listening."
And just in case your breakfast is still managing to cling for dear life to your stomach walls, the Washington Post dug up this excerpt from the speech Newt Gingrich gave the day after he told Marianne he wanted a divorce because he was having an affair:
"When a liberal talks about values, will he or she actually like us to teach American history?" Gingrich told the women's group. "Will they actually like young people to learn that George Washington was an ethical man? A man of standards, a man who earned the right to be father of this country?"
Ha ha, and this is why a space cultist and his moon underpants will be able to win the Republican nomination this year. [ABC News/ WaPo]