NFL Totally Saw That Tape It Didn't See Of Ray Rice Knocking Out His Lady In An Elevator
News
September 10, 2014 06:06 PM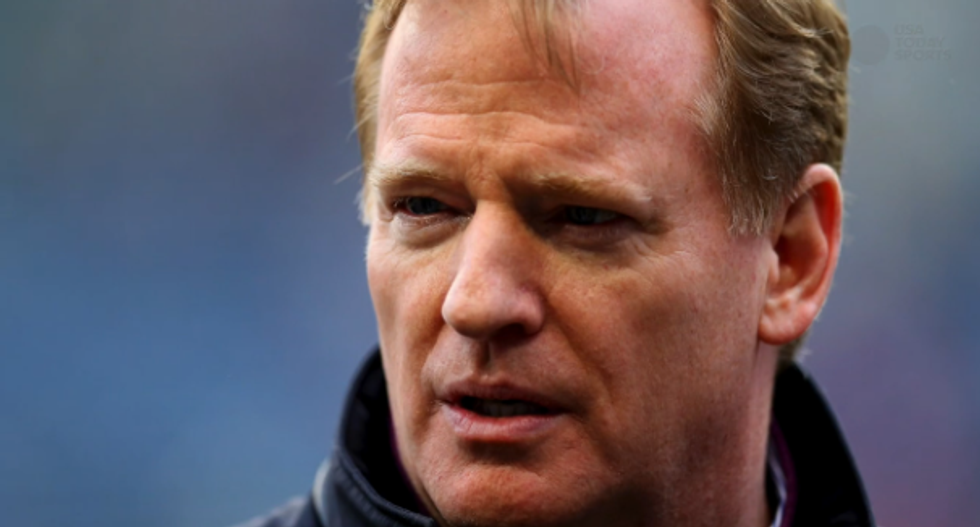 Surprising absolutely no one, except of course the Dudes In Charge at the NFL, it seems, contrary to very badly timed claims by NFL Commissioner Roger Goodell that nope, no one had seen the incriminating video of sportsball star Ray Rice knocking out his then-fiancée in an elevator, it is in fact the opposite of that:
---
A law enforcement official says he sent a video of Ray Rice punching his then-fiancee to an NFL executive five months ago, while league executives have insisted they didn't see the violent images until this week.

The person played The Associated Press a 12-second voicemail from an NFL office number on April 9 confirming the video arrived. A female voice expresses thanks and says: "You're right. It's terrible."
Of course, there is the tiniest snowball's chance in hell that no one at the NFL actually watched the video. Plausible deniability! The anonymous source, who was not supposed to share it but figured eh, maybe someone should see it anyway, could not confirm whether the tape was viewed or just quietly tucked away next to Jimmy Hoffa's body for safekeeping. So maybe Goodell wasn't completely lying through his teeth like a lying liar who lies through his teeth when he insisted that the NFL would have fired Rice sooner, and not merely suspended him for a whole two games, if only they'd seen the entire video and not just the part where Rice is dragging the unconscious Palmer out of an elevator after knocking her out cold, for which, as the Baltimore Ravens have reminded us, she has apologized, jeez.
We did not know the details of that. We asked for that on several occasions. It was unacceptable in and of itself what we saw on the first tape. And that's why we took action, albeit insufficient action. And we acknowledge that, we took responsibility for that — I did personally — and I take responsibility for that now. But what we saw yesterday was extremely clear and graphic and was absolutely necessary for us to take the action we did.
Goodell might want to rethink his suggestion that Rice could be welcomed back to the NFL with open arms after all, as long as he demonstrates "he is addressing this issue clearly, [and] he has paid a price for the actions that he's already taken."
On the other hand, if it is true that the NFL had this evidence in its grubby little hands months ago, and Goodell either knew about it or decisively chose not to know about it, he may not be in a position much longer to offer Rice that opportunity, if you know what we mean. (We mean #CancelGoodell. That's what we mean.)
We'll just let Twitter take it from here.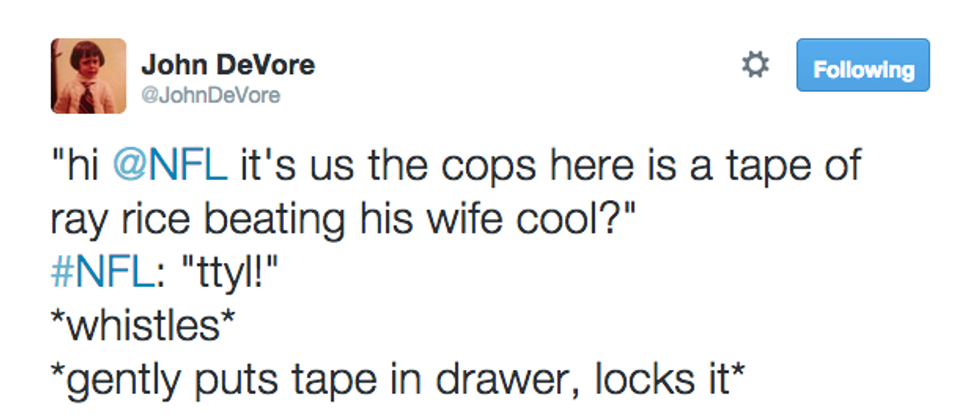 And scene.