Nicolas Sarkozy In Bedouin With Gaddafi
News
April 29, 2012 03:11 PM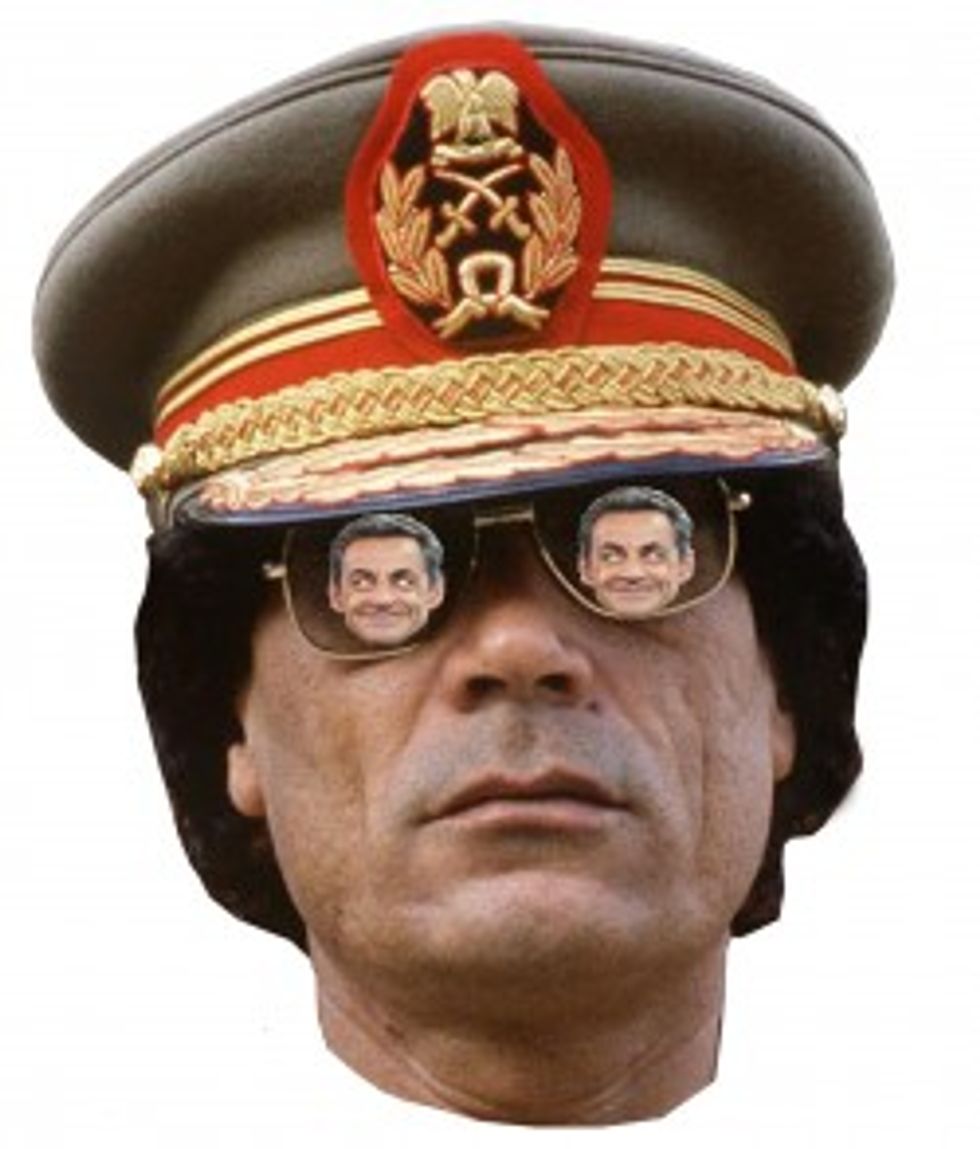 With only seven days to go until the final round of voting in France's presidential election, somelefty terrorist media organization published documentary evidence that Nicolas Sarkozy was promised 50 Million freedom fries in campaign contributions from snappy dresser and all around nice guy Muammar Gaddafi. Here's what's in the little letter of money promises, from the BBC:
---
The document - dated 2006 and written in Arabic - appears to have been signed by the then Libyan foreign intelligence chief Musa Kusa.

It refers to an "agreement in principle to support the campaign for the candidate for the presidential elections, Nicolas Sarkozy, for a sum equivalent to 50m euros."
The first sniff of intrigue actually came in March 2011 in the form of a TeeVee interview with mad dog's puppy, Saif al-Islam Gadhafi, after Sarkozy recognized the Libyan opposition's National Transition Council as a legitimate government. Son of a madman had this to say to Monsieur Sarkozy:
"Sarkozy must first give back the money he took from Libya to finance his electoral campaign. We funded it and we have all the details and are ready to reveal everything. ... The first thing we want this clown to do is to give the money back to the Libyan people. He was given the assistance so he could help them, but he has disappointed us. Give us back our money."
Evidently he was referring to bank records as proof, but these have yet to be unearthed from the mass graves under the tea-cup ride in the miniature amusement park behind mad dog's compound. So, the post-meeting memo will have to do.
This isn't Sarkozy's only alleged illegal contribution scandal. Two other cases are currently in the French courts. France's richest woman, L'Oreal heiress Liliane Bettencourt, allegedly stuffed 150,000 Euroclams into an envelope and gave it to Eric Woerth, Sarkozy's campaign finance director and former French employment minister. Then there's that woman that you probably never heard of, Christine Lagarde, who replaced libertine échangiste and aggravated pimp Dominique Strauss-Kahn as head of the International Monetary Fund. Christine allegedly paid off a Sarkozy supporter when she was French finance minister. These two cases are still grinding their way through French courts but will probably be dismissed on fashion principles alone. After all, elite French blood is thicker than Libyan krazy kash.
Anyhoo, Sarko's rival, François Hollande, called for a criminal investigation yesterday, since it's illegal for French politicos to take money from foreigners who dress funny, carry a gauche gold-dipped gun or call Condoleezza Rice "darling." But since French courts move at the pace of an escargot (the judge keeps sending everybody home because he wants 5.8 copies of all documents versus 3.2), there's no chance Sarkozy will be investigated before next week's election. No worries, he's already been tried in the court of public opinion and the French will never forgive him for allowing Libya's mad dog to sully the hallowed grounds of Baron Gustave de Rothschild's former residence, Hôtel de Marigny, with a Bedouin tent, one camel, 400 servants and 30 female virgin bodyguards. Critics called the event a "Qaddafi circus" and "tragic-comic farce."