No Big, Just More Cops Charged With Taking Part In Trump's Jacklegged Coup
Right Wing Extremism
July 19, 2021 02:08 PM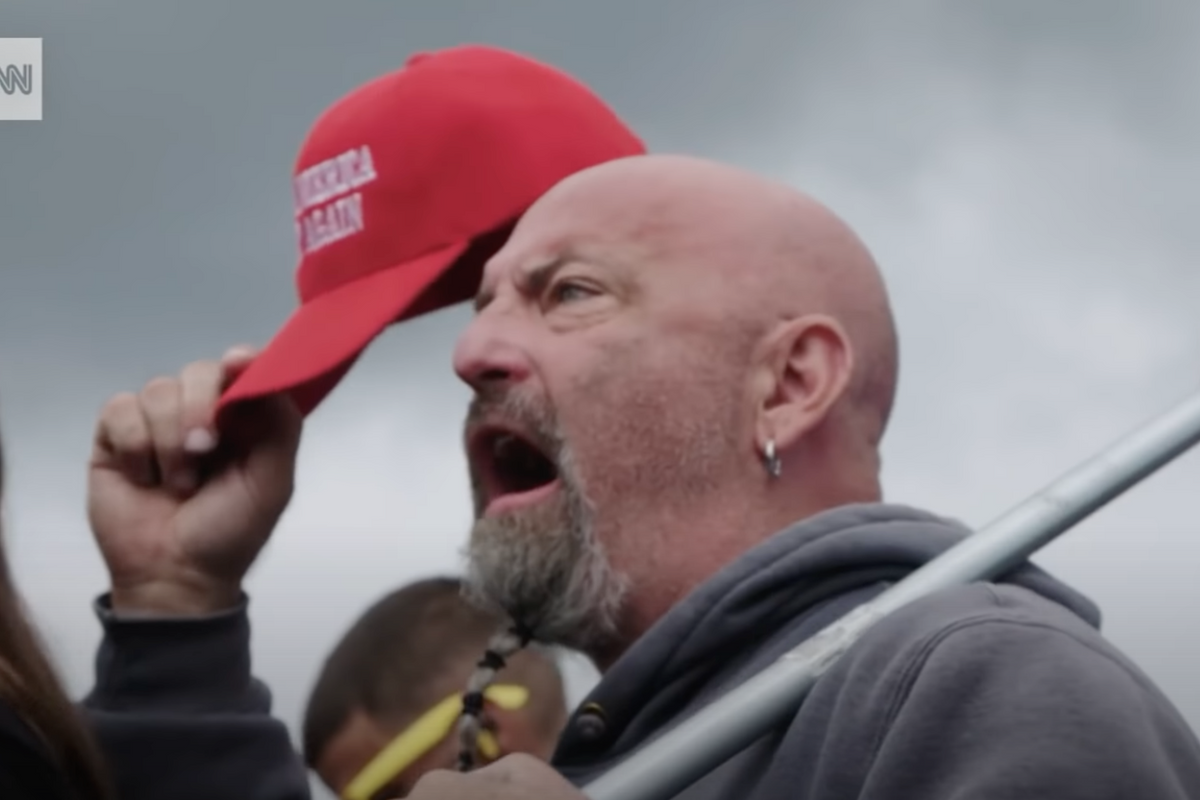 Some more members of law enforcement have been charged with participating in the January 6 siege on the Capitol. The latest are the father and son duo, Kevin "Tito" Tuck and Nathaniel A. Tuck of central Florida. They were arrested last week and released on $25,000 unsecured bond.
The Apopka, Florida, police employed Nathaniel Tuck until August 2020 and later cooperated with the FBI's investigation into his insurrection-related activities. Kevin Tuck resigned Thursday from the Windermere Police Department. Windermere is a well-off white suburb of the more racially diverse Orlando. According to a statement from Police Chief David Ogden, the elder Tuck joined the Windermere PD as a reserve officer in May of 2019 and advanced to full-time in October of the same year. He'd previously worked as a cop in Longwood, Florida. Tuck didn't inform his superiors he was leaving the state to protest democracy, but a fellow Windermere officer raised concerns about his alleged conduct at the Capitol.
Both Tucks are accused of joining alleged Proud Boy members at the Donald Trump-inspired riot. Kevin Tuck allegedly entered the Senate chamber, which is trespassing, not ambitious tourism, and Nathan Tuck is accused of general civil disorder.
"The Windermere Police Department (WPD) has worked tirelessly over the past eight years to build a reputation of serving with Honor, Integrity and Service to our residents, and this arrest doesn't reflect on the hard work of the men and women of the Windermere Police Department," Ogden said.
Does it, though?
---
At present, federal authorities have arrested 535 suspects in the Capitol attack and at least 20 of those charged were law enforcement officers. This is alarming. There really is no acceptable percentage of cops you want to see involved in a violent attempt to overturn a presidential election.

During the first presidential debate, a recently coronavirus-infected Donald Trump ordered the Proud Boys to "stand back and stand by," and that's pretty much what happened.
U.S. investigators say that at least 65 Proud Boys affiliates joined an on-the-ground communications channel in Washington, led by four men accused of leading others in some of the most destructive, aggressive and earliest attacks to breach police lines and break into the Capitol, forcing Congress to evacuate.
The Tucks were added to an indictment with Arthur Jackman, who was arrested in late March. Jackman is a Proud Boy member and vice president of its Orlando chapter. The FBI has a photo of Jackman standing with a group of five other assholes, including Proud Boys organizer Joseph Randall Biggs from Daytona Beach, Florida. Prosecutors allege that Biggs was among the first to enter the Capitol immediately after fellow Proud Boy Dominic Pezzola helped smash a window on the Senate side of the building. Pezzola used a riot shield he'd taken from the police, presumably against their will.
Jackman is married to an Orange County, Florida, sheriff's deputy. During an internal review in April, Sarah Jackman stated, somewhat defiantly, "Do I leave him because of this group he joined?" We wouldn't suggest that couples have to share all the same interests, but the Proud Boys is a violent extremist group. So maybe that's a legitimate deal breaker?
Jackman isn't a member herself, but she's described the Proud Boys as "pro-American, pro-family, and very patriotic." The proof of such a claim is lacking. She also absurdly suggested the Proud Boys spent time their time together attending Bible studies and that it is absolutely "not a terrorist organization, not a hate group, nor a right-wing extremists group." It doesn't seem ideal when a police officer shares the same delusions as a mob wife.

When the FBI showed up at the Jackmans' house on January 19, Arthur Jackman admitted it was related to "Proud Boy activity," but he wouldn't elaborate. Maybe Sarah Jackman thought the FBI stopped by to discuss Bible stories.The FBI designated the Proud Boys a far-right extremist group with ties to white nationalism in 2018. We'd expect local cops to keep up with this sort of thing.
Officials within Trump's own White House, including former Department of Homeland Security official Elizabeth Neumann, had called out "white supremacy and anti-government extremism as a growing threat on par with ISIS." Trump ignored these warnings, and at the time, we assumed he just didn't care. Now, it's far more insidious. The rot has spread deep within police departments across the nation.
Follow Stephen Robinson on Twitter.
Keep Wonkette going forever, please, if you are able!
Stephen Robinson
Stephen Robinson is a writer and social kibbitzer based in Portland, Oregon. He writes make believe for Cafe Nordo, an immersive theatre space in Seattle. Once, he wrote a novel called "Mahogany Slade," which you should read or at least buy. He's also on the board of the Portland Playhouse theatre. His son describes him as a "play typer guy."