NO CHAOS! NO CHAOS! YOU'RE THE ... Wait, Melania's Firing NSC Staffers Now?
Politics
November 14, 2018 09:47 AM
Yesterday, Melania Trump celebrated World Kindness Day by greeting visitors to the White House.
On this #WorldKindnessDay I had fun surprising visitors to the @WhiteHouse! Thank you to all who come through and v… https://t.co/EJ0NVyBqBb

— Melania Trump (@Melania Trump)1542145095.0
Then she dispatched her spokeswoman Stephanie Grisham to shit-talk to reporters about Deputy National Security Advisor Mira Ricardel and publicly call for her to be You're Fired.
"It is the position of the office of the first lady that she no longer deserves the honor of serving in this White House."
Kindness is key!
It seems that Ricardel was insufficiently deferential to Her Highness over the use of National Security Council resources for her trip to Africa. FLOTUS wants a plane load of adoring aides to follow along as she poses in a pith helmet with brown babies, and FLOTUS intends to get it!
---
Ricardel, who has been given a few days to clean out her desk, will be missed by no one. The Post reports,
Three current and two former White House officials said Tuesday that Ricardel had berated people in meetings, yelled at professional staff, argued with the first lady and spread rumors about [Defense Secretary James] Mattis.

White House Chief of Staff John F. Kelly has sought for months to oust Ricardel, calling her a problematic hire in the West Wing, and Mattis has told advisers that he wants her out as well, the officials said.
But really this particular kerfuffle can only be understood in the matrix of feuds and competing factions that make up a White House where proximity to the Mad King is the only currency, and competence is worthless. It's like "Game of Thrones," except everyone is pathetic and unfuckable.
Ready for the pettiest shit you ever read?
OKAY, LOOK ...
Bolton Hates Mattis
Secretary of Defense James Mattis has served his country since 1969, under both Democratic and Republican administrations. NSA John Bolton is a partisan hack who also happens to be a goddamn maniac. Bolton and his capo Mira Ricardel have spent months maneuvering to push Mattis out on grounds that he's a secret Democrat, and "not ideologically aligned" with Donald Trump. As if Donald Trump has an actual ideology! Foreign Policy reports,
"They have the knives out."

One Trump administration official noted, "Mira and Bolton are the only ones who benefit if Secretary Mattis leaves." The secretary is "highly regarded" within the cabinet and by lawmakers on both sides of the aisle, the official said.
No doubt the feeling is mutual, but Mattis's shop leaks a lot less than Bolton's.
Kelly Hates Bolton
As Homeland Security Secretary, John Kelly was happy to round up thousands of brown people for summary deportation. But he's not INSANE. If that mustachioed lunatic were in charge, we'd have snipers on the southern border picking off starving refugees. So Bolton and Kelly have static, over and above them both fancying themselves the lone silverback among the capuchins.
Bolton agitates Trump about the continued flow of migrants, telling him that DHS Secretary Kirstjen Nielsen could put a stop to it if she were just willing to get serious, and Kelly steps in to defend his protegée. Which is how Kelly and Bolton wound up in a shouting match last month at a staff meeting. According to CNN,
Trump, who was incensed about the rising levels of migrants and threatened to shut down the southern border on Twitter earlier that morning, took Bolton's side during the argument. Bolton favors a harder line approach to the issue and criticized Department of Homeland Security Secretary Kirstjen Nielsen during the argument, a source said. Nielsen used to serve as Kelly's deputy when he ran DHS. Bolton reportedly said Nielsen needed to start doing her job, which incensed Kelly.
And if Bolton has Nielsen in his sights -- successfully, it seems -- the WSJ reports that Kelly has been aiming for Bolton's deputy Mira Ricardel.
Mr. Kelly has been looking for ways to force Ms. Ricardel out for weeks. Two weeks ago, Mr. Kelly cited Mrs. Trump's concerns as he pushed Mr. Bolton to replace her, but Mr. Bolton resisted, officials said.

Mrs. Trump and her staff then discussed the issue with the president during the trip to Paris, White House officials said.
Which has a nice symmetry, we guess.
Melania Hates Kelly
Were you under the impression that Melania's main job is her daily collagen injection and blowout? That's because you're a hater and loser! All that #BeBesting takes work, and Melania needs an extensive staff for, uh, reasons. And that staff should have #BeBest job titles and salaries commensurate with their heavy, if inscrutable, workload.
NBC reports,
There have been instances where the East Wing staff were not treated as equals to the male-dominated decision makers in Chief Kelly's office," one White House official said. "Promotions were denied then finally granted after months of requests," the official said.

Melania Trump raised concerns with her husband earlier this year, amid the height of the controversy over his alleged affair with porn actress Stormy Daniels, that Kelly had repeatedly denied her requests to promote some of her aides, two White House officials told NBC News.

The requests languished for months as Kelly insisted there weren't enough available positions for the first lady's aides to have senior titles, these people said. During this same period however, West Wing officials working for Kelly received promotions, the White House officials said.

Having learned of the dispute, the president was furious and told Kelly to give the first lady, who has a smaller East Wing staff than her recent predecessors, what she wanted, these people said. "I don't need this shit," Trump told Kelly, according to one person familiar with the conversation.
Look, if all these pornstars keep coming forward, the ladies in waiting are going to need raises, knamean?
Plus, Kelly fired the last handsome dude in the White House, just because he was under investigation for "serious financial crimes," even though Melon really liked him. UNFAIR!
Vanky and Jared Hate Kelly
Why is John Kelly so mean? Why doesn't he let Ivanka just come and go talking to Daddy whenever she wants? And why is he always acting like Jared isn't the most smartest policy boy in the whole wide world? Who does he think he is!
WSJ reports,
In a meeting in the Oval Office, Mr. Trump further aggravated Mr. Kelly by suggesting that Jared Kushner, the president's son-in-law and top adviser, use his contacts in the Mexican government, such as his close relationship with Mexican Foreign Minister Luis Videgaray, to try to resolve the caravan issue. "Let's get Jared involved; he's our best guy on this," the president said.
ENDLESS SCREAMING!
Luckily, the Kushners have picked out a dreamy new boy to take Kelly's place, Mike Pence's Chief of Staff Nick Ayers.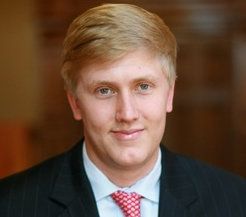 But will Pence let him go? Who will he stare across the table at during those long, lady-free lunches?
Everyone Hates Nick Ayers
Literally every story reporting the rumor that Ayers will be taking Kelly's place hastens to add that Ayers HAS NOT lobbied for the job. So ... make of that one what you will.
Trump may not have the stones to actually fire his chief of staff, but the WSJ reports that,
In recent days, Mr. Trump referred to Mr. Ayers in the present tense as his chief of staff, one White House official said. Mr. Trump has told officials that he expects to offer Mr. Ayers the job when Mr. Kelly leaves.
Which is sending the entire White House into a fit of panic, according to The Post.
During Sunday's flight to Washington from Paris, aides filed into the president's private cabin to lobby against the leading contender to replace Kelly, Nick Ayers, who is Vice President Pence's chief of staff. These aides told Trump that appointing Ayers would lower staff morale and perhaps trigger an exodus. But the president has continued to praise Ayers, who also enjoys the support of Ivanka Trump and Jared Kushner, according to multiple White House officials.
Geez! People get so touchy about a 36-year-old political hack with a BA and no background in government supervising the entire executive branch! Plus there was that time last fall where he got caught telling a roomful of GOP donors that they ought to close their wallets until the party purges anyone disloyal to Donald Trump. Politico got the tape:
"Just imagine the possibilities of what can happen if our entire party unifies behind him? If — and this sounds crass — we can purge the handful of people who continue to work to defeat him," Ayers said, according to an audio recording of the remarks obtained by POLITICO.

One attendee later asked how the donors could "rally the congressional delegation that does support the president and vice president, and rally them and push them to change the current leadership in both the Senate and the House."

"I'm not speaking on behalf of the president or vice president when I say this," Ayers responded. "But if I were you, I would not only stop donating, I would form a coalition of all the other major donors, and just say two things. We're definitely not giving to you, No. 1. And No. 2, if you don't have this done by Dec. 31, we're going out, we're recruiting opponents, we're maxing out to their campaigns, and we're funding super PACs to defeat all of you."
Oh, yeah! He's just the guy you want making hiring and firing decisions for the federal government.
Donald Trump Hates Everyone
Look, it's not news that President Bugfuck is CRAY-ZEEEE. But the guy's been absolutely off his rocker and ready to You're Fired his whole staff since the midterm losses marked the end of Mueller's timeout. So, let's just end this post with a quote from the Journal, shall we?
"This is how the president works," one White House official said. "He's doused a bunch of people in gasoline and he's waiting for someone to light a match."
Oh, fuuuuuuuck.
[WaPo / Foreign Policy / CNN / WSJ / NBC / WaPo, again / Politico]
Follow your FDF on Twitter!

Click here to fund your Sweet Valley White House correspondent, AKA Your Wonkette!
Liz Dye
Liz Dye lives in Baltimore with her wonderful husband and a houseful of teenagers. When she isn't being mad about a thing on the internet, she's hiding in plain sight in the carpool line. She's the one wearing yoga pants glaring at her phone.