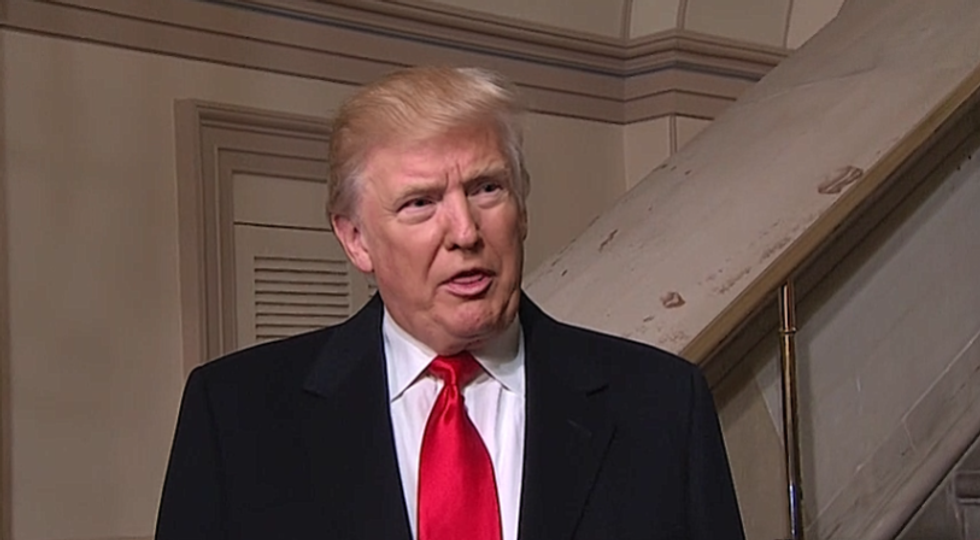 smart guy
---
Ready for more BATSHIT BONKERS excerpts from Donald Trump's BATSHIT BONKERS New York Times interview? Because we have some! We already hit some of the big things this morning. Donald Trump hates Attorney General Jeff Sessions now because Sessions had the audacity to follow the law and recuse himself from all things related to the Russia investigation, due to how he's a player in that scandal. You have to be dirty in the Russia conspiracy to recuse yourself from investigating the Russia conspiracy, after all. We learned Trump probably would fire special counsel Robert Mueller if Mueller's investigation started monkeying around looking at the Trump organization's finances, because Trump doesn't understand how special counsels work. (Mueller's investigation is of course doing just that. Like literally right this second.)
We also learned that Trump totally knew about Junior's little Russian conspiracy meeting, even though he recently said it was brand new news to him, and that he thinks former FBI director James Comey told him about the pee hookers in the (not discredited) Steele Dossier as a way to get "leverage" over him, which is weird since the dossier had been flying around Washington for months when Comey finally told Trump about it. Donald Trump is a fucking moron.
Speaking of that, here are a few more times Trump was a fucking moron during his big stupid New York Times interview!
Donald Trump's secret dinner sexxx meeting with Vladimir Putin was just about bouncy Russian babies, HOW WEIRD!
Trump opened up and shared about his dinner meeting with Putin at the G20, and surprise, he says the meeting was about BOUNCY RUSSIAN BABIES. That's so odd, because BOUNCY RUSSIAN BABIES was Junior's first explanation for what happened in his Russian conspiracy meeting. Were Trump's wires just crossed, and he forgot that BOUNCY RUSSIAN BABIES was the lie they were using for the Junior meeting, but he accidentally told it about the Putin Sexxx Meeting too, because he's a senile idiot? Or was he telling the truth? Who can say!
Here's how it went down, according to Trump:
TRUMP: [Melania] was sitting next to Putin and somebody else, and that's the way it is. So the meal was going, and toward dessert I went down just to say hello to Melania, and while I was there I said hello to Putin. Really, pleasantries more than anything else. It was not a long conversation, but it was, you know, could be 15 minutes. Just talked about — things. Actually, it was very interesting, we talked about adoption. [...]

We talked about Russian adoption. Yeah. I always found that interesting. Because, you know, he ended that years ago. And I actually talked about Russian adoption with him, which is interesting because it was a part of the conversation that Don [Jr., Mr. Trump's son] had in that meeting.
Interesting! Remember that talking about Russian adoption is code for lifting U.S. sanctions on Russia. (We explained that here.) The Kremlin also too says they talked about bouncy Russian babies, so unless the Kremlin is also lying (or unless they coordinated their message with Trump via the secret wire tapp the Russians put in his bottom), that means they talked about Trump lifting all the sanctions, in order to be nice to Russia and fuck America. President Russian Agent say what?
Trump explained how he had been sitting next to Akie Abe, wife of Japanese Prime Minister Shinzo Abe, at the dinner, and how they had a very nice time, except for how hard it was because she doesn't speak A LICK OF ENGLISH. That's odd, because ...
LOL, she was like "No English, dirty orange man!" Smart woman.
Donald Trump thinks health insurance costs $12 per month.
Addressing the GOP fight to kill people by depriving them of health insurance, Trump spoke semi-admiringly about how hard Hillary Clinton worked in the 1990s and how hard Barack Obama worked in his first term to fix healthcare. Then he HUMBLE-BRAGGED about how Hillary never got it done and it took Obama over a year, meanwhile Trump has only been president for six months and he ... um, hasn't fixed healthcare. BUT IN HIS ADDLED BRAIN HE HAS, and that's what counts.
Then he showed just how well he understands health insurance:
HABERMAN: That's been the thing for four years. When you win an entitlement, you can't take it back.

TRUMP: But what it does, Maggie, it means it gets tougher and tougher. As they get something, it gets tougher. Because politically, you can't give it away. So preexisting conditions are a tough deal. Because you are basically saying from the moment the insurance, you're 21 years old, you start working and you're paying $12 a year for insurance, and by the time you're 70, you get a nice plan. Here's something where you walk up and say, "I want my insurance." It's a very tough deal, but it is something that we're doing a good job of.
Later, he added, "I know a lot about healthcare." We are trying to remember our awesome $12/mo. health plan from when we were 21, but we can't because Donald Trump is just talking out of his spray-tanned asshole about something he's clueless about.
OH WAIT is he talking about one of those cheap scammy life insurance things from the TV? That ... is not health insurance? One reason this is weird is because he used to know what health insurance was, back when he took it away from his baby grandnephew with cerebral palsy. We guess you forget things when you get old.
Trump really has fun when he gets to go to Foreign Land.
On his speech in Poland:
TRUMP: I have had the best reviews on foreign land. [...] Enemies of mine in the media, enemies of mine are saying it was the greatest speech ever made on foreign soil by a president.
Nope, nobody fucking said that, not ever. It certainly wasn't better than Barack Obama's Berlin speech. Or any other speech on foreign soil given by an American president who speaks English.
On how much Emmanuel Macron loves to hold him with his sexxx hands:
TRUMP: He's a great guy. Smart. Strong. Loves holding my hand.

HABERMAN: I've noticed.

TRUMP: People don't realize he loves holding my hand. And that's good, as far as that goes.
On Napoleon and Hitler and world history in general:
TRUMP: Well, Napoleon finished a little bit bad. [...] And his one problem is he didn't go to Russia that night because he had extracurricular activities, and they froze to death. How many times has Russia been saved by the weather?

Also Hitler ran into some difficulties with the weather.
A lot of people don't know Napoleon and Hitler only lost to Russia because they were doing extracurricular activities and also BRRRRRRR.
Good interview, President Fucknuts. Please, sir, do another!
Wonkette salaries are fully paid by lovely people like you! If you love us, click below to fund us!
Evan Hurst
Evan Hurst is the managing editor of Wonkette, which means he is the boss of you, unless you are Rebecca, who is boss of him. His dog Lula is judging you right now.
Follow him on Twitter RIGHT HERE.