No Impeachment, No Problem! Bolton's Got Leaks FOREVER
Ukraine
January 31, 2020 03:07 PM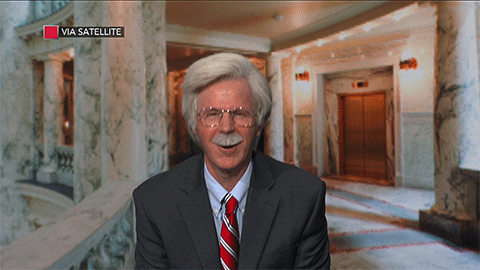 Lamar Alexander may be done with this Ukraine scandal, but John Bolton is definitely not finished yet. The New York Times just dropped the latest leaks from his book, in time to highlight what an absolute shitshow sham this entire impeachment has been. Particularly since multiple members of Trump's legal defense team appear to have been in on the Ukraine shakedown scheme.
More than two months before he asked Ukraine's president to investigate his political opponents, President Trump directed John R. Bolton, then his national security adviser, to help with his pressure campaign to extract damaging information on Democrats from Ukrainian officials, according to an unpublished manuscript by Mr. Bolton.

Mr. Trump gave the instruction, Mr. Bolton wrote, during an Oval Office conversation in early May that included the acting White House chief of staff, Mick Mulvaney, the president's personal lawyer Rudolph W. Giuliani and the White House counsel, Pat A. Cipollone, who is now leading the president's impeachment defense.
Goodbye executive and attorney-client privilege, since this conversation included lawyers for the executive branch, who don't represent the president personally, and Rudy Giuliani, who is not a member of the executive branch. And hello Pat Cipollone, Mick Mulvaney, and Pat's deputy henchman Mike Purpura! Looks like you boys got a little dogshit on your shoes. Although, to be honest, we all smelled it already. Jay Sekulow's been rolling around in this Ukraine mess from the jump, but we knew the overpowering reek of corruption had to be coming off more than one of y'all.
---
According to Bolton, Trump ordered him to call up Volodymyr Zelenskyy, then the president-elect of Ukraine, and make sure that his guys would take a meeting with Giuliani. A call Bolton says he never made, since it's wildly inappropriate for United States officials to officially endorse back channel diplomacy to benefit the president personally at the expense of US national interests.
This conversation appears to have taken place in the first week of May, as Giuliani was planning his first trip to Kyiv, around the time he sent the infamous May 10 letter requesting a meeting for strictly personal reasons AHEM.
I am private counsel to President Donald J Trump. Just to be precise, I represent him as a private client, not as President of the United States. This is quite common under American law, because the duties and privileges of a President and a private citizen are not the same. Separate representation is usual process.
All of which would have been completely undercut by a phone call from Bolton, of course. But in any event, the Ukrainian government appears to have blown Rudy off, after which he put out a statement calling them enemies of America and haters of President Trump.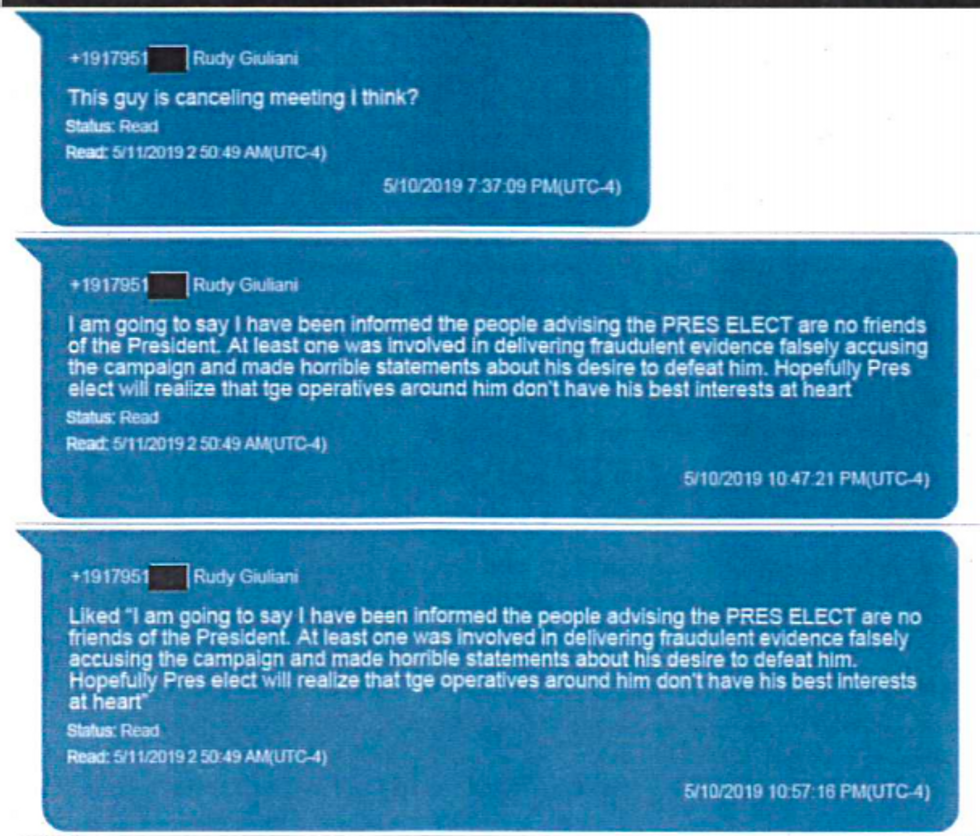 As the Washington Post's Philip Bump points out, Rudy canceled his trip to Ukraine on May 11. On May 12, Lev Parnas met with Zelenskyy aide Serhiy Sheffir and told him that Vice President Mike Pence's trip to Zelenskyy's inauguration would be canceled if Zelenskyy didn't announce an investigation of Joe Biden and his son. Parnas told Giuliani that the Sheffir meeting was a "no-go" and the very next day, on May 13, Mick Mulvaney told Pence's aide Jennifer Williams that the VP's trip to Kyiv was OFF. Which is ... highly coincidental.
But Rudy wasn't about to let the matter drop, so after he and the chucklefucks had been tossed by the Ukrainian bouncers, they went back to the White House to beg for VIP passes. And apparently the State Department had none of Bolton's scruple, since they hooked Rudy up with Zelenskyy's aide Andriy Yermak, so he could lean on him about the Biden investigations in Madrid in August. It seems Rudy took advantage of his all-access pass with Yermak to do a little lobbying on behalf of his former client, Kyiv Mayor Vitali Klitschko. Because, hell, why not?
And speaking of lobbying, we already know that Lev Parnas and Igor Fruman were gunning for Marie Yovanovitch all the way back in 2018. Whether at the behest of corrupt Ukrainian prosecutor Yuri Lutsenko, or corrupt natural gas oligarch Dmitry Firtash, or because they were trying to muscle in on Ukraine's hydrocarbon market on their own account is unclear. But according to Bolton, Giuliani had trained his sights on other US embassy personnel who were annoyingly rigid in their zeal to root out Ukrainian corruption.
After pushing out Ms. Yovanovitch, Mr. Giuliani turned his attention to other American diplomats responsible for Ukraine policy. During the Oval Office conversation, he also mentioned a State Department official with the last name of Kent, whom Mr. Bolton wrote he did not know. Mr. Giuliani said he was hostile to Mr. Trump and sympathetic to George Soros, the billionaire philanthropist who has long been a target of the far right.

George P. Kent, a top State Department official who oversees Ukraine policy, went on to be a key witness in House Democrats' impeachment investigation, testifying that claims by Mr. Giuliani's allies of Mr. Soros' wide influence in Ukraine were used to smear Ms. Yovanovitch.

Mr. Bolton left the Oval Office after 10 minutes and returned to his office, he wrote. Shortly after, two aides came into his office, saying Mr. Trump had sent them out of a separate meeting on trade to ask about Mr. Kent, Mr. Bolton wrote.
George Kent was the career foreign service officer who testified with Ambassador Bill Taylor, only to get pilloried in the rightwing media for drinking out of a Nalgene water bottle. Clearly Kent's anti-corruption efforts were pissing off somebody, and flush with his wild success getting Yovanovitch fired, Rudy was gunning for him.
Which is rather at odds with the picture Cipollone, Sekulow, Purpura and the rest of the goon squad have been painting this week of a president fixated on rooting out corruption wherever he could find it. In fact, it looks more like the president tried since last May to leverage the power of the US government to persuade Ukraine to announce a bogus investigation of the Bidens, and when that didn't work, he stepped in personally and tried to use congressionally allocated defense funds to get them to deliver the goods.
In summary and in conclusion, there's nothing to see here, the House should have waited to litigate Trump's blanket denial of subpoenas forever, and there's absolutely no need to call for witnesses in the Senate. Right Senator Murkowski? And fuck John Bolton forever for refusing to comply with the House subpoena when it might have made a difference.
Follow Liz Dye on Twitter RIGHT HERE
Please click here to support your Wonkette, who made it through another hell week!
Liz Dye
Liz Dye lives in Baltimore with her wonderful husband and a houseful of teenagers. When she isn't being mad about a thing on the internet, she's hiding in plain sight in the carpool line. She's the one wearing yoga pants glaring at her phone.