Nobody's Seen Congressman Jesse Jackson Jr. For A Month, By The Way
News
July 11, 2012 04:29 PM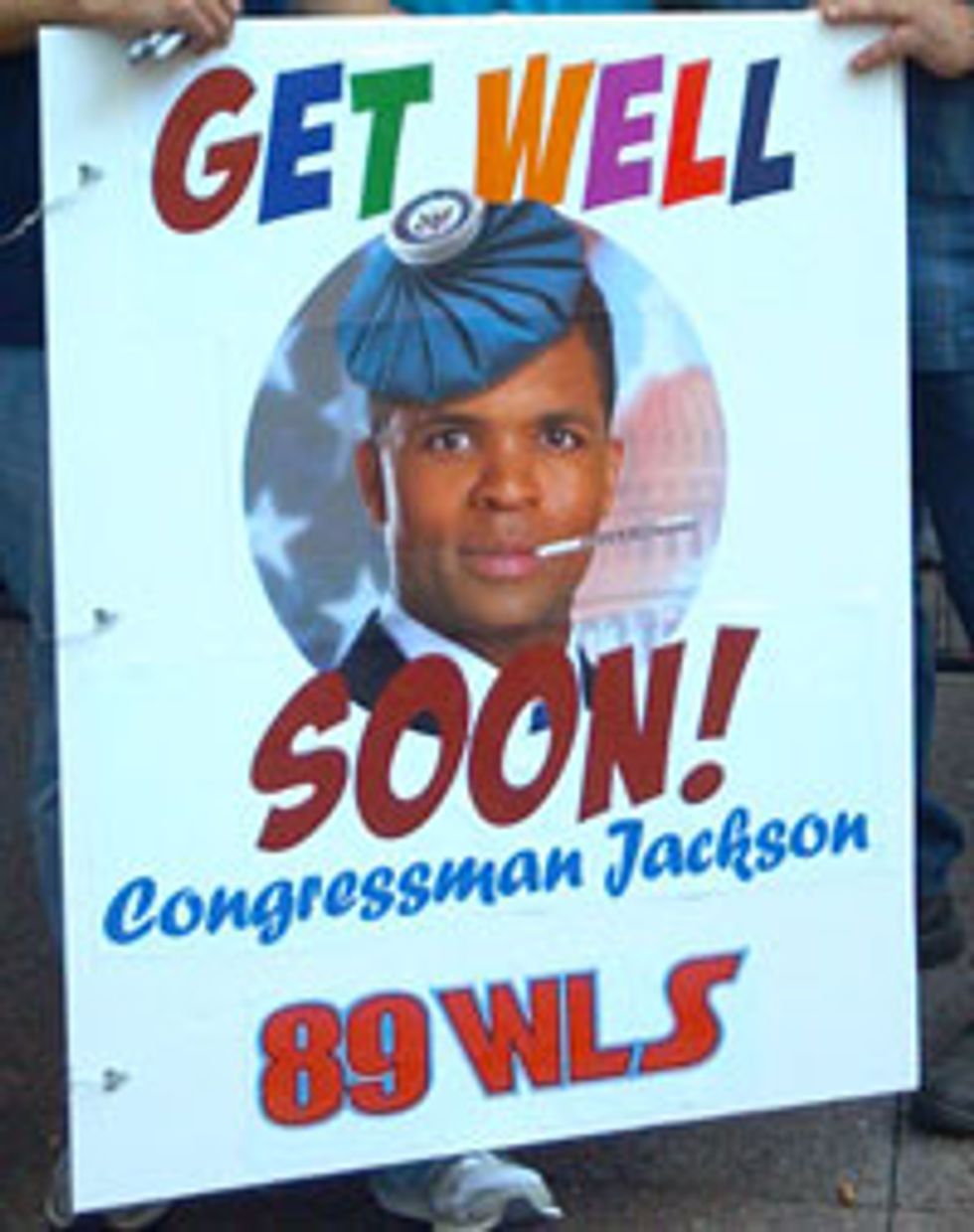 Were you aware that Jesse Jackson, Jr., son of the famous Jesse Jackson that you all know from civil rights and such, is a Congressman, from Barack Obama and Rod Blagojevich's socialist Chicago paradise? He is! Did you know that he hasn't been in Congress or seen by anyone since June 10? That is also true, and the jokesters at WLS, Chicago's favorite all-right-wing talk radio AM station, are having some fun with this fact, like with the silly get well card at right. He is supposedly suffering from "exhaustion," which as far as we were aware is code for "Demi Moore likes to do whip-its" and is not a recognized medical condition. This story should stay hilarious, so long as the rumors that he tried to kill himself continue to not be true!
Here are some reasons why Jesse Jackson, Jr., might have gone on a "medical leave of absence":
"Recently, we have been made aware that he has grappled with certain physical and emotional ailments privately for a long period of time," his staff said in a statement. "At present, he is undergoing further evaluation and treatment at an in-patient medical facility. According to the preliminary diagnosis from his doctors, Congressman Jackson will need to receive extended in-patient treatment as well as continuing medical treatment thereafter." (Haha, just kidding, that's not a "reason" per se, it is meaningless vaguely medical-sounding mush.)
He cheated on his wife last year, and last month she said "As a wife, my primary concern is that of my children. I just want to make sure that they're taken care of, provided for," which seems like maybe she would have started that sentence with "as a mother" if she weren't trying to imply something about how she feels about being Jesse Jackson Jr.'s wife!
Also he offered to raise a bunch of money for Rod Blagojevich if Blago would appoint him to Barack Obama's Senate seat, haha, whoops.
Maybe drugs? Everyone in Hollywood who claims to be suffering from "exhaustion" is on drugs. But not even the Chicago AM radio guys are saying drugs, which means it's almost certainly not drugs. Forget we said anything about it.
Anyway, whichever one of those things is correct, everyone just be aware that, according to everyone, the suicide attempt rumors are just rumors and Jesse Jackson Jr. is doing fine, wherever he may be. Some Democrats think that maybe he should appear for pictures or on TV, though, just to let us know he's OK? You know, holding up a newspaper with today's date on it or whatever. Also, probably he should decide whether he's going to run for Congress in November, because it would be kind of embarrassing to have the South Side of Chicago represented by a Republican. [WLS/Politico]
UPDATE: Jackson's office released a statement tonight saying that he was undergoing "intensive medical treatment at a residential treatment facility for a mood disorder." "Mood disorder" is a real but broad medical term that you can read about on Wikipedia.