Non-Human Rick Scott Launches Jihad Against People Who Study Humans
News
October 11, 2011 01:45 PM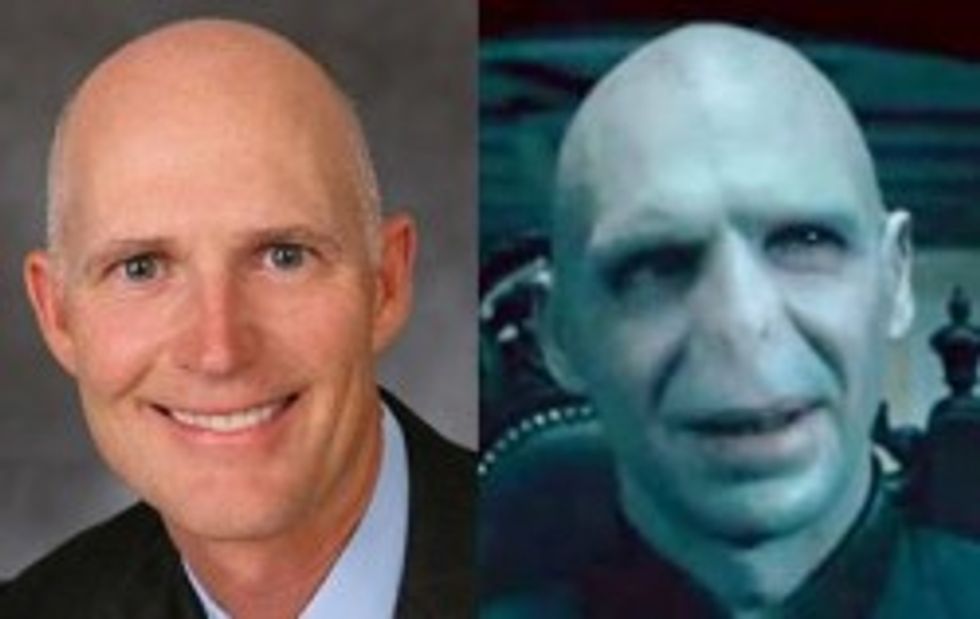 Space monster/invoked demon Rick Scott is clearly not a human. Children everywhere know Rick Scott's face very well: It is what they see during nightmares, the soulless mask of non-human evil as personified by Lord Voldemort in the demonic Halloween books by J.K. Rowling. Rick Scott has laughed off such accusations, in his inhuman laugh, but now the Florida governor and business "man" has begun an all-out assault on the one profession that can show he is not one of us: Anthropologists.
---
Spending money on science and math degrees can help Floridians find work and provide a return on taxpayers' investments, Gov. Rick Scott said today in an interview on "The Marc Bernier Show" on WNDB-AM in Daytona Beach.

Scott said Florida doesn't need "a lot more anthropologists in this state."

"It's a great degree if people want to get it. But we don't need them here," Scott said.
What an odd science to select for scorn. Anthropology is the science of studying human behavior -- people, cultures, traditions and psychology. It is a powerful window into what makes us tick, with the "us" referring to the species Homo Sapiens of Planet Earth. Why would Rick Scott want to eradicate the study of human behavior and the experts who practice it? What is Rick Scott hiding? Oh right, he's hiding his demonic/alien origins.
Rick Scott would have you believe his assault on anthropology is just more of the typical corporate right-wing extremist gutting of the nation's institutions in order to create a Medieval society of all-powerful demon kings ruling over a population of ignorant, terrified serfs -- after all, Rick Scott is also trying to destroy tenured positions at Florida state universities, so that people who have dedicated their life to academia can be done away with as quickly as a seasonal fry cook at a Florida theme park. (Rick Scott picked up this teabagger idea from that other crook "Governor Rick," Rick Perry.)
But anthropology is a strange academic target for such a jihad. It's a science that is especially applicable to the very corporate/government welfare-capitalism that made Rick Scott an obscenely rich kleptocrat -- a shining example of the 1% in this country defrauding everyone else. Government bureaucracy, health care, consumer marketing and finance are the four primary "commercial" sectors where anthropologists are in high demand as social scientists studying the manipulation of human behavior. Look how Rick Scott got his $100+ million dollars and $11.5 million annual income:
In 1988, Scott and Richard Rainwater, a multimillionaire financier from Fort Worth, each put up $125,000 in working capital in their new company, Columbia Hospital Corporation,[17] and borrowed the remaining money needed to purchase two struggling hospitals in El Paso for $60 million.[18] Then they acquired a neighboring hospital and shut it down.

[...]

In settlements reached in 2000 and 2002, Columbia/HCA plead guilty to 14 felonies and agreed to a $600+ million fine in the largest fraud settlement in US history. Columbia/HCA admitted systematically overcharging the government by claiming marketing costs as reimbursable, by striking illegal deals with home care agencies, and by filing false data about use of hospital space. They also admitted fraudulently billing Medicare and other health programs by inflating the seriousness of diagnoses and to giving doctors partnerships in company hospitals as a kickback for the doctors referring patients to HCA. They filed false cost reports, fraudulently billing Medicare for home health care workers, and paid kickbacks in the sale of home health agencies and to doctors to refer patients. In addition, they gave doctors "loans" never intending to be repaid, free rent, free office furniture, and free drugs from hospital pharmacies.

In late 2002, HCA agreed to pay the U.S. government $631 million, plus interest, and pay $17.5 million to state Medicaid agencies, in addition to $250 million paid up to that point to resolve outstanding Medicare expense claims. In all, civil law suits cost HCA more than $2 billion to settle, by far the largest fraud settlement in US history.
The business "man" and politician Rick Scott badly needs the expertise and research of anthropologists to continue his lifelong ripoff of the federal government, state government, taxpayers and people requiring health care. He needs social scientists to manipulate perceived reality. Yet he fears a backlash from these very anthropologists, should they even turn their eyes to his serpent head. [Miami Herald/New Times]