North Carolina Judge Allegedly Tried To Kill Some Black People With His Car, Like On Purpose
Right Wing Extremism
May 18, 2021 10:45 AM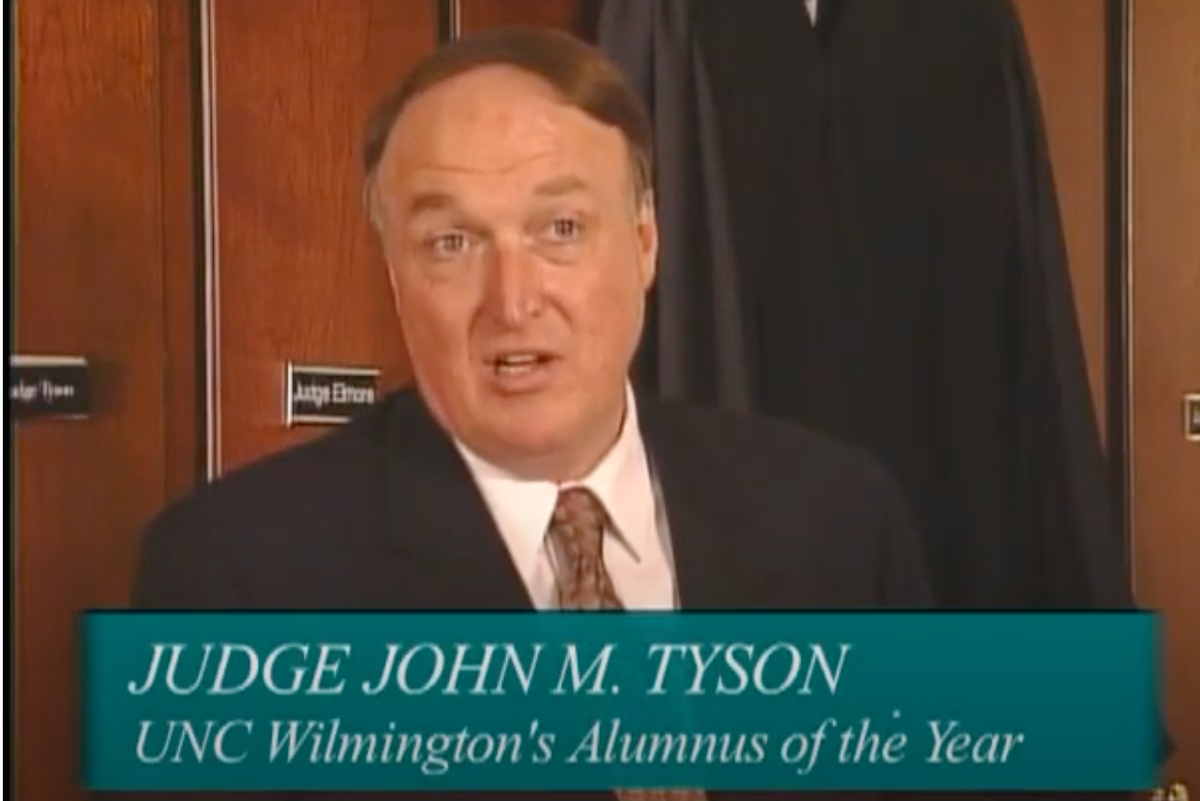 Myah Warren was protesting fatal police shootings last week at the Market Square in the Fayetteville, North Carolina, when some jerk almost ran her down with his car. The suspect is John M. Tyson, a state Appeals Court judge, who's now expected to appear in a Cumberland County courtroom next month to answer to a charge of assault with a deadly weapon.
Warren, a local activist, identified Tyson as the driver of the vehicle that nearly hit her and other Fayetteville Activist Movement rally goers who were exercising their First Amendment rights. Tyson had reportedly called 911 and claimed there was "reckless activity" at the protest.
From the Fayetteville Observer:
The caller said people in the street at the Market House were blocking traffic, according to an audio of the 911 call released Friday by the police department.

The caller says the people in the street are coming around his car, according to the audio. The dispatcher asks if the caller wants to make contact with police officers when they arrive.

"No, I just need them to come and get the people out of the street," the caller said. "OK. Thank you."
The 12-minute video of the incident, which the city released Friday, reveals something entirely different, such as reality.
---
The video shows what appears to be Tyson's SUV cruising through the downtown area. His car is seen driving in the closed-to-traffic inner lane that was painted "Black Lives Do Matter." The SUV stops in the lane briefly before moving back into the open traffic lanes. There are no protesters surging toward his state-owned vehicle.
Warren claimed no one was in Tyson's way when he drove around the area the first time, but then he came back, sped up and tried to hit the protesters. Fortunately, no one was hurt and Tyson ended up jumping the curb. Warren called Tyson's version of events on the 911 call a "baldfaced lie."
Warren told The Washington Post on Monday that she believes Tyson was intentionally trying to harm protesters based on his track record as a judge.

"He's a well-known racist," she said, referring to a case in which Tyson rejected the notion of race being a factor in the killing of a Black man who was fatally struck by a White man's shotgun at a 2016 party.
Warren, who's a member of the Fayetteville-Cumberland Human Relations Commission, tried to press charges twice at the magistrate's office but was informed she couldn't (not true) and that Tyson is no longer a judge. That's also not true and also irrelevant. It's presumably illegal for even non-judges to run over people with their cars. When an investigator got around to actually reviewing footage of the incident, she was finally told she had a case.
But it was still an uphill battle. Tyson has served on the court of appeals since 2015. He has significant backing from Republicans in the area and is well-connected, enough so that almost every lawyer she's asked for help has declined to get involved.
"The whole situation sucks because I feel as if he's going to get away with it. You were driving a state vehicle, you tried to hit protesters and you lied to 911," she said. "There's only so much I can do."
Almost four years ago, a white supremacist murdered a young woman, Heather Heyer, when he deliberately drove a Dodge Challenger into a crowd of counterprotesters at the "Unite the Right" rally in Charlottesville, Virginia. The neo-Nazi scumbag is currently serving a life sentence. What's bizarre is that Republicans have since passed laws granting immunity to drivers whose vehicles strike and injure protesters in public streets. Oklahoma, Iowa, and now Florida have made "blocking roadways" more or less a capital offense. My home state of South Carolina offers motorists extensive guidance to avoid hitting deer that block roadways, but admittedly most deer aren't Black.
North Carolina Republicans have their own so-called "anti-rioting" bill advancing through the state legislature, but unfortunately for Tyson, it doesn't appear to let assholes run over people with their cars.
[Washington Post / Fayetteville Observer]
Follow Stephen Robinson on Twitter.
Keep Wonkette going forever, please, if you are able!
Stephen Robinson
Stephen Robinson is a writer and social kibbitzer based in Portland, Oregon. He writes make believe for Cafe Nordo, an immersive theatre space in Seattle. Once, he wrote a novel called "Mahogany Slade," which you should read or at least buy. He's also on the board of the Portland Playhouse theatre. His son describes him as a "play typer guy."