North Carolina Prepares For Jizz-Pocalypse After Being Cockblocked By Mean Porn Site
News
April 12, 2016 01:15 PM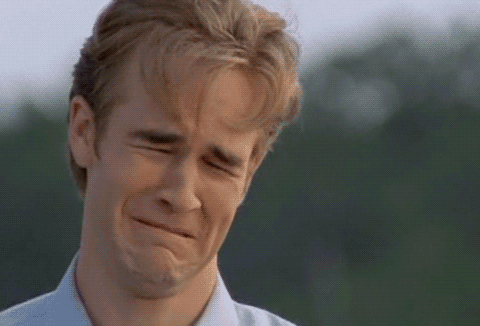 North Carolina right now.
---
[wonkbar]<a href="http://wonkette.com/600547/north-carolina-republican-breaks-up-with-bruce-springsteen-becomes-belieber"></a>[/wonkbar]North Carolina has really done it this time with its new anti-LGBT law, HB 2. It was one thing when it was just Paypal canceling expansion plans in North Carolina. It was another when Bruce Springsteen decided to cancel his Greensboro concert, causing a North Carolina wingnut congressman to denounce The Boss and immediately declare his deep, quivering love for Justin Bieber.
But imagine the scene in "family values" homes in North Carolina Monday night, when mommy and the kids fell asleep and Daddy locked himself in his office to "do the taxes," pulled his pants down, logged on to his favorite free porn site XHamster.com to jerk off into a pool of his own regret for a few hours and found ...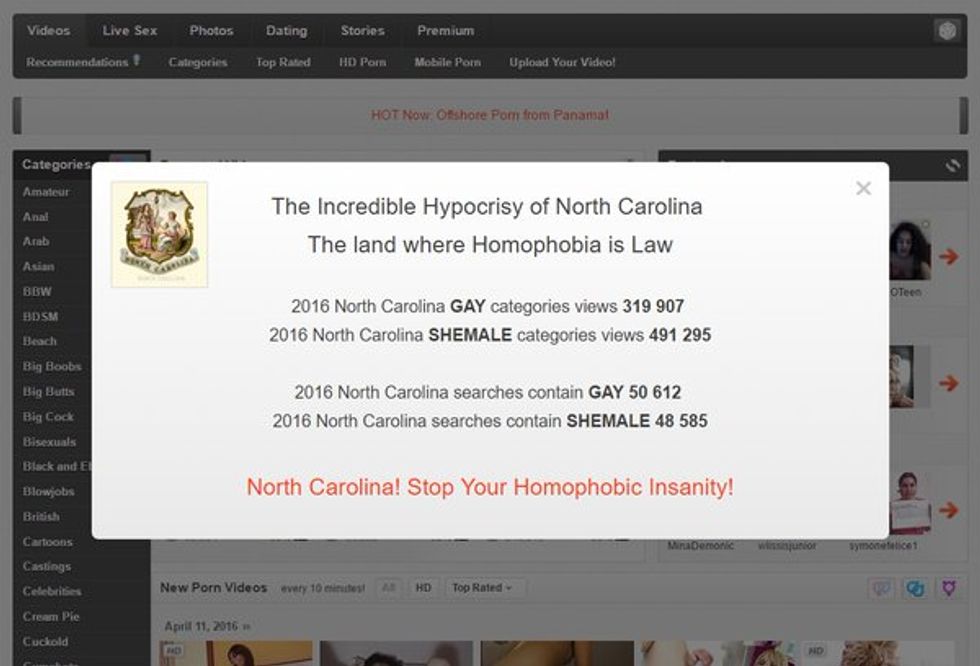 HEY-O! Check out the statement from XHamster:
"We are appalled by the recent events that have transpired in North Carolina. We have spent the last 50 years fighting for equality for everyone and these laws are discriminatory which XHamster.com does not tolerate. As of today, access to XHamster.com is blacked out in the state of North Carolina until further notice. Judging by the stats of what you North Carolinians watch, we feel this punishment is a severe one. We will not standby and pump revenue into a system that promotes this type of garbage. We respect all sexualities and embrace them."
Very nice!
We wonder how many conservative men who secretly like to look at dicks or boobies or hot hard anal sex or stuff that's WHOA kinky, but who simultaneously bitch and moan about the gay agenda and religious freedom, went to bed with blue balls last night. (Answer: All of them, unless they used their imaginations or had some secret porn daguerreotypes they found at a flea market stashed away for the apocalypse and emergencies like this.)
And how do we know it's a bunch of conservative men doing these searches? Because there are so many searches for "shemale," which is a rude word to say or search for, but wingnuts are ignorant assholes and they don't know that. We're sure they'll update their political correctness dictionaries as soon as they take care of the leaky dicks they got when they searched for "shemales."
The "gay" searches, of course, come from North Carolinians of all races, religions, political affiliations and hairstyles, because everybody is a little bit gay.
We bet North Carolina's water cooler conversations are SUPER crazy today. Everybody has a boner that's lasted longer than four hours, first of all, and nobody has called their doctor, because their doctor has a painful boner too. So they're just standing there, drinking water, pointing their chubbies at each other.
All the Southern Baptist churches are too slippery for human walking because of how the pastor left a snail trail of jizz 'n' tears from the parking lot all the way back to his office this morning.
Oh, and did you guys hear that Deutsche Bank (which never had any gay porn videos on its website in the first place, HOW LAME) has canceled plans to create 250 new jobs in Cary, North Carolina, on account of the new hate law?
Goshdarnit and boy howdy, it's almost like writing discrimination into law doesn't pay. Listen, bigots of North Carolina, you have a few options here:
Masturbate furiously to dirty porning videos at PornHub or XTube or something (AT LEAST UNTIL THEY TURN OFF THE SUPPLY TOO) while simultaneously being hypocritical fucking assholes who support HB 2.

Never masturbate to secret porn again hahahaha as if you could do that.

Repeal your fucking bad law, whack it 'til your heart's content to all your favorite sexxxytime videos and Make North Carolina Great Again.
Your choice, fuckers.
Evan Hurst
Evan Hurst is the managing editor of Wonkette, which means he is the boss of you, unless you are Rebecca, who is boss of him. His dog Lula is judging you right now.
Follow him on Twitter RIGHT HERE.